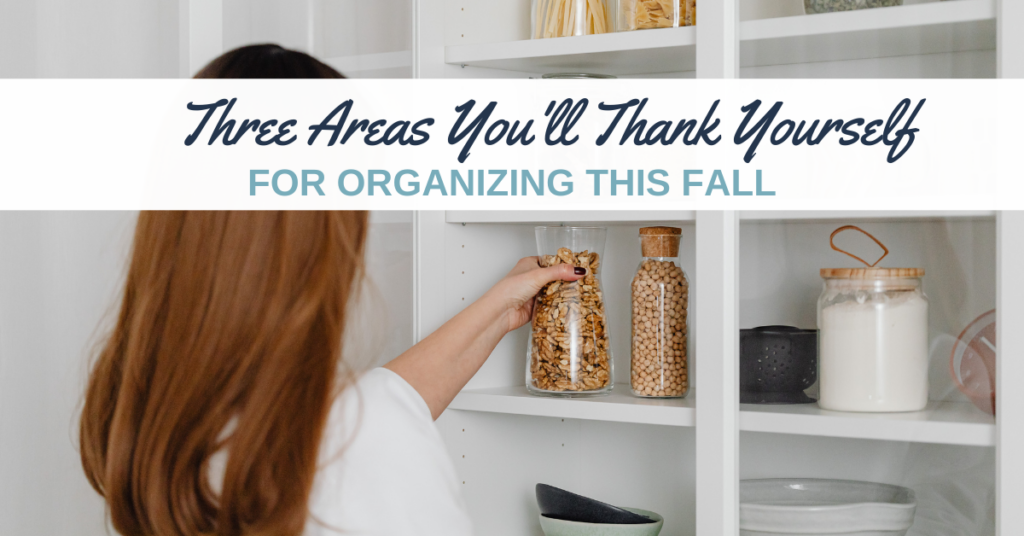 Three Areas You'll Thank Yourself For Organizing

Cooler weather and falling leaves mean the joy and craziness of the holidays are nearly upon us.  That brings wet boots, heaps of winter gear, and for many of us, a bit of holiday stress. As Twin Cities custom closet designers, we want to help eliminate the chaos and make your winter something to get excited for!  We promise you'll thank yourself for investing in your home! Organizing now will pay off later when your mudroom isn't overrun by bulky snow pants and your kitchen is prepared for last-minute guests! Here are ways to keep the three areas of your home most impacted by the wonders of winter organized.
#1 Mudroom
Whether we like it or not, the wet, slushy snow is coming.  And no one likes seeing wet, muddy boot tracks around the house!  Fall is the perfect time to organize your mudroom because it will be the hardest working room in the house come winter!  We recommend organizing mudroom items into the four categories below to keep things dry and in their designated place.  For more information on this, see our Winter is Coming blog.
The Drop Off: An effective way to prevent wet messes (and paws) from spreading is by having built-in cabinets with hooks, lots of shelves, drawers, and, if possible, heated floors!
Hanging Storage: Hanging storage is a wintertime game changer!  With so many varying heights of jackets, snow pants, and scarves, single and double-hanging storage will create the perfect visual and practical solution!
Boot & Shoe Storage: Proper boot and shoe storage start with shoe cubbies, custom mudroom shelving, and pull-out metal drawer baskets.  Our team of Twin Cities custom storage design experts recommends keeping your boots dry with boot racks.  Doing this in the fall will make spring cleaning a breeze!
Bulky Storage: Cold temps mean extra layers, so be sure to have extra-large hooks for hanging oversized jackets/snow pants.  Adjustable drawers and shelves in varying depths and heights accommodate all sizes of winter gear.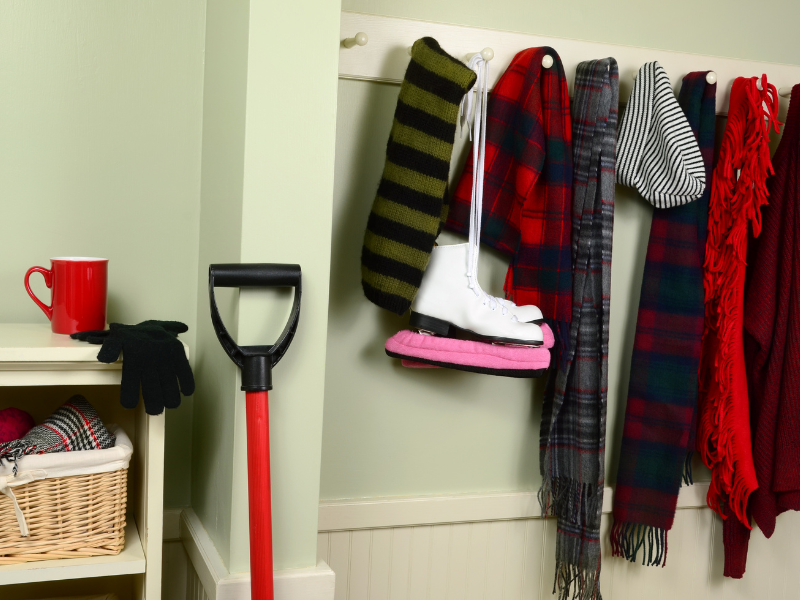 >>> See our portfolio of mudroom storage projects
#2 Garage
Whether it's yard clean-up, snowblower access, or holiday storage, your garage takes a beating once winter hits! Thoughtful organization solutions like garage shelving not only save you time looking for things, but also reduce stress. Store your most-used winter items in the easiest-to-access places. Custom garage cabinets for your spring and summer items keep them hidden while organized simultaneously!  Remember, there's nothing more frustrating than not being able to find something you need, especially when it's cold! If you're looking for a great holiday gift that keeps on giving, check out our "Gift of Organization" blog!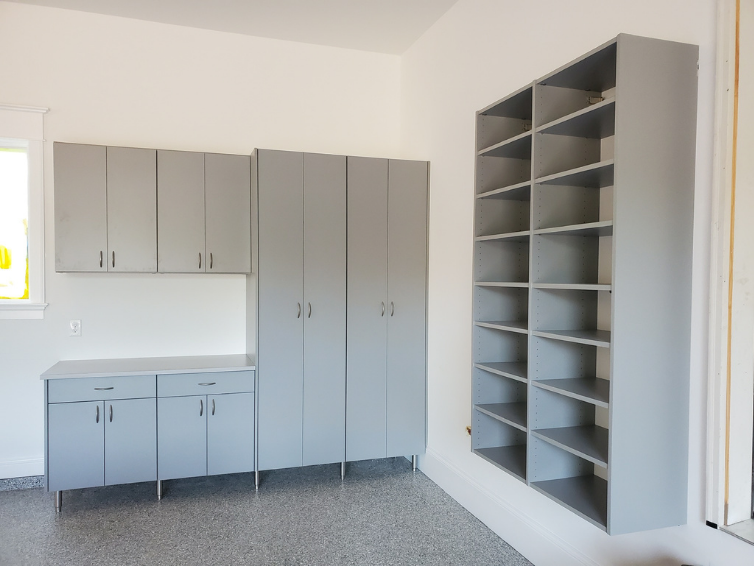 >>> Find ideas and inspiration by checking out our portfolio of garage storage projects
#3 Kitchen
Grilling outside, outdoor activities, and vacations give our kitchens a much-needed break.  Soon it will be Thanksgiving prep, larger gatherings (and we all know the room everyone hangs out in😉), and holiday baking!  Organizing your kitchen in the fall will lessen the stress of the holidays and bring joy to the busiest room in your home.  Your pantry is the foundation of kitchen organization, so have plenty of cabinets and shelf space. If not, call in the professionals.  Custom pantry storage with floor-to-ceiling adjustable shelves will bring a lifetime of organization!  Other kitchen organization tips include:
Purging old and expired items from your refrigerator, freezer, and pantry.
Do you know what's in the very back of your cabinets? Consider adding pull-out drawers and shelves.
Keep small kitchen appliances accessible and out of sight with pull-out shelves, pop-up appliance stands, and flip-top/rolling door cabinets.
How many water bottles and plastic containers do you really need? Sort and throw!
Save time with lazy susans and tiered shelves.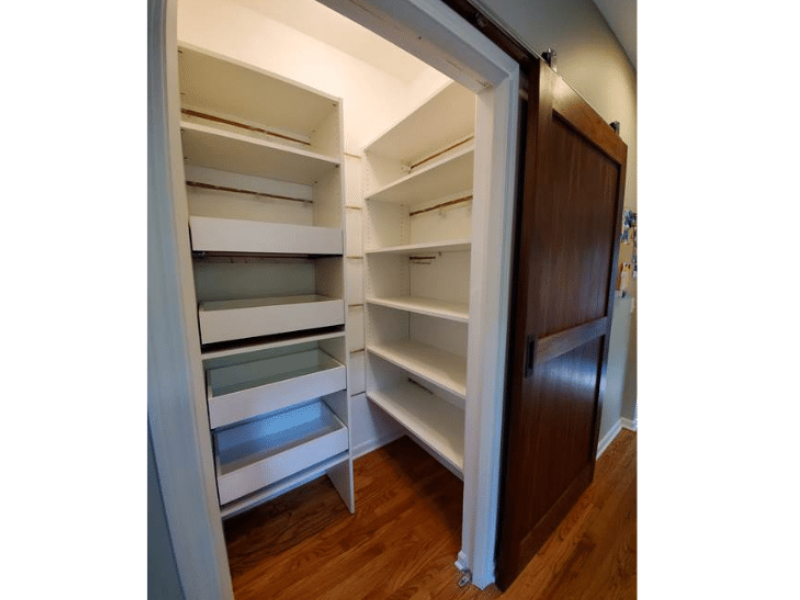 >>>Transform your pantry with our custom pantry shelving and storage solutions
Custom Home Storage Solutions for Homeowners in St. Paul, MN, & Beyond
Let's get your home ready to weather the winter!  At Closets for Life, we specialize in all areas of the home, including closets, garages, kitchens, home offices, laundry rooms, pantries, wine cellars, and more.  With the help of an experienced local closet organization professional, you can create customized storage solutions that fit all of your organizational needs and so much more!  We approach every project with a fresh perspective tailored specifically to your lifestyle.  We'll come to your home (or meet virtually!) to measure your space and discuss your needs and wants.  Contact our Minnesota custom closet design team today to schedule a free in-home consultation.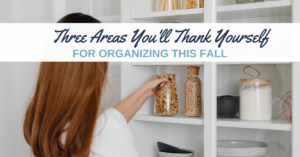 Cooler weather and falling leaves mean the joy and craziness of the holidays are nearly upon us.  That brings wet boots, heaps of winter gear, and for many of us, a bit of holiday stress. As Twin Cities custom closet designers, we want to help eliminate the chaos and make your winter something to […]
CONTINUE READING