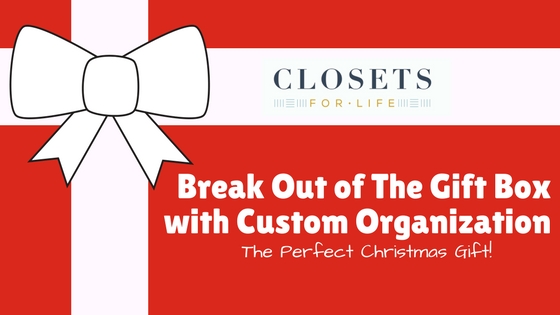 Break out of the Gift Box this Christmas with Custom Organization

Do you have someone on your Christmas list who is notoriously hard to buy for?  Perhaps a spouse or a parent or grown child?  Or, are you looking for thoughtful Christmas gift ideas the recipeint will use and appreciate all year long?  Break out of the gift box this Christmas with a unique and creative gift that is guaranteed to bring joy to the recipient for years to come!  What magical gift are we speaking about? Custom organization, of course!  Custom organization is a great gift idea for these reasons:
Custom organization is often something put on a homeowner's wish list, a 'that would be nice but…' item that gets put off due to other more pressing home needs.
It's something that will be used every day for years to come, rather than forgotten after a few weeks or months.
Built-in home organization can improve the value of a home, meaning it's a gift that gives back!
So, what kind of organization projects make the perfect gift?  We've highlighted just a few options below but really; the only limit is your imagination.  If you like what you see or would like to talk with us about your ideas, contact us to schedule a free in-home consultation.  And don't worry, there's still plenty of time.  Whether you want to get the project done in time for Christmas, or want us to provide you with a certificate to present so you can plan together after the holidays, Closets For Life can make it happen!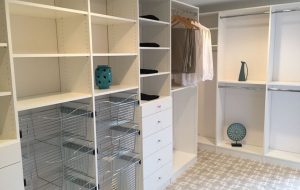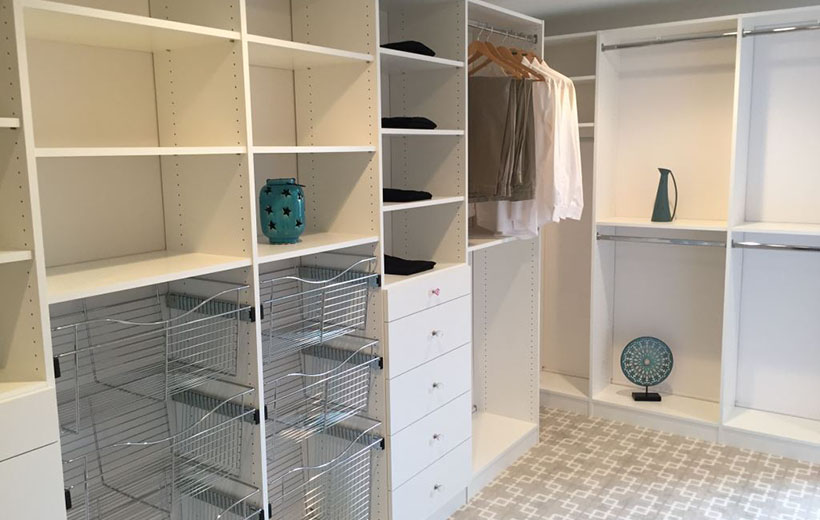 Custom Closet System
Does you loved one's closet overflowing with clothing?  A custom closet system could be the perfect gift.  With a variety of features available such as built in drawers, shelving, shoe racks and islands, we can create a design that specifically fits both the needs and space of the recipient.  Whether designing for a reach-in or walk-in closet, a custom closet system can triple storage capacity.  Imagine your loved one walking into their new closet each day and thinking how much they appreciate this gift.  And, if you just happen to share a closet with the recipient, you'll get to enjoy the gift as well! View our galleries of walk-in closet systems and reach-in closet systems closet projects for inspiration.
Mudroom Organization
Custom mudroom organization is something most moms dream of.  If a home's mudroom or entry is overwhelmed with coats, shoes, backpacks, sports equipment and more, we can absolutely guarantee that the mother of the house will be overjoyed to receive the gift of custom mudroom organization.  Don't have a mudroom?  Even better! Without a designated area to 'catch' all these items, custom built-in open lockers or a front entry closet system will be even more appreciated! Visit our Mudroom storage project gallery for ideas and inspiration .

 Garage Organization
If mudroom organization is the perfect mom gift, then the perfect dad gift is garage organization.  With an amazing array of options including bike hoists, wall storage for rakes and shovels, ceiling racks, tool storage, custom cabinetry and so much more, you can turn any garage into the man cave most dads dream of.  Thinking winter isn't the right time to tackle this kind of project?  It's actually the perfect time.  Tackling garage organization projects in the winter months means the garage will be ready to go by spring. Visit our garage storage project gallery to learn more.
Home Wine Cellar
Is the gift recipient an avid wine aficionado or love to entertain?  Having a home wine cellar can save money and time by allowing wine to be purchased by the case and preserving the longevity of a bottle's contents.  Plus, let's face it, it's pretty awesome to be able to say, 'Just let me run down to my wine cellar to select a bottle for dinner.' Worry you need to dedicate a whole room to have a home wine cellar?  This is not the case.  View our wine cabinets and wine cellar photo gallery to see wine cellar projects both big and small, from wine cellars with 900+ bottle capacity to a small wine cellar built into the base of a staircase.  How fun would it be to gift a bottle of wine with a note that says' Wine Cellar Included'?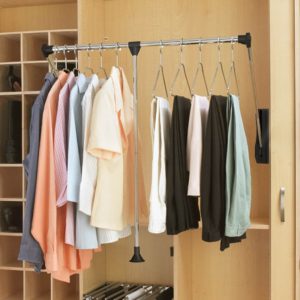 Closet Accessories
Love the idea of giving a gift of home organization but looking for something a bit smaller?  Consider gifting a closet accessories or two.  You would be surpised how accessories like valet rods, tie racks and pant racks can impact the storage potential and use of a space.  Have a dark closet space?  Give a gift of lighted closet rods.  Or perhaps you have grandparents on your list? Closet accessories like a pull-down closet rod make reaching clothes easier, a gift that is sure to be used and appreciated. Visit our closet accessories and organizer systems photo gallery to see the many closet accessories we carry.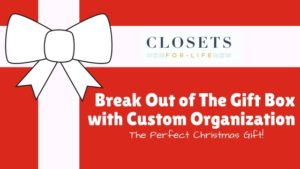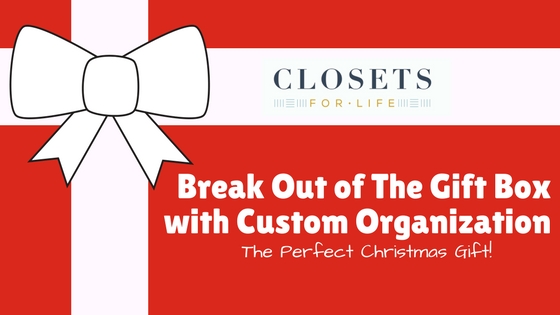 Do you have someone on your Christmas list who is notoriously hard to buy for?  Perhaps a spouse or a parent or grown child?  Or, are you looking for thoughtful Christmas gift ideas the recipeint will use and appreciate all year long?  Break out of the gift box this Christmas with a unique and creative […]
CONTINUE READING