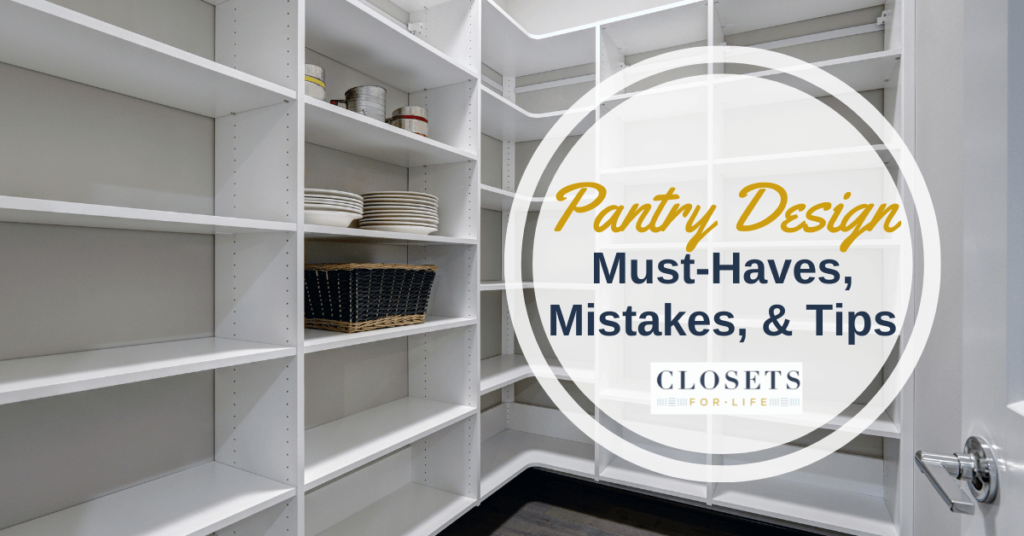 PANTRY STORAGE DESIGN MUST-HAVES, MISTAKES, & TIPS

The key to an organized kitchen isn't what's right in front of you, rather it's what's behind the scenes!  A well-designed kitchen pantry, aka the hardest working space in your home, is the secret behind every spotless kitchen.  Smart and savvy kitchen pantry storage design can make life a lot easier.  Whether you need to add, update, or improve your pantry, these must-haves, mistakes, and tips can ensure you'll be ready to make the most of your pantry storage!
PANTRY DESIGN TIPS
Designing a pantry starts with what kind of space you have. Typical layouts include U-shaped, square, or L-shaped style walk-in pantries as well as reach-in pantries. The main objective is to have a design that doesn't waste an inch of space! Ideally, your pantry should be a natural extension of your kitchen where it's quick and easy to grab what you need. Here are some design elements to consider before starting:
Open, adjustable shelves that go to the ceiling allow you to have a variety of heights
Increase visibility by adding ceiling, track, rail, and undercabinet lighting
Drawers and cabinets are perfect for hiding items you want out-of-sight
Deep pull-out shelves for bulkier items
For larger pantries, a long, shallow counter can be a backup work surface as well as additional storage space
If you have an older or smaller home, use your space creatively, like adding a pantry under your staircase
For a reach-in pantry, shallow, angular shelves provide easy viewing of food and help keep smaller items organized
Pro Tip➞ Use baskets and shelf dividers to better organize deeper shelves
COMMON PANTRY MISSTEPS
Whether it's a result of overlooked planning or DIY gone wrong, we've seen some pantry fails. To ensure you get a return on your investment, you'll want to avoid making these common kitchen pantry design mistakes:
Doors that open inward therefore blocking access
Not adding a plug-in for things like a microwave, wine refrigerator, and rechargeable items
Bad or inadequate lighting
Shelving that is too deep to either reach or access items
Not considering the flow and layout of the kitchen relative to cooking and kitchen traffic
Using shelving as your only storage solution
Selecting dark wood that can make things more difficult to see compared to other colors
MUST-HAVE PANTRY ACCESSORIES FOR YOUR MINNEAPOLIS & ST. PAUL KITCHEN
Adding the right accessories to your pantry can make all the difference.  Organizational accessories allow you to utilize your storage space more efficiently.  Here are some key accessories that will help keep your kitchen organized and clutter-free!  For more examples of space-saving closet accessories, visit our closet accessories photo gallery.  
Pull-out shelves to organize pots and pans and make things accessible and visible from both sides
Roll-out rack for things like table linens, runners, and towels
Vertical tray storage for things like cookie sheets and trays
Pull-out cabinet step stool
Sliding drawer trays for reach-in pantries
Lazy Susans for spices, condiments, and more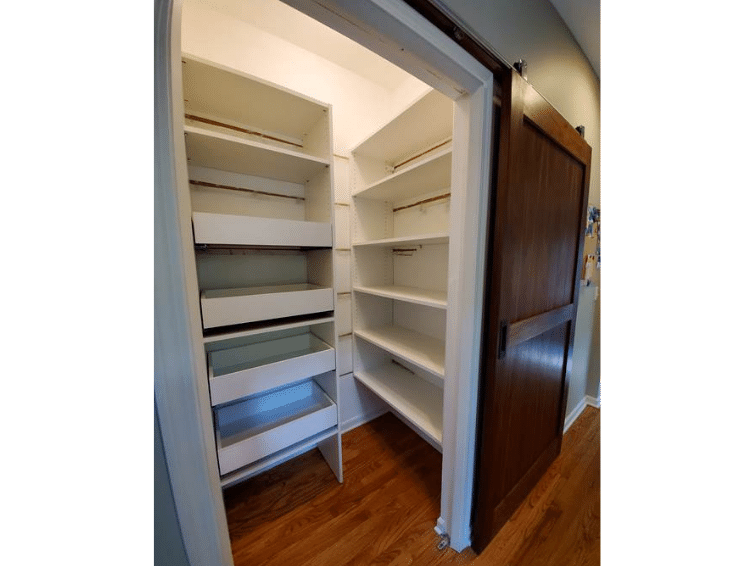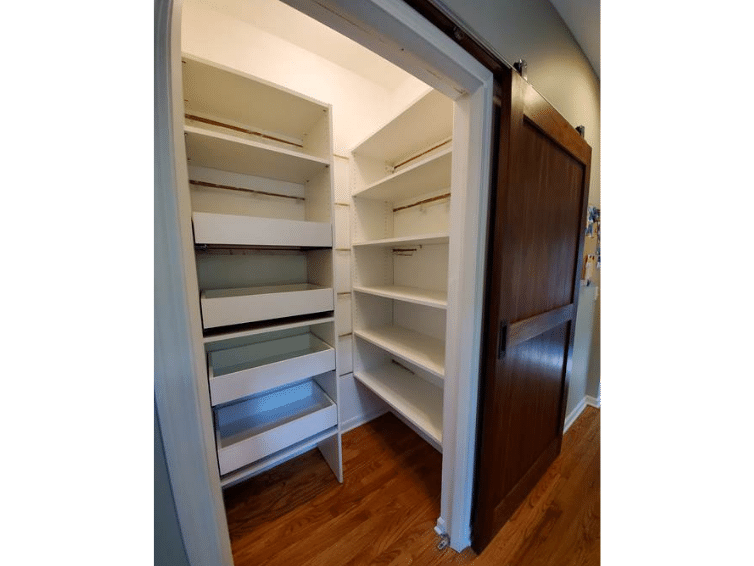 ==> Get inspired! See more photos of kitchen pantry storage and shelving projects in Minneapolis & St. Paul
CUSTOM PANTRY STORAGE & ORGANIZATION FOR HOMEOWNERS IN ST. PAUL, MN, AND BEYOND
Ready to bring organization into the heart of your home with a custom kitchen pantry?   At Closets for Life, we specialize in organization solutions for all areas of your home, including closets, garages, kitchens, home offices, laundry rooms, basements, and more.  Custom storage can triple the storage capacity of your space, increase your home's value and provide support to help you stay organized.   We'll come to your home, measure your space, discuss your needs and wants, suggest ideas, and, best of all, follow up in just a few days with a custom/ design specifically tailored to you – all free of charge.  Contact us today to schedule a free in-home (or virtual) consultation.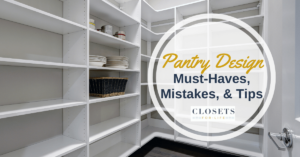 The key to an organized kitchen isn't what's right in front of you, rather it's what's behind the scenes!  A well-designed kitchen pantry, aka the hardest working space in your home, is the secret behind every spotless kitchen.  Smart and savvy kitchen pantry storage design can make life a lot easier.  Whether you need to […]
CONTINUE READING