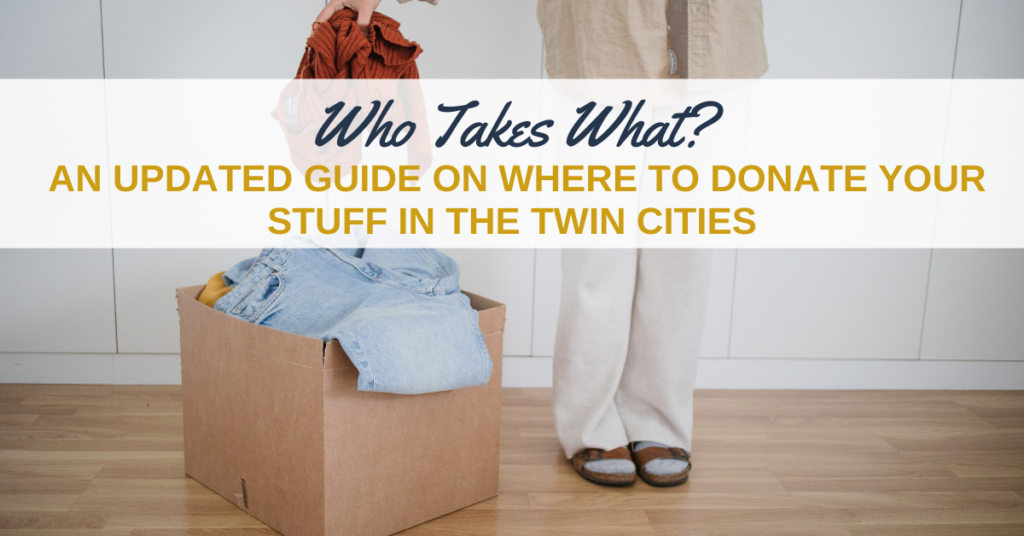 Who Takes What? An Updated Guide On Where to Donate Your Stuff in the Twin Cities

Whether you're spring cleaning your walk-in closet, garage, or your entire home, chances are you've discovered many things you no longer want or use. Instead of throwing those items away, consider giving them to those who need them most. According to a study, the average US citizen throws away 70 pounds of textiles. As a custom organization company specializing in home organization in the Twin Cities, one of our goals is to offer customers and readers valuable information on home organization. That's why we've compiled numerous blog posts with advice on organizing, from mudroom storage to basement cabinetry ideas to walk-in closet organization! Simply put, we have solutions for every room in your home including what to do with items you no longer want. Continue reading to learn where to drop off items, get free donation pick up, or sell items for extra cash.
Where to Donate in the Twin Cities
There are several great organizations that accept gently used item donations in the Twin Cities. Often, you'll get a tax incentive for donating which can put some money back in your pocket!
Salvation Army: Accepts clothing, books, furniture, appliances, and other household items. Visit their website for a complete list and to schedule your pickup.
Ready for Success: Still holding on to pre-Covid work clothes? Ready for Success serves individuals with lower incomes by providing the professional clothing and accessories needed to secure employment confidently. Please email to schedule a time to drop off your donation: Jennifer.Folkens@ppl-inc.org.
ReStore: Associated with Habitat for Humanity. ReStore accepts drop-off donations of new and gently used items based on these Donation Guidelines. They also take unused building materials.
Bridging: Intended to bridge the gap between those who have and those who don't. If you cannot bring your items to Bridging and live in the Twin Cities metro area, schedule a Bridging pickup. They offer a fee-based pickup service from your curb, driveway, or garage.
Goodwill: Goodwill Industries International supports a network of more than 150 local Goodwill organizations. There are many donation sites. For a list of what they can and cannot accept, click here.
Have Items You Need Picked Up?
Clearing out your entire garage or in with the new and out with the old, it's nice to have a donation center that will take these items off your hands, especially larger ones!
Disabled American Veterans: They visit most communities in the Twin Cities area every six to nine weeks. To find out when they will be in your neighborhood next, enter your zip code on the website in the 'GET STARTED" box above or call 651-487-2002.
Epilepsy Foundation of Minnesota:  Click here for a list of what items they accept.
Have Items to Sell?
Thanks to the internet, selling your items online is a great option for offloading furniture, appliances, and other housewares. Make sure you check their websites first for the guidelines on selling.
Turnstyle Consignment: A retail shop that accepts clothing and furniture with multiple locations.
Facebook Marketplace: You can sell most clothing and household items with a Facebook account and a camera. Here is a list of what can't be sold.
Once Upon a Child: Perfect for all your kids' old clothes, toys, and strollers! A retail store that buys and sells gently used kid stuff and has multiple locations in the Twin Cities and Wisconsin.
Plato's Closet: Also a retail shop that buys and sells gently used name-brand clothing and shoes with multiple locations in the Twin Cities and Wisconsin.
Garage Sale: If you're considering a garage or yard sale, here is an article with some tricks to making it worth your time and energy.
Specialty Items
Here are some great resources for those specialty items you weren't sure where to donate or sell.
Still can't find what you were looking for? Time to Organize, a local provider of professional organization services, has a great list of places to donate just about anything you can think of.
Your Organizational Partner in St. Paul, MN, & Beyond
Has decluttering left your home needing new (and improved) organization solutions?  At Closets for Life, we specialize in all areas of the home, including closet organizers, garage storage, kitchens, home office cabinetry and wall beds, laundry room storage, pantries, wine cellars, and more.  From cabinetry finishes to finding the right layout to match your needs and space perfectly, our locally-owned closet design and installation team can create customized storage solutions that make getting and staying organized a breeze! Contact our Minnesota and Western Wisconsin custom closet design team today to schedule a free in-home consultation.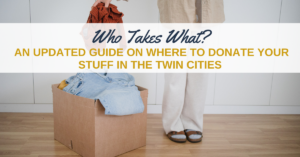 Whether you're spring cleaning your walk-in closet, garage, or your entire home, chances are you've discovered many things you no longer want or use. Instead of throwing those items away, consider giving them to those who need them most. According to a study, the average US citizen throws away 70 pounds of textiles. As a […]
CONTINUE READING