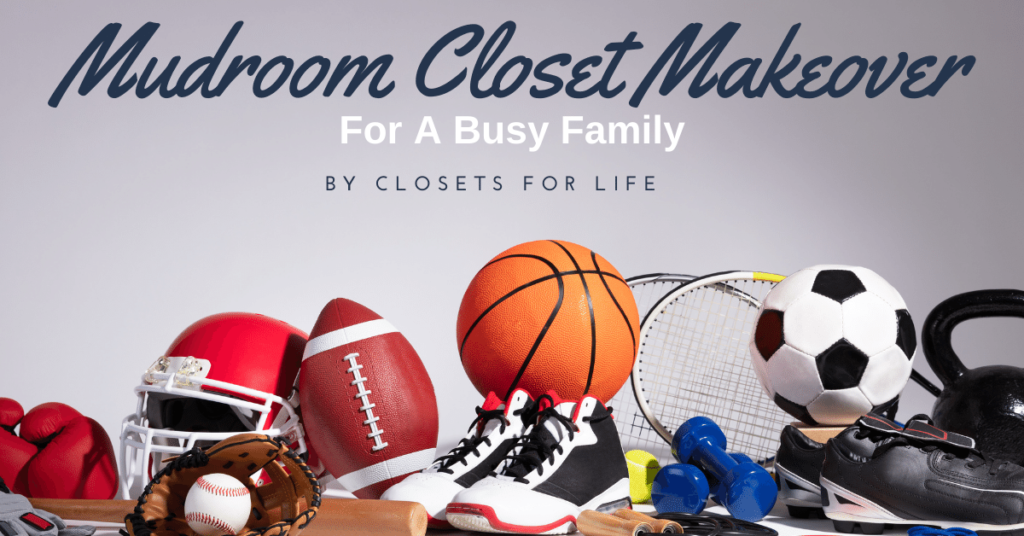 Mudroom Closet Makeover for A Busy Family

If you have a busy family like our recent clients from North Oaks, you'll enjoy and find inspiration from this makeover! Mudrooms serve as the catchall hub of the home, where backpacks, messy footwear, sports equipment, coats, and hats all get stored. When this active family of five asked us to transform their mudroom closet storage to accommodate changing seasons and sports, we jumped into action. First, we had our clients complete our helpful Closet Inventory Checklist that provides a comprehensive look at their storage needs in terms of space and features. From there, we designed personalized custom storage for their existing four mudroom closet spaces to organize and meet their many storage needs, from shoes (so many shoes!) to sports equipment, jackets, and more! Keep reading to learn all the details on how we helped tame the chaos by turning four poorly functioning closet spaces into the organized mudroom space this busy family of five needed!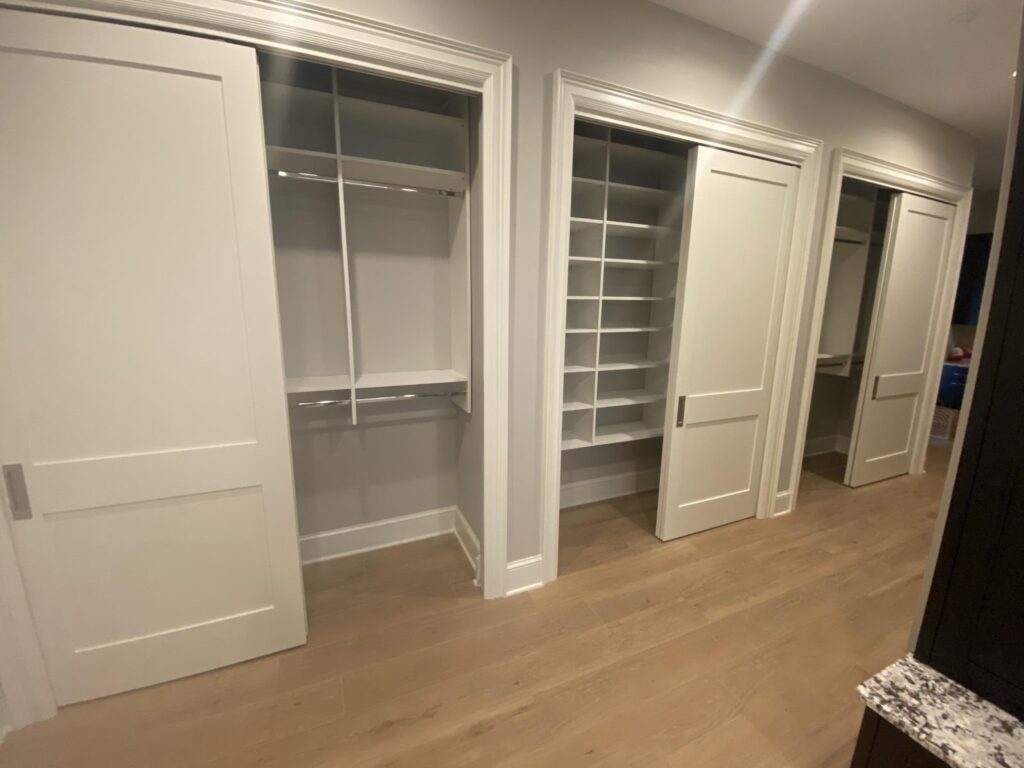 MUDROOM CLOSETS #1 & #3 – MAXIMIZED HANGING SPACE
Quick and easy access was a high priority for our clients, which these closets have in spades! We designed closets #1 and #3 to provide open, uncluttered hanging storage with stacked, adjustable hanging rods. By adding ample shelving to the ceiling above and enough lighting to find even a golf tee, we gave these closets new life and purpose! The monochromatic color scheme looks beautiful and creates visual order, making it easier to find things. No matter what your budget or square footage, closet systems can be tailored to fit your needs.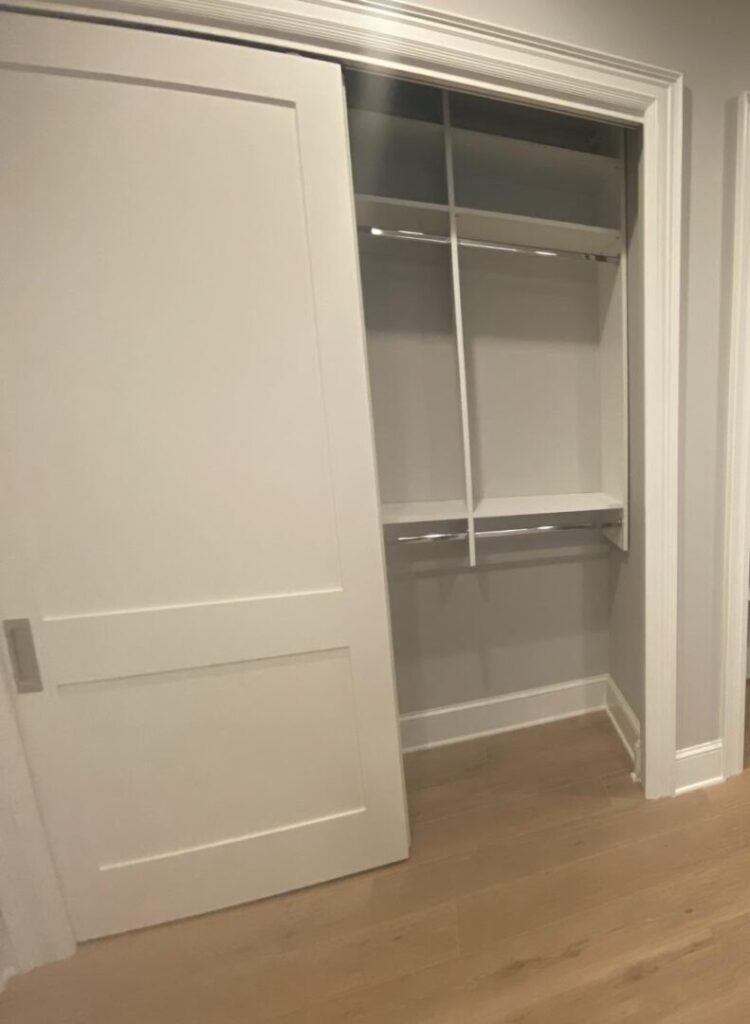 CLOSET #2 – ALL ABOUT THE SHOES
With a large family comes a lot of shoes! We created extra-wide shoe shelving to accommodate boots, athletic shoes, and even high heels that can be tailored to fit any shoe collection. And for those shoes you prefer to be out-of-sight or out of season, we designed the shelves to go all the way to the ceiling.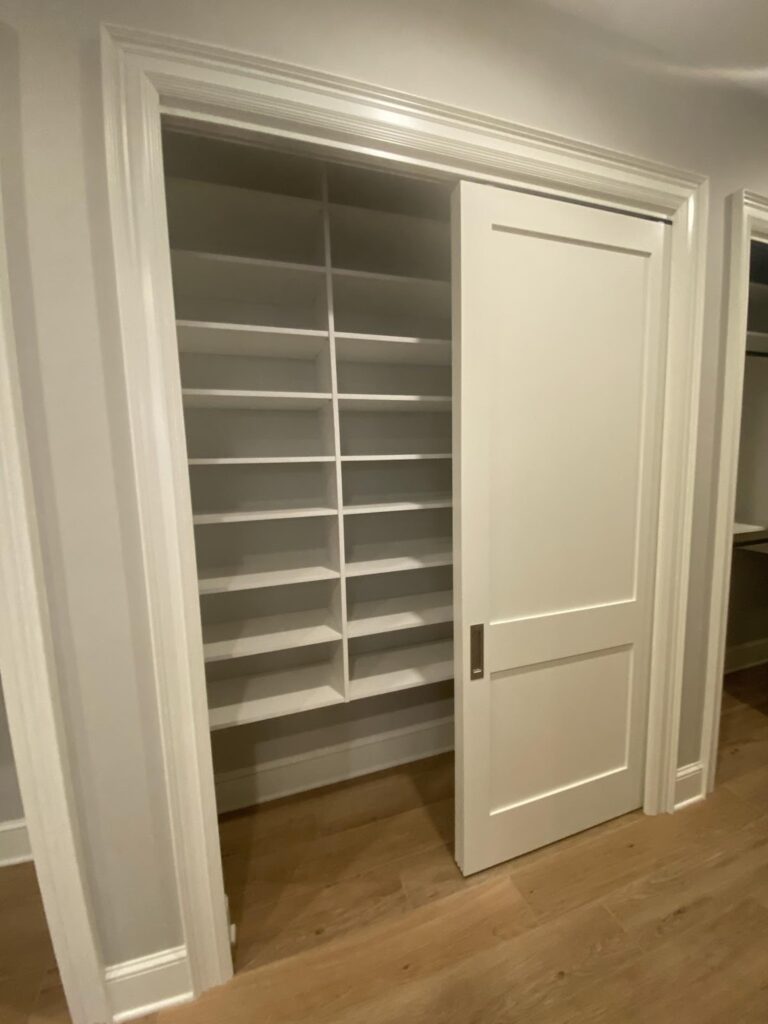 CLOSET #4 – SPORTS EQUIPMENT
We call this the athletes' closet. It has everything from multiple-sized shoe and hat cubbies to vertical hockey stick storage to pull-out baskets for balls and pucks. Everything is easy to see and easy to find, making a big difference when you're running late to practice! An adjacent bench is perfect for changing shoes and setting bags and backpacks on. By incorporating custom features like these, a closet system can maximize storage possibilities and transform even the most basic closets.
Pro Tip➞ By adding storage that goes to the ceiling, you can store seasonal items and outerwear when they are out of season.
CUSTOM MUDROOM CLOSET STORAGE FOR HOMEOWNERS IN ST. PAUL, MN, AND BEYOND
Want to learn how a custom mudroom closet storage & organization system can bring order and access while ensuring a less stressful start and finish to your day? At Closets for Life, we specialize in organization solutions for all areas of your home including closets, garages, kitchens, home offices, laundry rooms, pantries, and more. Custom storage can triple the storage capacity of your space, increase your home's value and provide support to help you stay organized. We'll come to your home (or meet virtually!) to measure your space and discuss your needs and wants. Contact us today to schedule a free in-home consultation.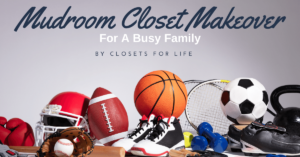 If you have a busy family like our recent clients from North Oaks, you'll enjoy and find inspiration from this makeover! Mudrooms serve as the catchall hub of the home, where backpacks, messy footwear, sports equipment, coats, and hats all get stored. When this active family of five asked us to transform their mudroom closet […]
CONTINUE READING