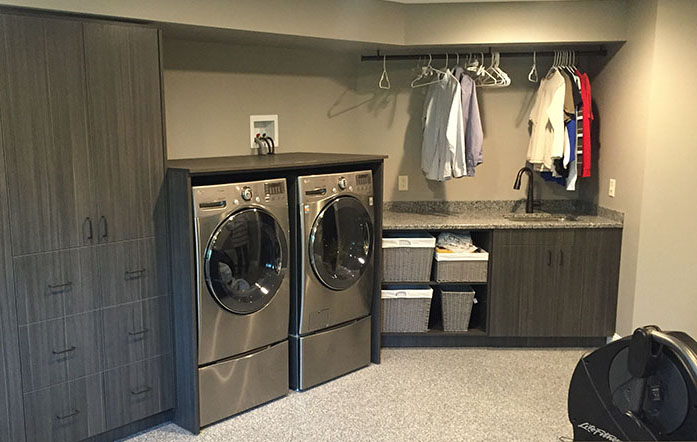 How to Turn a Cluttered Basement Room into a Multi-Functional Space

Most of us have that room in our house. You know…… the over-crowded room in the basement that is the go-to space for storing random items you rarely (if ever!) use. We don't intend for it to become an over-filled catch-all space. We start by saying we'll just store an item there until we have time to go through everything. But days turn to months and months to years and eventually the room is packed to the gills with stuff! Today we want to show you what this room could be with just a bit of TLC.
A Basement Transformation
Our clients came to us wanting to transform their basement storage room into a multi-purpose space. The room's only purposes up to this point was for laundry (the room housed the washer and dryer) and storage, lots and lots storage. The space was large but so overwhelmed by bins and items that it felt small and cluttered.
When we met with our clients during their free in-home consultation, they expressed their wish to transform the room into a multi-purpose space. The washer and dryer needed to stay but they also wanted to incorporate space for exercise and a crafting/wrapping station, all while still maintaining some storage capacity. Their plans were to empty the room of its contents, sheet rock and paint the walls and finish the cement floor with an epoxy finish. They wanted us to design and install an overall cabinet and storage solution that tied the room together and assisted them in using the space for multiple purposes.
We set about designing a solution that would run along two of the walls, leaving ample space for exercise equipment in the center. Running along one wall, we installed base cabinets with custom sized drawers for holding wrapping paper and craft supplies. The wrapping paper drawers are 40″ deep, big enough to hold 3′ rolls of wrapping paper! Ample counter space provides plenty of room for crafting or wrapping. A TV mounted above the craft space can be used while exercising.
Along the second wall, we incorporated tall storage cabinets for hanging seasonal clothing items and other laundry storage.  The washing machine and dryer are encased, providing a counter space above the units for folding and a base cabinet to the right of the washer and dryer can be used for laundry supply storage with a hanging area for clean clothes above.
All of the cabinetry was constructed using Stevenswood Artika textured melamine in Takase Teak which gives the room a sophisticated and polished feel.  All together, the transformation was amazing!  Our clients were overjoyed with the results, having gained a significant amount of new usable space in their existing home.  To see larger photos of this project, click here to visit our Houzz page.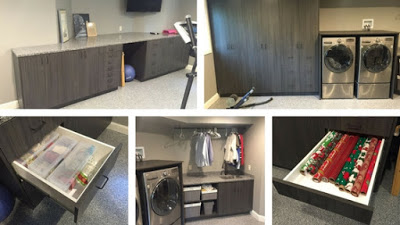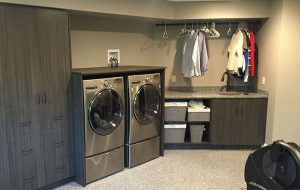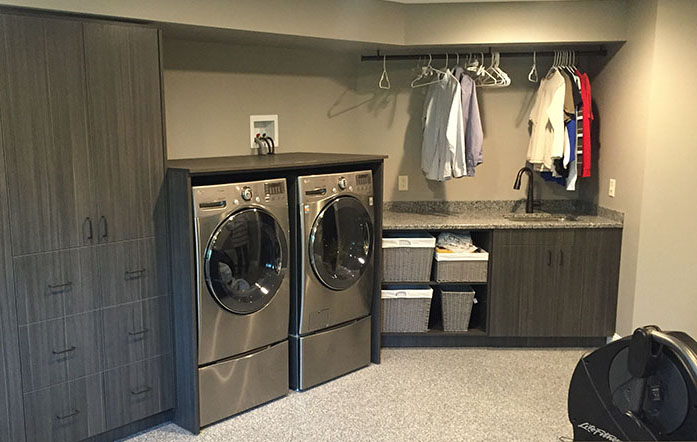 Most of us have that room in our house. You know…… the over-crowded room in the basement that is the go-to space for storing random items you rarely (if ever!) use. We don't intend for it to become an over-filled catch-all space. We start by saying we'll just store an item there until we have time to go through […]
CONTINUE READING