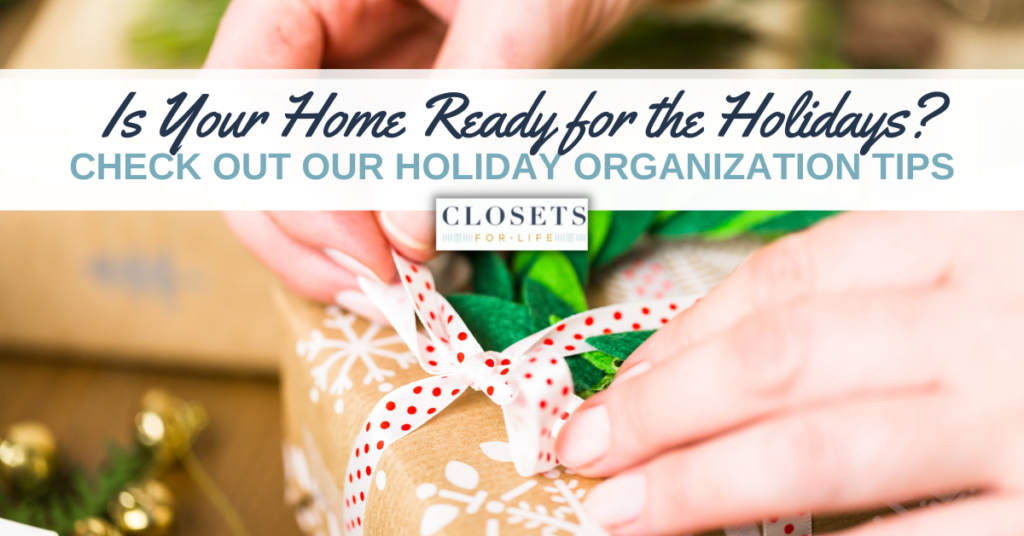 Is Your Home Ready for the Holidays? Check Out These Holiday Organization Tips

Whether hosting a big holiday dinner with family or having friends over for a cookie exchange, you want your home to have a warm and welcoming atmosphere!  Welcoming doesn't mean perfect. It means uncluttered and stress-free, giving you more time for family and fun!  There's no better way to get in the holiday spirit than with an organized home.  Our dedicated team of Twin Cities custom closet designers share some great tips on setting the stage for your most relaxed, stress-free holiday season yet!
Make Your List & Check it Twice
The most 'wonderful time of the year' can also be the most stressful time of the year, so planning is key!  Making a few lists is a great way to keep yourself organized and your mind less frazzled.  Having a list can help you keep things such as holiday guests, meals, and presents organized and you full of holiday cheer!  Here are some suggestions to get you started:
🎄  Gift list
🎄  Event list
🎄  Holiday card list
🎄  Traditions, such as movies and activities list
🎄  Meals list
🎄  Holiday budget list
Closets First!
Your lists are made; it's time to start organizing.  Organized, clean closets are a secret weapon to low holiday stress and festive holiday organization!  Here are some organization tips and strategies to make your closets work for you during the holidays and beyond!
Clean and donate unused closet items to get the tax deduction for 2022.
Adding adjustable and pull-out shelves to your closets can maximize your space.
Avoid a blizzard of winter gear in your mudroom by adding pull-out baskets, upper and lower hooks, and a designated spot for wet boots.
Create extra room in your entry closet for guests by using your vertical space with cubbies and custom shelves.
Stop looking for holiday decor and supplies in every corner of your house by creating a designated holiday closet where you can keep everything in one place.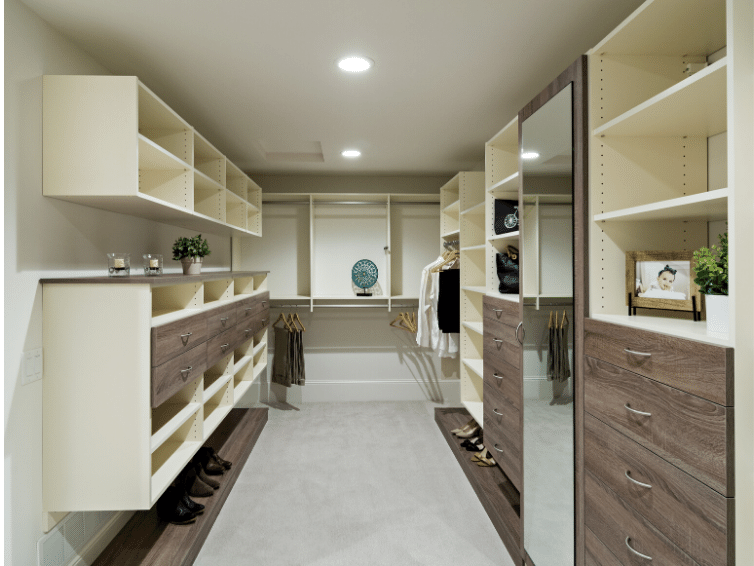 >> Check out our Gift of Organization blog for more ideas like these! <<
Plan for Overnight Guests
Don't let this one sneak up on you!  Preparing now for overnight guests will undoubtedly put you on the 'nice list'!  Like many homeowners, your guest room closet is most likely a catch-all for your random belongings, so remove any unnecessary items.  That way, you'll have enough space for hanging clothes and luggage during their stay!  If you lack space, maybe it's time to give yourself the gift of a Murphy bed!  The versatility of a Murphy bed is endless as it multiplies the functionality of a room! Designed to hold a regular-sized mattress, Murphy Beds are just as comfortable as a traditional bed and take up barely any space because they easily fold out when needed.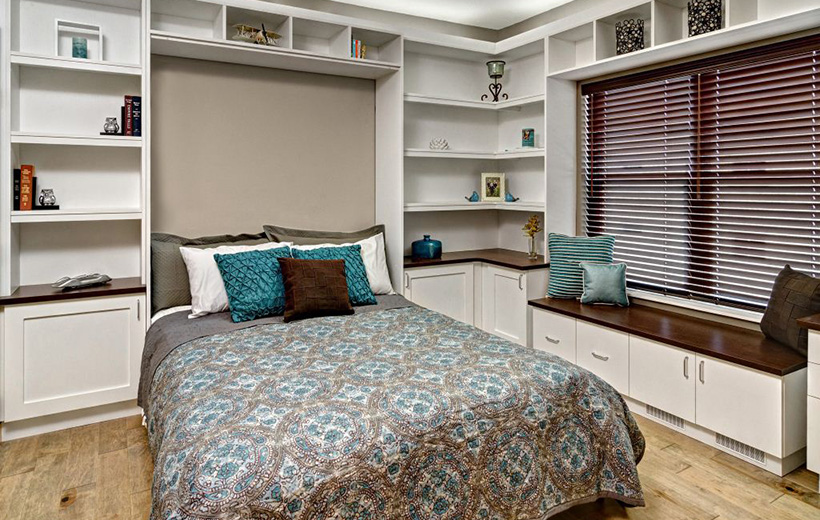 >> See More Photos of This St. Paul, MN Murphy Bed & Multi-Purpose Home Office Space <<
Set up a Holiday Gift Wrapping Area
Shopping season is upon us, meaning your gifts are almost ready to be wrapped.  Why sit on the floor amongst the chaos of paper, tissue, and tape when you can create your own wrapping station?  Not only will this make wrapping more fun, but it will also keep all of your wrapping supplies organized in one spot all year round.  Whether it's a corner, a closet or an entire room, you won't have to wonder where the scissors and tape are anymore!  Here are some helpful wrapping station tips and tricks:
Whatever area you pick, be sure to maximize vertical space with cabinets and shelving.
Add pegboards to hang and store scissors, ribbons, gift labels, and bags.
Display and store wrapping paper and ribbons with tension rods or specially designed drawers and don't forget to include counterspace for wrapping.
To create a generous amount of workspace, find an oversized table or include an island in your custom design like the one we made below for our client's custom-designed craft room.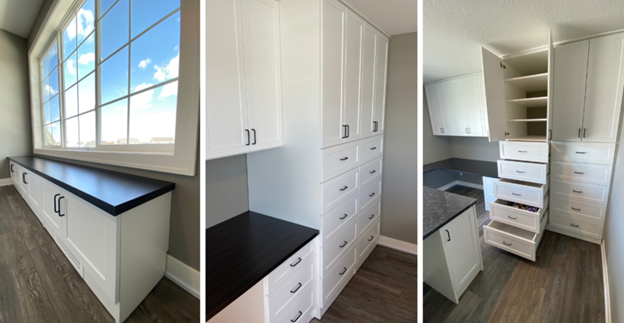 Learn the story behind this project here >>> A Crafter's Paradise
Don't be Afraid to Ask for Help
If Santa needs elves to get through the holidays, there's nothing wrong with asking for help!  Our team of organization experts is here to help.  From customizing a new pantry to a new closet organization system to crafting stations and mudrooms, we create customized designs for all your storage needs.  With the help of some advanced planning, we can bring the holiday spirit into your home!
Custom Holiday Home Organization for Homeowners in St. Paul, MN, & Beyond
Ready to have an organized home just in time for the holidays?  At Closets for Life, we specialize in all areas of the home, including closets, garages, kitchens, home offices, laundry rooms, pantries, wine cellars, and more.  With the help of our experienced locally-owned closet design and installation team, we can create customized storage solutions that fit your organizational needs and much more!  We'll come to your home (or meet virtually!) to measure your space and discuss your needs and wants.  Contact our Minnesota custom closet design team today to schedule a free in-home consultation.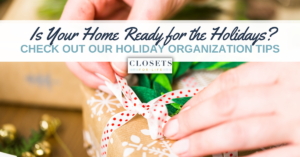 Whether hosting a big holiday dinner with family or having friends over for a cookie exchange, you want your home to have a warm and welcoming atmosphere!  Welcoming doesn't mean perfect. It means uncluttered and stress-free, giving you more time for family and fun!  There's no better way to get in the holiday spirit than […]
CONTINUE READING