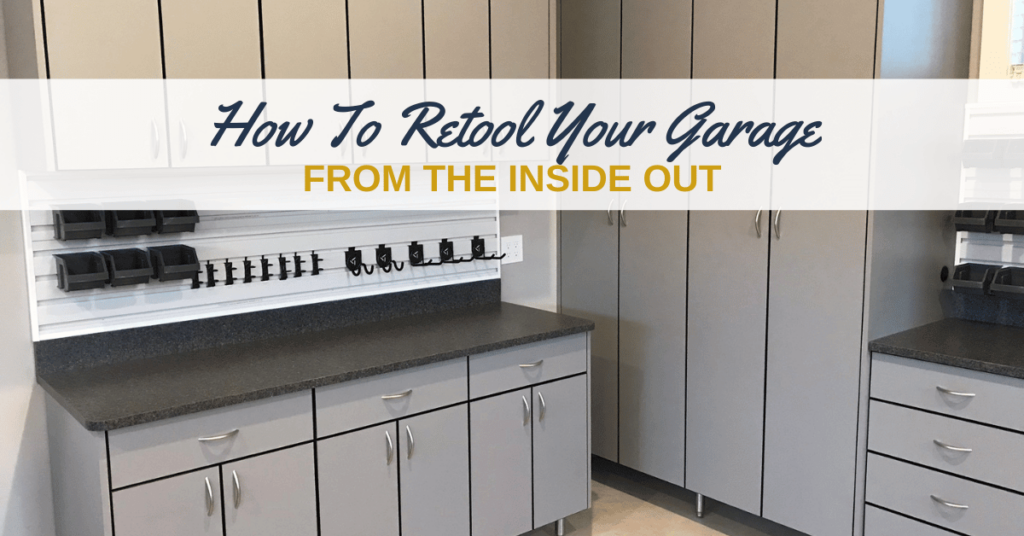 How to Retool Your Garage from the Inside Out

Spring is near, and whether you're an avid gardener, a woodworker, or love to putz around outside, we have tips on how to best organize the busiest space in our homes – the garage! Keeping your tools organized makes finding things easier and allows you to work faster and more efficiently. Organizing your garage is easier than you think when you partner with a team of professionals dedicated to creating solutions to your organizing needs! Our Twin Cities custom garage designer team can walk you through each stage of the process to help retool your garage from the inside out! Here's how!
Cabinets & Drawers
The ultimate organization solutions to keep tools and dangerous items out of sight are garage cabinets and drawers!  No matter what size garage you have, customized cabinets and drawers make your garage look nicer and more organized.  At our locally owned and operated custom closet and home storage company, we use locally manufactured products designed for your needs to help reclaim the valuable space in your garage!  When you can customize the height and depth of your cabinetry, there's no limit to your organizational possibilities!  So say goodbye to unsightly paint cans, rags, and cleaning supplies.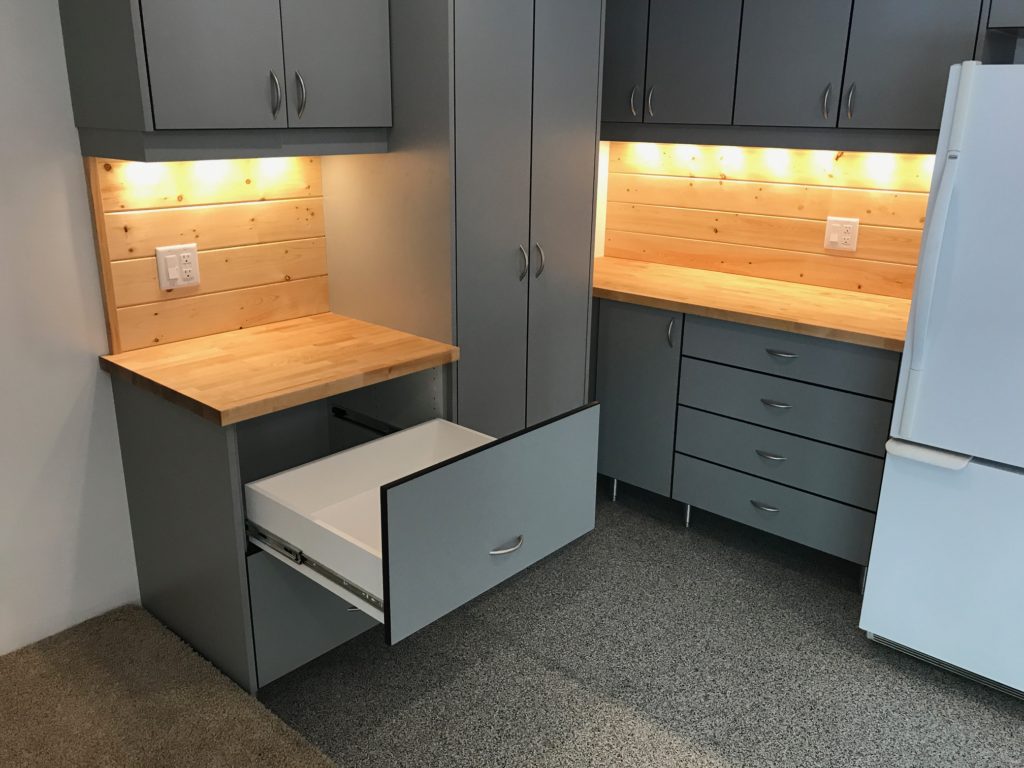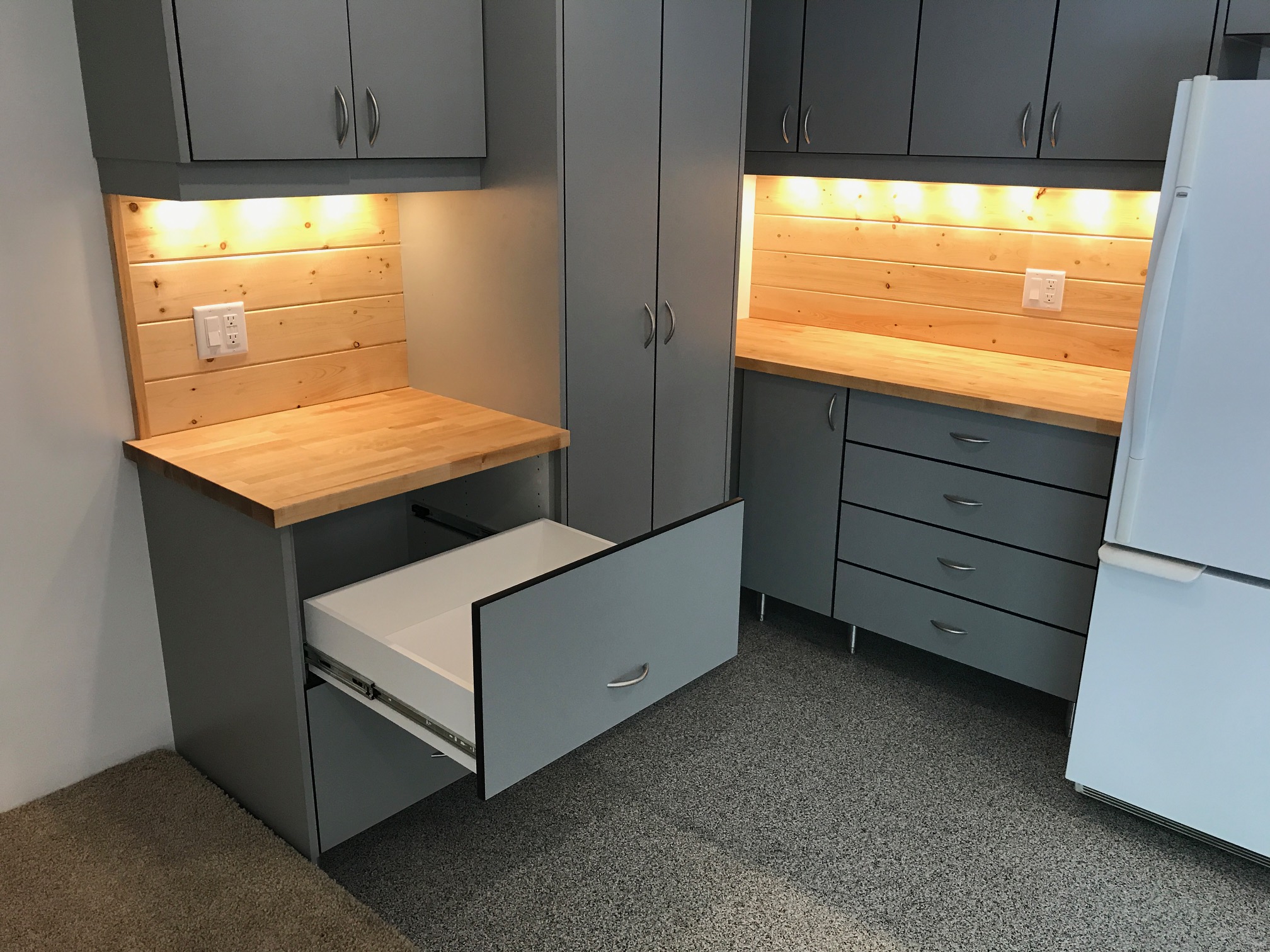 Wall Storage
For storing and accessing your most-used tools, nothing beats wall storage! Wall storage makes finding things like scissors, wrenches, and hammers much easier. Installing a Gladiator GearWall® allows you to hang custom hooks, baskets, and bins at varying heights and lengths to store shovels, power tools, and more! The Gladiator garage storage line takes it up a notch with customized mix-and-match hooks and bins perfectly sized for nails and screws. You can even store ladders, strollers, and bikes by simply adding more panels. Heck, why not cover an entire wall?
>> View our portfolio of garage storage projects for ideas & inspiration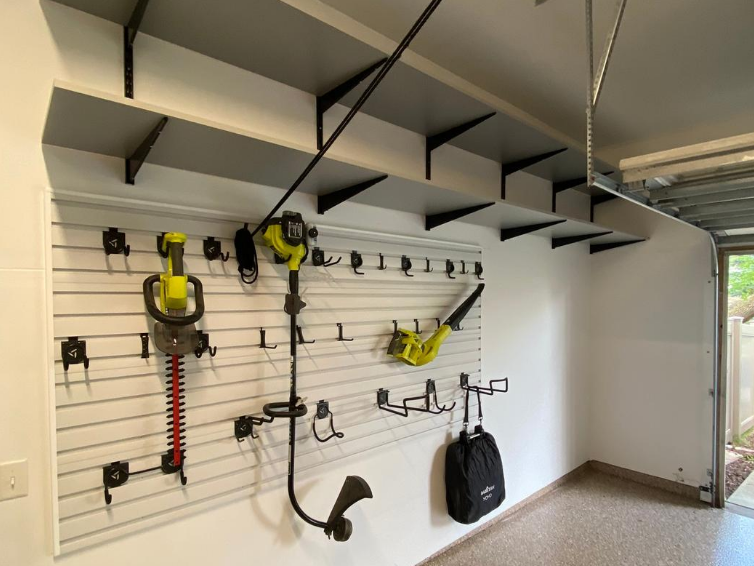 On-The-Move Storage You Can Roll With
Projects demand flexibility, so whether working on your car or building a shelf, a rolling tool cart provides all the tools you need right at your fingertips. Most rolling garage cabinets are waist-height, with a flat top to use as a workbench or a platform for stacking additional storage. Side cabinets with sliding drawers and lockers with shelving inside can be attached to the side of your tool cabinet. There are tool carts that can accommodate the most extensive of tool collections, and for bulkier tools, invest in deep, extendable drawers.
Add-Ons
Since tools and everything else stored in your garage come in all shapes and sizes, having flexible storage solutions are critical! Here are some additional storage solutions to help you get the garage you've always wanted. And if you're wondering about what items you should or shouldn't store in your garage, check out our blog on What Not To Store In Your Garage and Why.
A pulley system for storing heavier items off the floor
A workbench or surface to perform tasks, whether planting flowers or mixing paint, increases the usability of your garage.
Foam inserts line the drawers of a tool cabinet to cushion tools and keep them from rolling around when moving the cabinet.
Socket rails and organizer trays allow you to arrange your sockets by size, making them easier to find
Wrench racks, rolls, and magnetic bars protect your wrenches, keeping everything visible and organized.
Bucket organizers are fabric sleeves that fit inside a plastic bucket, lining it inside and out with pockets to hold tools.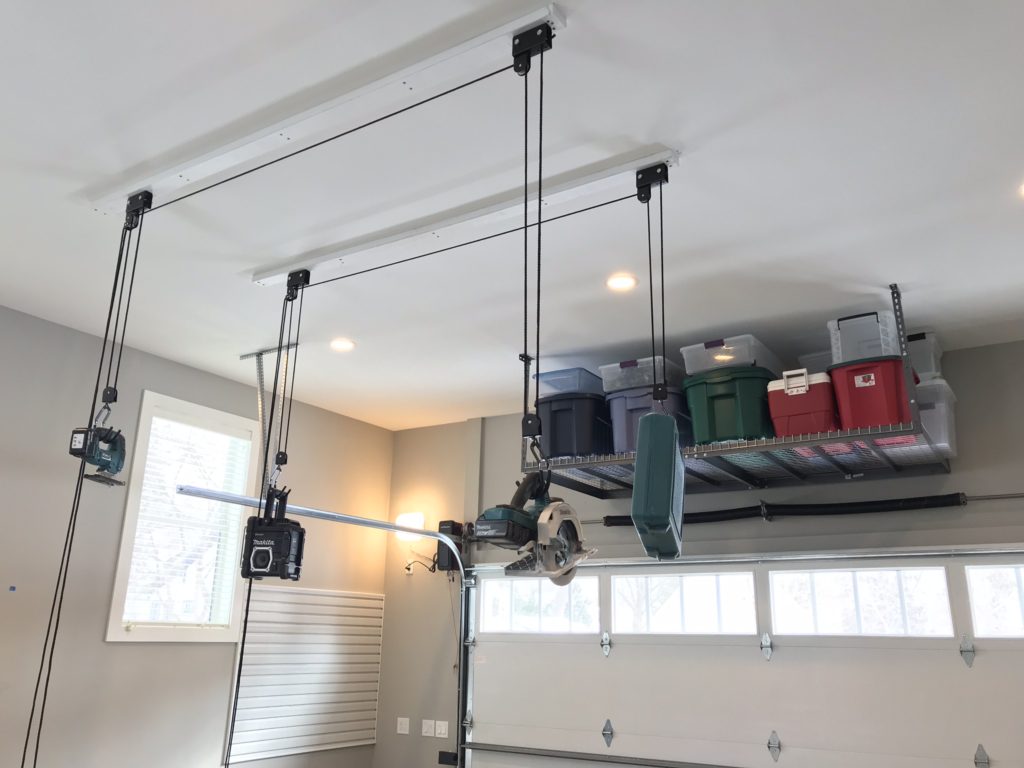 Custom Garage Organization for Homeowners in the Twin Cities & Beyond
If you're ready to add functionality and value to your garage or any area of your home, don't look any further  At Closets for Life, we specialize in all areas of the home, including custom closets, garage storage, kitchen pantry storage, home offices, laundry room cabinets, wall beds, wine cellars, and more.  From cabinetry finishes to finding the right layout to perfectly match your needs and space, our locally-owned closet design and installation team can create customized storage solutions that make getting and staying organized a breeze! Contact our Minnesota custom closet and custom storage design team today to schedule a free in-home consultation.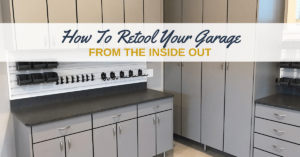 Spring is near, and whether you're an avid gardener, a woodworker, or love to putz around outside, we have tips on how to best organize the busiest space in our homes – the garage! Keeping your tools organized makes finding things easier and allows you to work faster and more efficiently. Organizing your garage is […]
CONTINUE READING