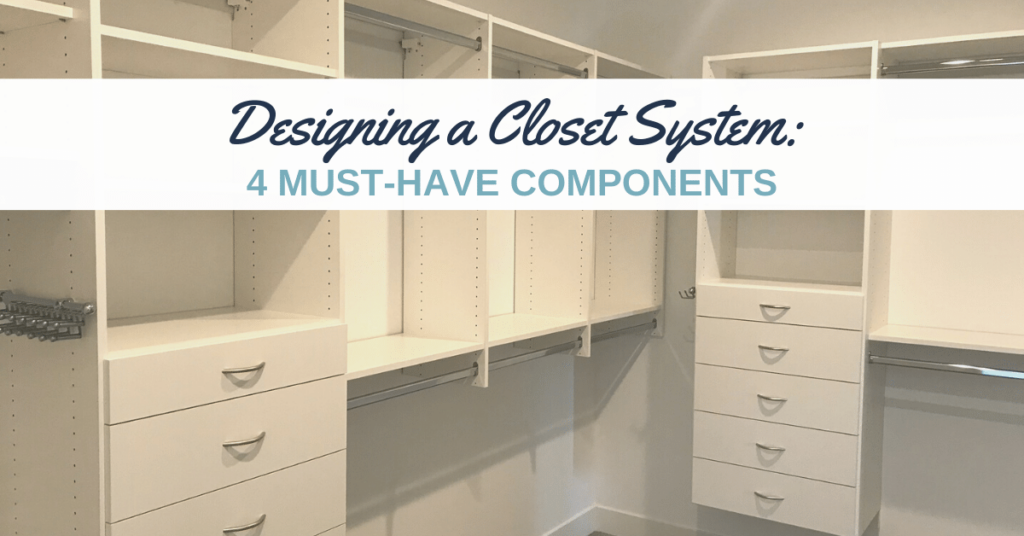 Designing a Closet System: 4 Must-Have Components

Are you constantly having trouble finding things in your closet? Do you always seem to re-organize your closet only to have it disordered all over again? Looking for a long-term organizational solution? If your closet is continuously overwhelmed, it may be time to consider a custom closet storage solution. At Closets For Life, we understand how custom closets function. These four must-have components can be chosen and configured based on a professional closet design consultation leaving you to sit back and enjoy the process! Learn how our team of Twin Cities custom closet designers integrates solutions that maximize form and function, bringing years of organization into your life!


#1 Hanging vs. Shelves vs. Drawers
The best type of organization solution depends on the contents of your walk-in or reach-in closet.  Do you have piles of purses?  Stacks of t-shirts and jeans? Then shelves and drawer space are high on your closet priority list. If dress clothes are coming out of your ears, then you'll want more hanging space. Your personal preferences should also play into any decisions. If you prioritize, easy access you'll want to consider features like adjustable hanging rods and shelving help provide easy access.  If you prefer your items tucked out of sight for visual aesthetics, custom drawers keep your closet feeling composed.


#2 Sky's the Limit
One of the biggest mistakes we see with designing a closet system is when too much dead space is left above the top shelf.  Make the most of your closet height by raising hanging storage as high as possible. Pull down closet rods can keep clothes at the top easy to reach and the space above your system (ideally less than 24") can be used to store seasonal clothing.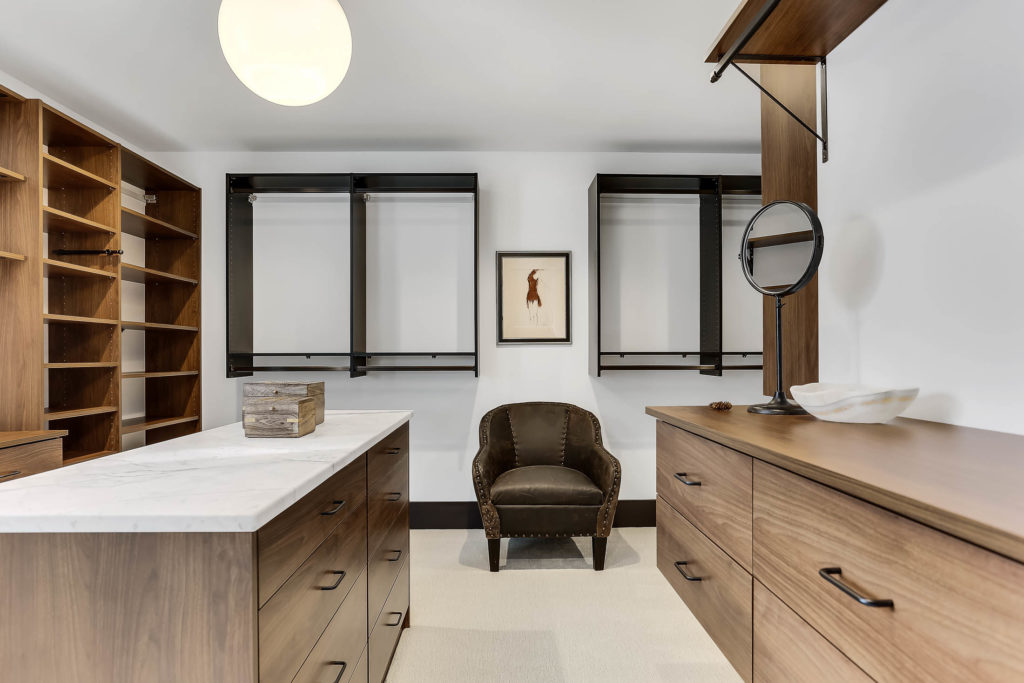 ==> See more photos and learn details behind this stunning Minnetonka walk-in closet design
#3 Finishing Touches: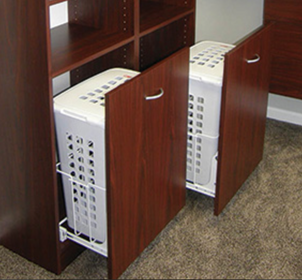 Now that some of the basics are covered, it's time to add your personal touch!  Here are some key features we consider when designing a closet system to bring character, charm, and functionality to a custom closet.
Lighting (LED strip, recessed, hanging, floor)
Custom shoe shelves and organizers
Distinctive knobs and closet hardware from oil-rubbed to brass to matte black
Pull-out custom laundry hamper and hidden ironing board
Mirrors (wall/door mount, retractable, door panels, and 3-way)
#4 Accessories:

Choosing the right closet accessories can be overwhelming, but these personalized features look and feel amazing when done right! Tailored to your needs, accessories like a pull-out jewelry tray, drawer dividers, and valet rods simply make life easier! For example, items like belts, scarves, and ties often get lost, pushed back, or fall to the floor. A custom tie, belt, and scarf rod keep them visible and right where they belong.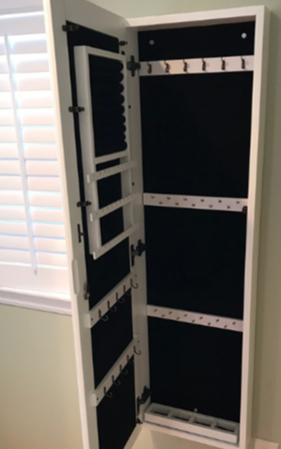 Custom Closet Organization for Homeowners in St. Paul, MN, & Beyond

Give yourself the gift of organization!  You deserve a closet that provides lasting value and impeccable craftsmanship with features that meet your unique needs!  At Closets for Life, we specialize in all areas of the home, including closets, garages, kitchens, home offices, laundry rooms, pantries, wine cellars, and more.  We approach every project with a fresh perspective tailored specifically to your lifestyle.  We'll come to your home (or meet virtually!) to measure your space and discuss your needs and wants. Contact our Minnesota custom closet design team today to schedule a free in-home consultation.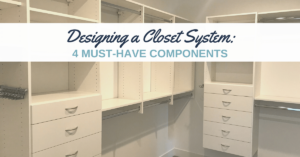 Are you constantly having trouble finding things in your closet? Do you always seem to re-organize your closet only to have it disordered all over again? Looking for a long-term organizational solution? If your closet is continuously overwhelmed, it may be time to consider a custom closet storage solution. At Closets For Life, we understand […]
CONTINUE READING