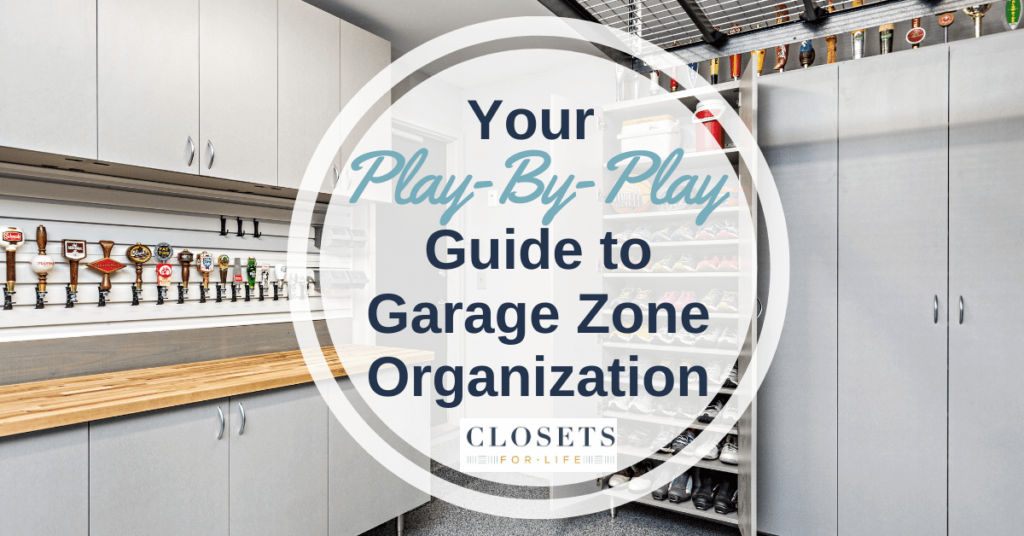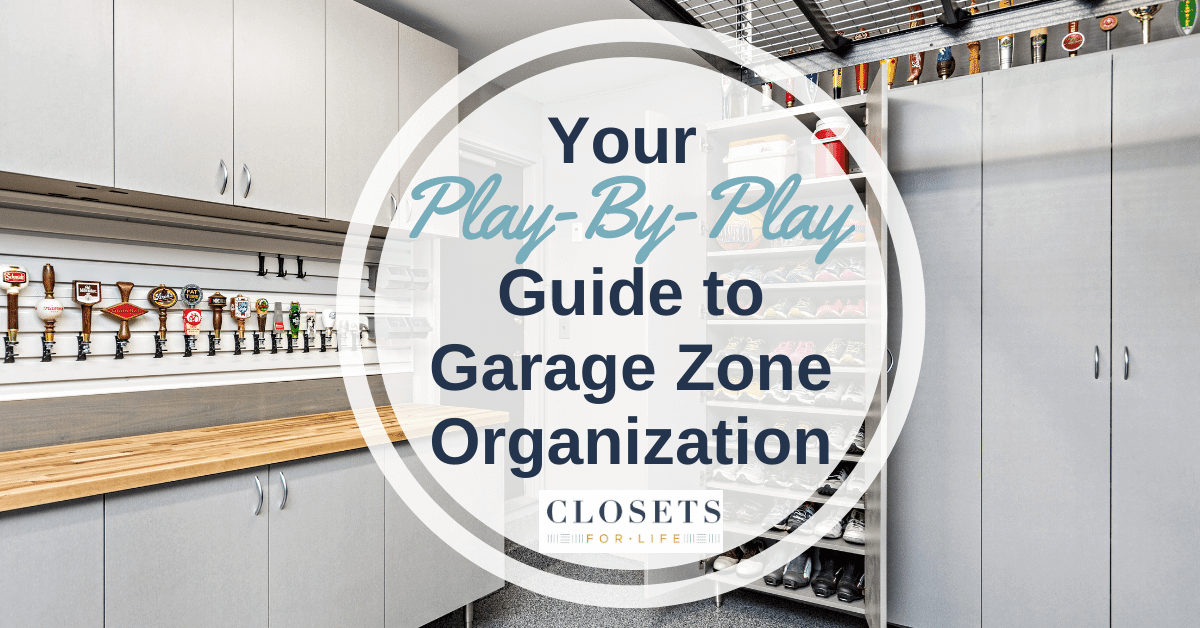 Your Play By Play Guide to Garage Zone Organization

Like most Minnesotans, you're probably soaking up as much outdoor time as possible these days.  How is your garage holding up with all that activity?  Approximately one out of four Americans say their garage is so unorganized it can't even fit one car!  And 50% of homeowners named the garage as the most disorganized place in their house.  Why not take advantage of the extra time you have at home this fall by organizing your garage into zones.  Creating zones reduces clutter, maximizes storage potential, and, most importantly, helps you stay organized!  You'll be amazed by how much space you really have after going through this process. So, how do you get started? We've broken it down for you here, highlighting suggested zones and recommended storage for keeping each garage zone organized.
Before You Get Started
Every successful organization effort begins with a little decluttering, and garages are no exception.
Take these steps to ensure your efforts are long-lasting.
——–
1-Take everything out so you can inventory what and how much you have
2-De-clutter by putting items into these three categories: throw out, donate/sell, and keep.
3-Decide if the items you are keeping even belong in the garage in the first place!
Not sure? Check out our blog, What Not to Store in Your Garage & Why 
4-Invest in storage
Learn the 5 Signs That Indicate Your Garage is Badly In Need Of Some Storage Support
5-Group similar items together (more detail on this next)
Time To Get 'In the Zone'
——–
THE HOME IMPROVEMENT ZONE
RECOMMENDED STORAGE: Cabinets, workbench, Gladiator GearTracks® Wall Channels
Where is a hammer when you need one? You'll never have to ask that again when you have a dedicated zone for your home improvement tools!  Creating a zone can make your next DIY project a breeze because you'll have an area specifically for working and storing everything home improvement related.  We highly recommend the Gladiator GearTracks® Wall Channels system, customizable with accessories to match your tool storage needs. Also, depending on the number of tools you have, consider including a mobile workbench, heavy-duty tool chest, or garage cabinets for ample storage and a streamlined look that maintains a clutter-free garage space.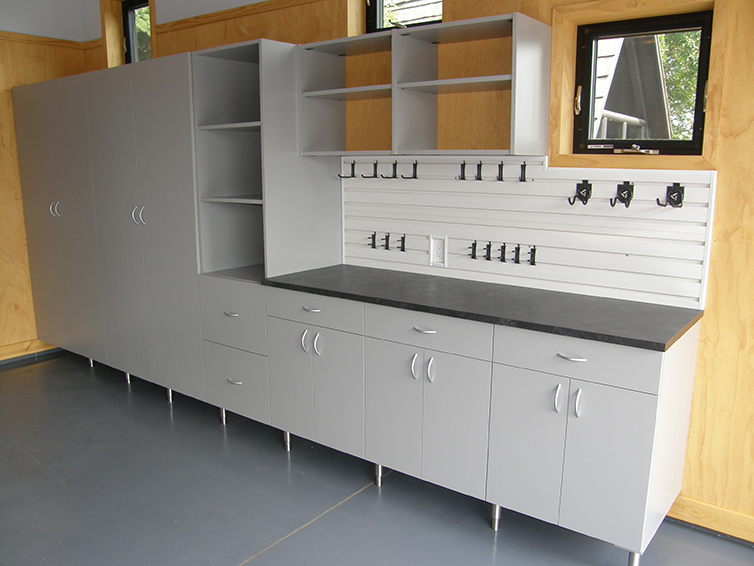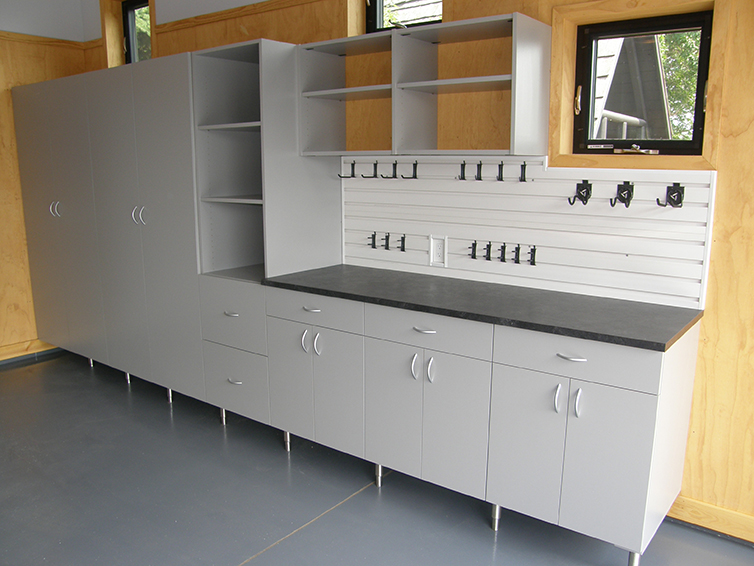 THE SPORTS AND RECREATION ZONE
RECOMMENDED STORAGE: Bike & canoe hoists, perimeter shelves, overhead storage rack, tall cabinets
The easiest way to identify a sports family is to look at their garage!  From bikes and golf bags to helmets, sticks, and skis, dedicating a specific zone will not only make equipment easy to find, but it also helps protect these important investments.  Perimeter shelves and wall panels are ideal for sports and recreation equipment because they provide the grab-and-go layout all busy parents need.  If you wish to keep items out of sight, consider tall storage cabinets that can fit tall items like hockey sticks and fishing poles or that features shelving for tons of storage. Lastly, an overhead storage rack is perfect for those out-of-season items.  Outdoor equipment often requires storage that can adjust to the seasons.  Cabinetry, slat walls, specialty hooks, shelves, and baskets provide that flexibility.
THE LAWN AND GARDEN ZONE
RECOMMENDED STORAGE: Gladiator GearTrack® 4″ Channels, Cabinetry

Keep your lawn and garden tools organized and easy to find by creating a designated zone.  For smaller items like pruning shears, Gladiator GearTrack® 4″ Channels are versatile and durable, allowing you to store your tall yard tools, hoses, and watering cans with heavy-duty hooks.  Garage cabinetry is ideal for items like leaf blowers and chainsaws because it's easy to access, lockable, and unobtrusively stored.  The cabinetry also instantly elevates the aesthetic of your garage, resulting in a clutter-free storage solution.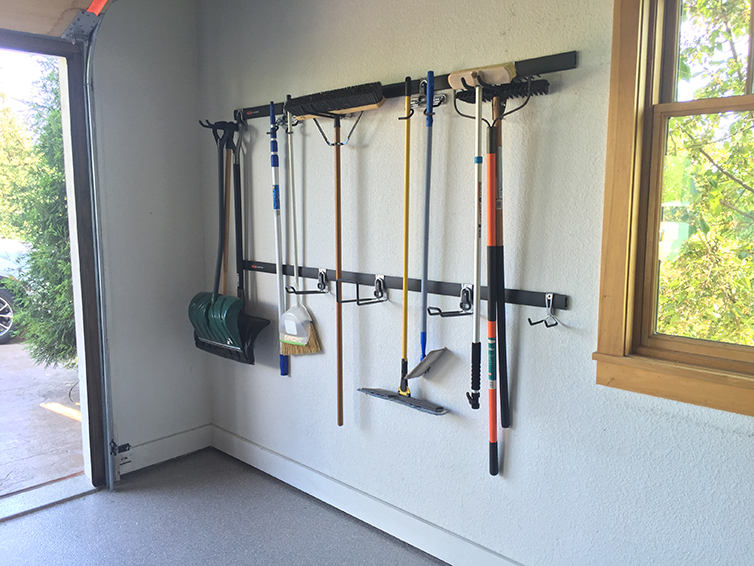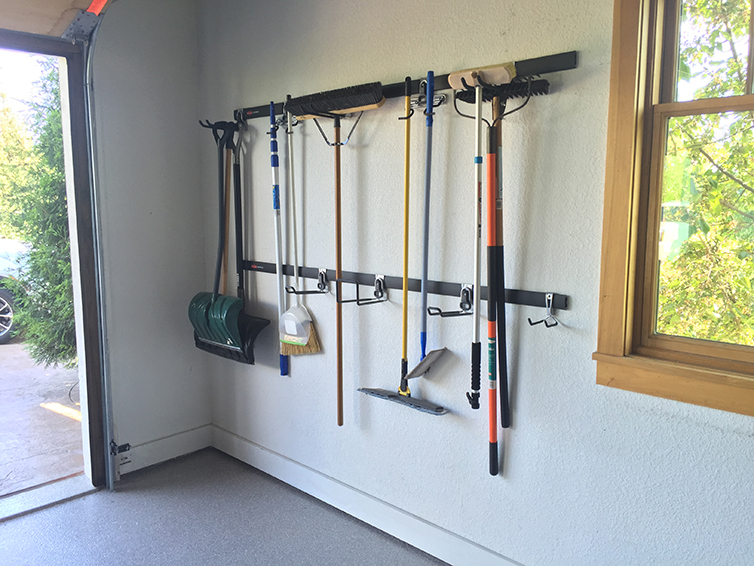 THE ONCE IN AWHILE ZONE
RECOMMENDED STORAGE: High shelves, overhead storage rack
Holiday decorations, camping gear and are just a few examples of garage items that are only needed once-in-a-while.  Don't let these items take up valuable garage space. Install high shelves or an overhead storage rack to utilize space that would otherwise sit used.  These racks come in a variety of sizes and easily accommodate bulky, heavy items.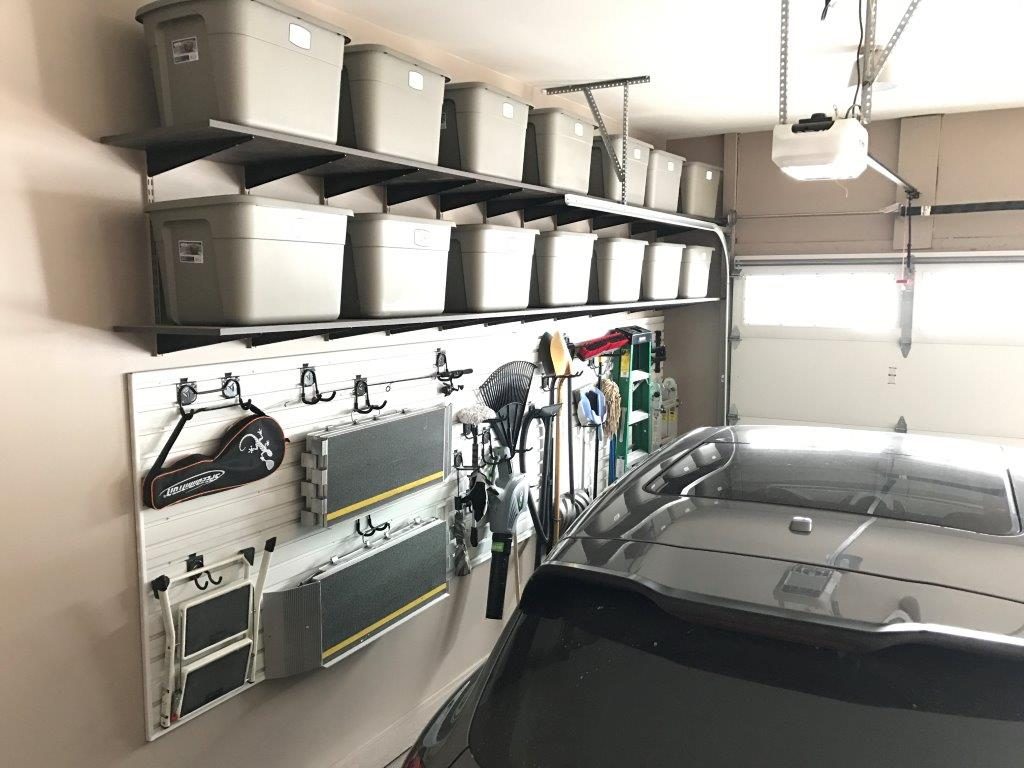 Custom Garage Organization, Garage Cabinetry & Storage For Homeowners in Lakeville, MN, and Beyond
——–
Ready to kick back and relax this winter, knowing that everything is in its place?  If so, we're here to help!  We can help you create custom garage zone storage that flows seamlessly, delivering the organization you need. Just check out the amazing before and after transformation of this Twin Cities garage!
Contact Closets For Life to arrange a free in-home or virtual consultation for your Lakeville, MN, or Twin Cities home!  Our company specializes in organization solutions for all areas of the home, including garages, closets, kitchens, home offices, laundry rooms, pantries, and more.  We'll come to your home (or meet virtually!) to measure your space and discuss your needs and wants.  Best of all, we will follow up in just a few days with a custom/ design specifically tailored to you – all free of charge.
Give us a call or click the button below to schedule your free consultation!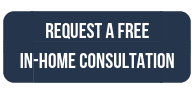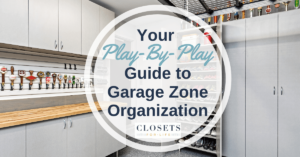 Like most Minnesotans, you're probably soaking up as much outdoor time as possible these days.  How is your garage holding up with all that activity?  Approximately one out of four Americans say their garage is so unorganized it can't even fit one car!  And 50% of homeowners named the garage as the most disorganized place […]
CONTINUE READING