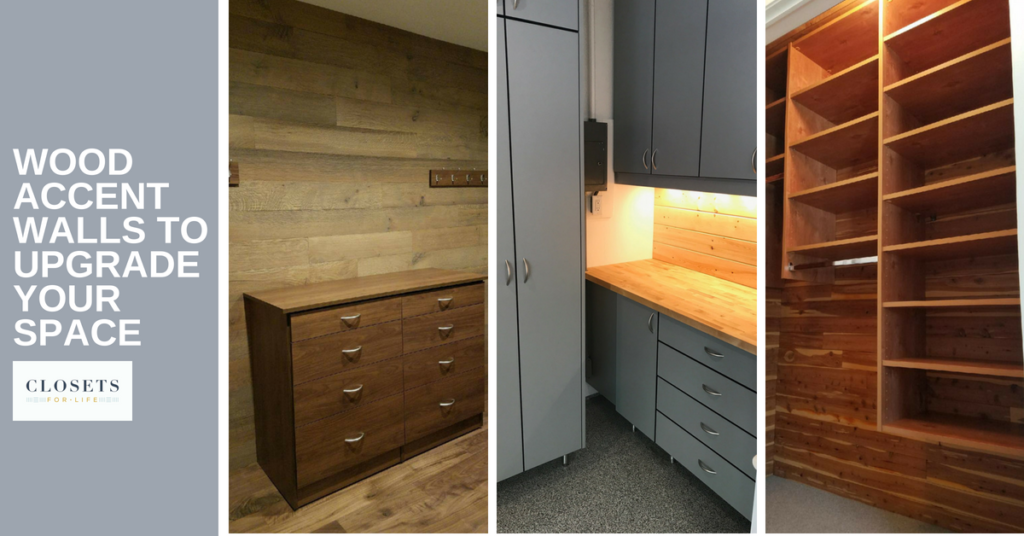 Wood Accent Walls To Upgrade Your Closet, Garage or Office

Characterized by warmth and simplicity, natural textures and materials like wood or galvanized steel, elements of modern farmhouse design have been finding their way into more and more homes.  Think kitchens with warm wood details and white shaker cabinets or living rooms with textural features and natural embellishments.  It's not surprising then that these same elements are making their way into more remote areas of the home like closets, garages and home offices. We've recently installed wood accent walls in several of our projects at the request of our clients.  And why not?  Incorporating natural textures like a wood wall adds not only an element of warmth but also character and interest.  Combined with clean lined cabinetry, it even can add a modern edge to a space.
Wood Wall Inspiration
Wondering how to thoughtfully incorporate a natural wood accent wall into your space?  We've shared several examples from our gallery of recent projects below.  If you are interested in learning more about modern farmhouse style, this article from TheSpruce.com does a wonderful job of describing the characteristics and common elements.  If it's organization you are looking for, we invite you to check out our gallery of custom closets, custom garages, and home office organization.
Your Minneapolis & St. Paul Garage, Closet, and Home Office Custom Storage Expert
Intrigued?  Closets For Life can help!  We design, manufacture and install custom organization systems for closets, garages, home offices and more.  Head on over to our project gallery for inspiration and when you are ready, reach out to us for a FREE in-home consultation!  We'll come out to your home to discuss your needs and measure your space and within two days of our visit, follow up with a 3D CAD design of our proposed layout. All free of charge! Once finalized, our custom designs are manufactured locally and typically installed in just two weeks.  What do you have to lose?  Contact us today!
Closets For Life, a custom organization company based in Minneapolis & St. Paul, specializes in organization solutions for all areas of the home including closets, garages, home offices, mud rooms, laundry rooms, kitchens, wine cellars and more.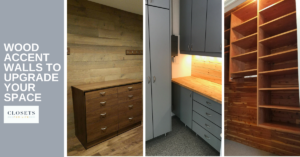 Characterized by warmth and simplicity, natural textures and materials like wood or galvanized steel, elements of modern farmhouse design have been finding their way into more and more homes.  Think kitchens with warm wood details and white shaker cabinets or living rooms with textural features and natural embellishments.  It's not surprising then that these same […]
CONTINUE READING