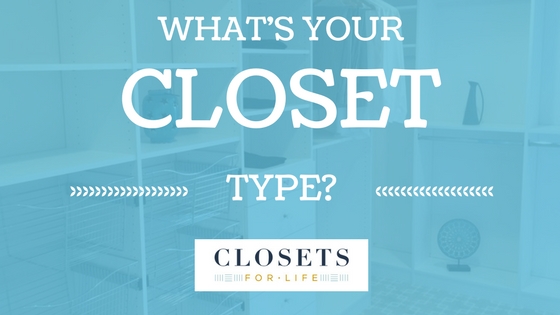 Adding custom organization to your closet is a great decision that will make getting dressed a less stressful and faster affair.   However, did you know that no two closet system designs should be alike?  It's true!  The beauty of choosing a custom closet system versus a pre-fabricated system is that we can custom design a solution that perfectly fits not only your space but also your needs!  Now, don't get overwhelmed.  Helping you determine your needs is what we do!  When you choose Closets For Life, we offer a complimentary in-home consultation.  Our designer will come to your home, measure your space and talk to you about your storage needs prior to designing an organization solution tailored to you.  However, we find that some of our customers like to approach their consultation having given some thought into the kinds of features they want to have.  So, we've created a 'Closet Type' guide to help give you a great starting point for your conversation with us.  Read on to figure out what your closet type is!
Closet Type #1:  Priority on Hanging Space
Do you have a lot of dresses, slacks or dress shirts?  Individuals with professional work clothing or many items that require hanging will want to consider a closet design that focuses on providing ample hanging space.  Consider bars at multiple heights (shorter clearance for shirts and higher clearances to accommodate slacks and dresses).  Also, look at closet accessories such as pants racks that will allow you to maximize your hanging space.
Closet Type #2:  Priority on Shelves & Drawers
Do you love to wear sweaters or have many items you prefer to keep folded?  Perhaps you have limited space within your bedroom for a large dresser?  Then a closet system with ample shelving and drawer space may be just the thing to transform your closet into a truly functional space.  This closet type is also perfect for children's closets.  Children's room closets typically require storage of many little clothing items which do best in drawers.   And shelving in children's closets are perfect for items that need to be within easy reach such as diapers.
Closet Type #3: Priority on Specialty Items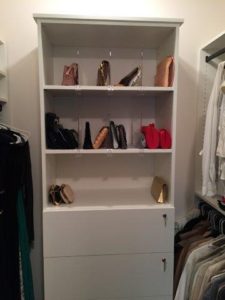 Do you have a large collection of shoes, purses or hats?  We sometimes have a client that comes to us wanting their closet system design to hold their collection of a particular item. Whether it's a collection of shoes or something else, there are many creative storage design solutions that not only organize but also showcase your items.  And you'll still have ample storage for other clothing.
Let Us Help!
Don't fit into one of these categories perfectly?  Don't despair!  Whether your a classic Type #1 or a mix of two closet types, we can design a closet system perfectly tailored to you!  That is the advantage of choosing Closets For Life, a Minneapolis & St. Paul custom closet system provider.  You don't need to compromise your goals when you choose to have a closet system custom designed for you.  Contact us to have us out for a free in-home consultation.  We can't wait to show you what we can do for you!