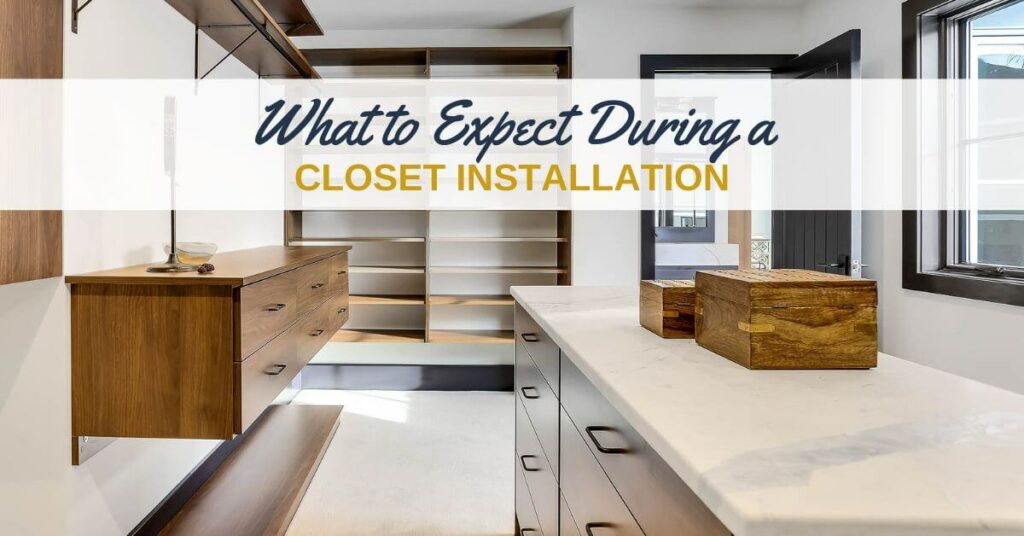 What To Expect During a Closet Installation

The quality of your closet installation is just as important as choosing the right design for your custom closet.  Knowing what lies ahead and understanding the closet installation process can save your nerves and lower stress.  When you work with Closets for Life, our Twin Cities custom closet designers walk you through each stage of the installation so you know what to expect. Today, we're pulling back that curtain for you, providing a sneak peek into our process, from start to finish.  Get excited and contact us to see why working with our custom closet design team couldn't be easier!
Step 1: Closet Design
At Closets for Life, we use custom-made products, so there is no inventory of components to restrict design decisions! Whether you want a gorgeous walk-in closet or an uber-organized pantry, we'll work with you to create a customized design solution. Our designer will come to your home or office to take measurements and discuss which storage solution and features would best suit your needs. Within a few days of your consultation, we'll draft a 3D CAD drawing of your proposed design, as seen below, along with a cost estimate, all free of charge.
At this stage, we can easily make any adjustments to your design, from editing the overall design to adding features or changes to cabinetry finishes.
Once the design phase is complete, sign the proposal and mail that with the down payment to the address on the proposal. If you send a picture of the signed proposal, we'll get your closet sent off to the manufacturer immediately!  Our closets are locally manufactured in Lakeville, MN which means we can usually schedule your installation approximately 2-4 weeks after your order is placed.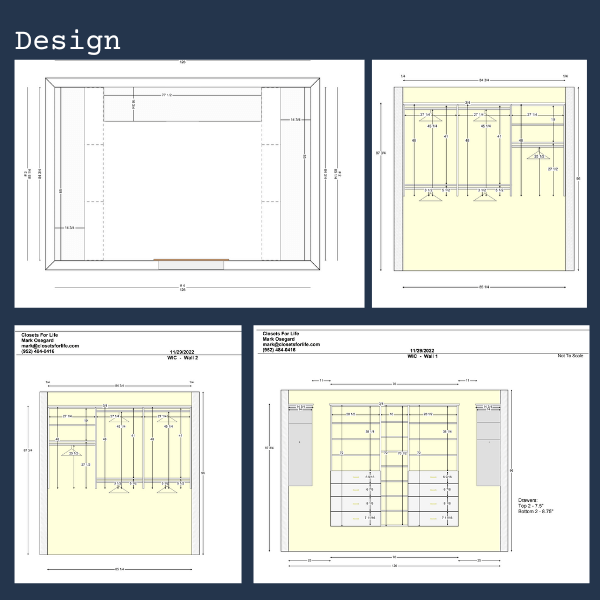 Step 2: Closet Manufacturing & Preparation
Once your custom storage project is ready, the real fun begins, installation! Depending on the size of your project, installation typically takes 1-2 days.  If your project is not part of a new home build, our first step is to remove your existing closet system and patch the holes. Here are a few steps you can follow to make sure your installation day goes smoothly:
Plan on clearing out your closet ahead of time. Removing clothing, shoes and other items will ensure we can get started immediately.
Do you want to paint the room before installing the new closet? Can you touch up the closet after install? We don't offer painting as a service, but once the closet is installed, it is much harder to paint around it.  If you have touch-up paint, that's great!
Consider whether you want to install new flooring. Before installation of your new closet is an ideal time to tackle this project. This is especially true for floor-mounted designs.
Step 3: Installation
Whether we're installing hanging rails, side partitions, hutches, shelving or drawers, our team will complete the project just as you and your designer agreed! We will show you how to use all the components and how to adjust the shelves should you need to. How long will it take? A smaller organization system is normally installed in just one day! Bigger walk-in closets or multiple closets will typically take at least two days.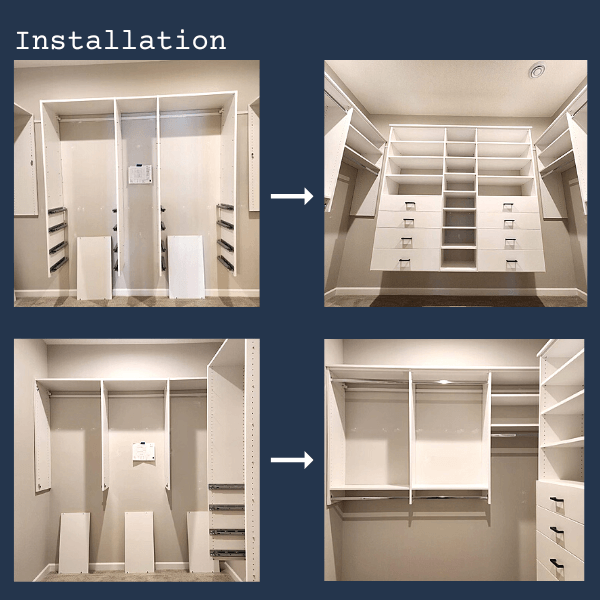 Our custom-built pieces are designed not only to fit your space exactly but also to stand the test of time, bringing you many years of organization!  From multi-level hanging rods to adjustable closet shelving, we don't leave until each piece has been properly tested. Examples include: adjusting drawer fronts for proper alignment and securing valet rods at the height that's perfect for you.
Let's Begin: Custom Closet Design & Installation for the Twin Cities & Western WI
Are you ready to transform your space into something organized and beautiful?  Our installation process is fast and seamless!  At Closets for Life, we specialize in all areas of the home, including closets, garage storage, kitchen pantries, home office storage, laundry room cabinetry, and more.  From selecting cabinetry finishes to finding the right layout to perfectly match your needs and space, our locally-owned closet design and installation team can create customized storage solutions that make getting and staying organized a breeze! Contact our custom closet design team today to schedule a free in-home consultation.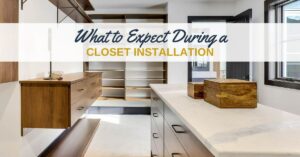 The quality of your closet installation is just as important as choosing the right design for your custom closet.  Knowing what lies ahead and understanding the closet installation process can save your nerves and lower stress.  When you work with Closets for Life, our Twin Cities custom closet designers walk you through each stage of […]
CONTINUE READING