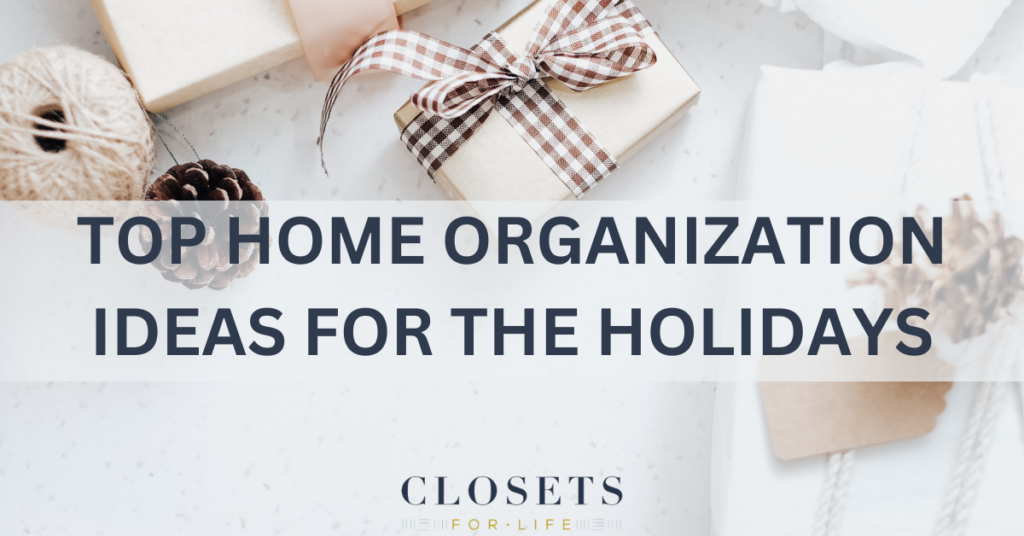 Top Home Organization Ideas For The Holidays

It's the beginning of November!!  Furthermore, it's almost Thanksgiving and additionally the beginning of the holiday season!  Do find yourself struggling every year to get your home organized and prepared for the holidays?  For many of us, this can turn the most wonderful time of the year into the most stressful time of the year.   Home organization (especially during the holidays) is the key to certifying everything from decorating to cleanup goes as smoothly as possible.  This year give yourself the gift of organization!  Home organization is a gift that keeps on giving as it repeatedly saves you lots of time and energy!  Plus, with a neatly organized space to store everything, it will put your mind at ease.  Therefore, it will be easier for you to focus on the things that matter the most, spending quality time with your friends and family!
Ready to get started? The right home organization and storage can ensure a home brings holiday joy for years to come!  So, we have compiled a list of our top organization ideas to help you have the most successful and organized holiday season yet!
PANTRY ORGANIZATION
Hosting Thanksgiving this year?  Planning on baking Christmas goodies?  While cooking may not be our specialty, helping people create an organized space they love is!  Why not treat yourself to a pantry that meets all your cooking and baking needs!  Organize your pantry with high quality cabinets including shelves placed at various heights to let you conveniently store items of all sizes.  You may even consider having pull-out shelves installed also.  This will allow you to easily see and reach all your items!  Pro tip:  Create zones for the main categories that encompass your pantry.  For example, store all your baking items in one area and pasta in another.  Additionally, if you are storing bulk items in containers, placing a label on each container will make it simple to locate your ingredients with just a glance.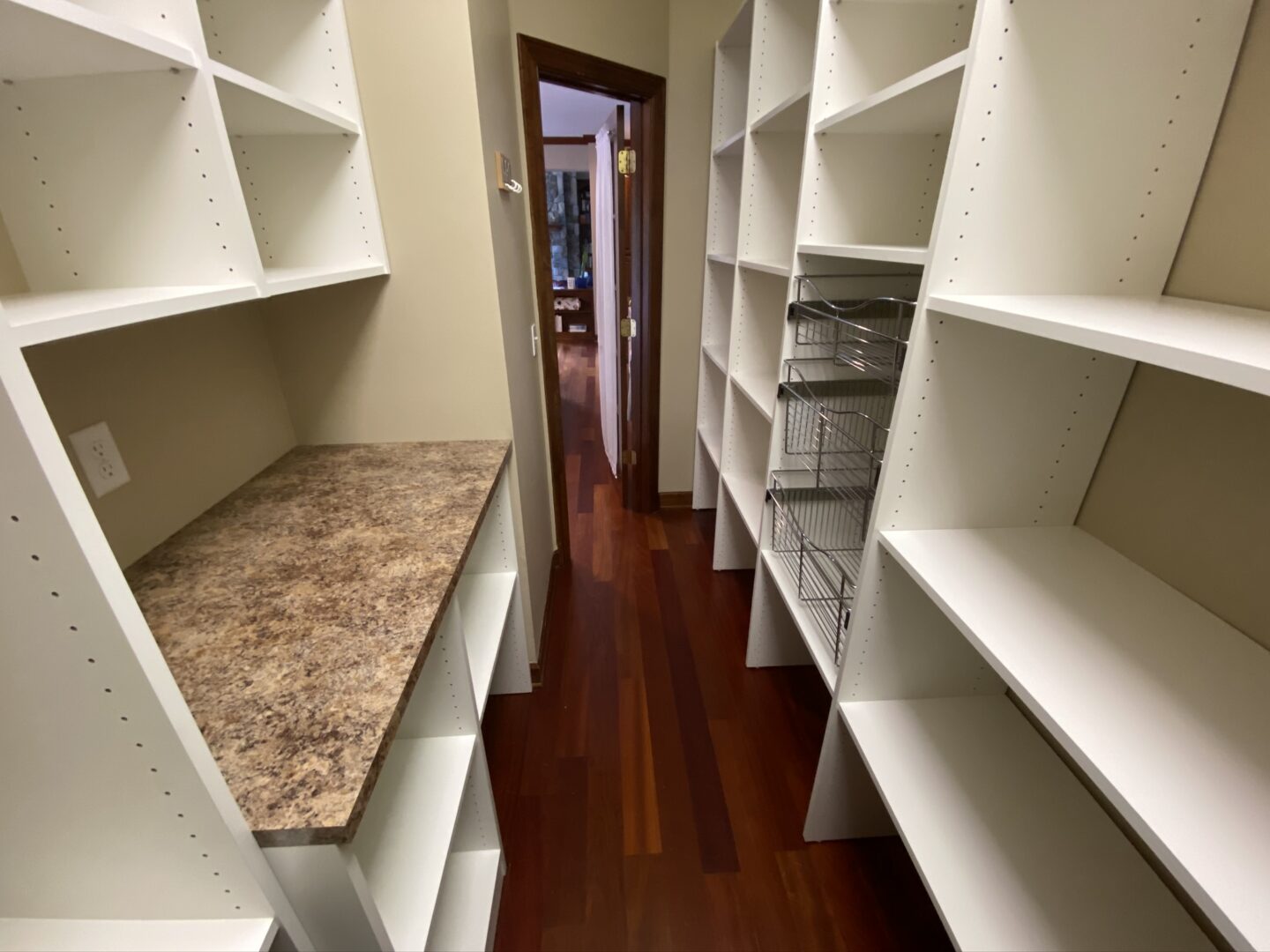 GIFT WRAPPING STATION  
Topping the holiday to do list is picking out all those special gifts.  Of course, with gift-giving comes gift-wrapping.  How amazing would it be to be able to sit down at your very own custom craft closet or built-in gift wrapping station ?  Don't have a room dedicated to crafting?  No problem!  We can help you upgrade an existing office by creating a corner wrapping station.  Perhaps you have a reach-in closet that isn't being used to its full potential.  We could work together to transfer that space into a built-in wrapping station.  The options are endless!  Customize your space with drawers for tape and scissors, pull-out baskets (or drawers) for ribbons and bows, and rods for wrapping paper.  Complete your gift wrapping station with a dedicated counter or workspace!  Convenient storage features customized to your needs will make gift wrapping enjoyable all year long!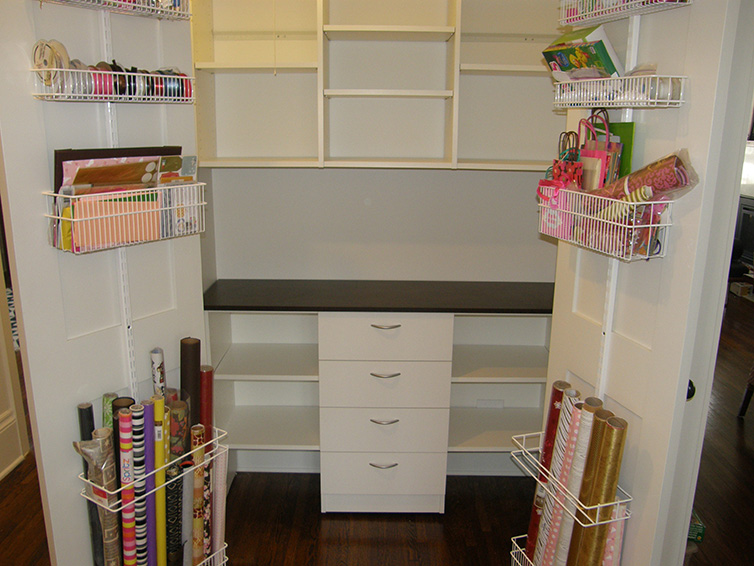 HOME ORGANIZATION FOR THE GUEST ROOM
Will you be hosting overnight guests over the holidays?  Where will they sleep?  Nothing makes your guests feel more welcome than a comfortable bed and a Murphy bed is a great option!  It can turn any room into a guest bedroom without taking up valuable floor space when not in use.  Murphy beds are fantastic because not only are they comfortable, they can be beautifully integrated into a wall or an office!  Pro tip:  Have extra blankets and pillows available for your guests.  Wanting to up your game? Creating a basket with "commonly forgot items" such as a toothbrush, toothpaste, and shampoo is a nice gesture in helping your guests feel more comfortable.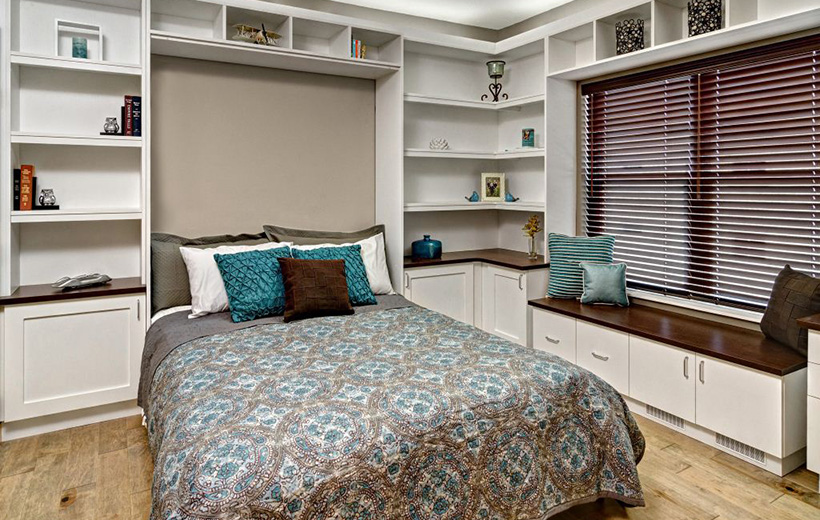 YOUR TWIN CITES & WESTERN WISCONSIN HOLIDAY HOME ORGANIZATION RESOURCE 
Want to learn how custom home organization can transform not just the holidays but your life as well?  Contact Closets For Life to arrange a free in-home consultation!  Our company specializes in organization solutions for all areas of the home including closets, kitchens, garages, home offices, laundry rooms, and more.  We'll come to your home, measure your space, discuss your needs and wants, suggest ideas and, best of all, follow up in just a few days with a custom design specifically tailored to you.  Furthermore, all of our designs are custom manufactured which gives us the flexibility to design a solution that meets your needs and your space. Go ahead – give us a call today!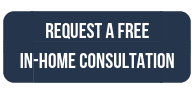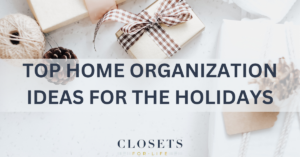 It's the beginning of November!!  Furthermore, it's almost Thanksgiving and additionally the beginning of the holiday season!  Do find yourself struggling every year to get your home organized and prepared for the holidays?  For many of us, this can turn the most wonderful time of the year into the most stressful time of the year. […]
CONTINUE READING