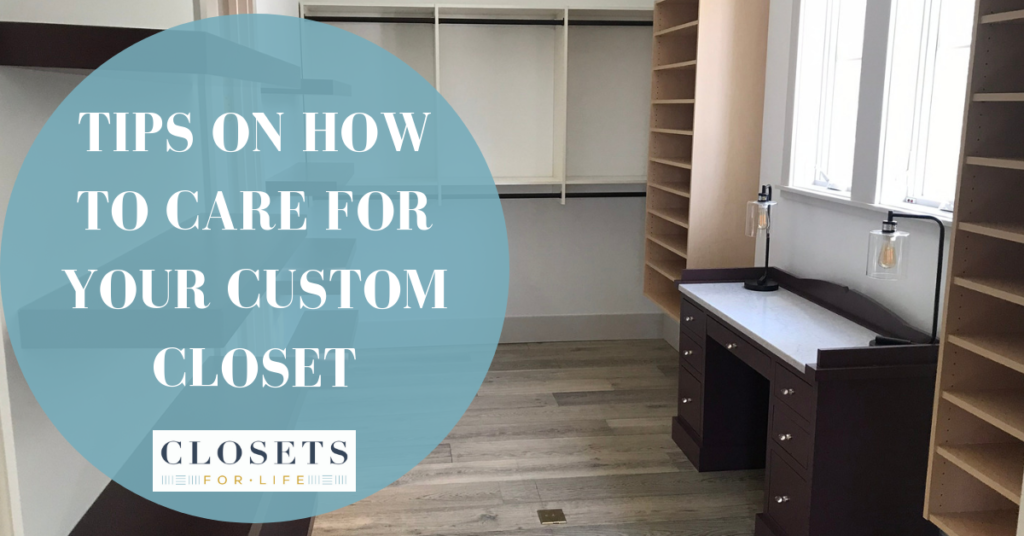 Tips On How To Care For Your Custom Closet

Perhaps you've already taken the plunge, having a custom closet system installed in your home and are wondering how to keep it looking its best. Or, perhaps you're in the research stage and want to learn more about what care a custom closet requires.  Either way, you've come to the right spot!
As a custom organization company based in the Twin Cities and in business for over 14 years, we've designed and installed hundreds of custom organization systems.  We pride ourselves on delivering quality designs and products and we're happy to share that caring for your custom closet is really easy!  All you need to keep your custom closet looking its best is follow these simple tips.
A SIMPLE WIPE DOWN IS BEST
Most of our custom closet systems are manufactured using Melamine laminate, a durable surface that comes in multiple finishes and textures.  No matter which color or texture you choose, all they require for regular cleaning is a wipe down with a damp (not wet) microfiber cloth.  If there happens to be a stubborn stain, a mild detergent can be used.
It is important to note that you should not use harsh cleaners on your custom closet cabinets. Acidic or abrasive cleaners can damage laminate surfaces.  Also avoid abrasive scrubbers, such as steel wool. This also applies to your cabinet hardware and any closet accessories that you may have.
We recommend wiping down your closet cabinets surfaces every 6 months, the timing of which coincides with our next tip!
REGULAR DECLUTTERING
While a custom closet will have a tremendous impact on your amount of storage space and the ease of keeping items organized, even the most smartly designed closet system can get overwhelmed if you don't occasionally go through and declutter.  Don't let your closet reach the point of chaos.  We recommend pulling all items out of your closet every 6 months to sort through and reorganize.  A great time to do this, if you live in a place where there are seasons, is in the spring and fall when you traditionally are transitioning wardrobes.  Taking this step not only increases the longevity and crisp appearance of your closet, but it also allows you to assess what clothing items you have and want for the upcoming season.  For advice on how to decide what to keep, and what must go, check out our blog, Powerful Questions to Ask Yourself When Organizing Your Closet.
NO LIQUIDS PLEASE
Standing liquid is the nemesis of just about any surface and melamine laminate is no exception.  Avoid keeping any type of liquid in your closet or storing wet shoes on your closet shelving.  We also highly discourage placing any sort of candle directly on a laminate surface as the wax can discolor the finish, not to mention be a fire hazard if lit!
USE AS INTENDED
Installed properly by a qualified company, your custom closet should easily last a long time.  The only cases where we see disaster strike is when components of a closet are not used in the manner they were intended.  Valet rods in particular often fall victim to this fate.  Remember that a valet rod is designed to hold a few items of clothing.  Avoid hanging your heavy handbag or other heavily weighted items on your valet rod, belt rack or pull down hanging rod. The overlying theme here is to avoid heavy items (no bowling balls or boxes of heavy books) on any surface and use common sense.  Avoid using the various components of your closet in ways that are not intended.
YOUR MINNEAPOLIS & ST. PAUL CUSTOM CLOSET RESOURCE
We hope you found this information helpful and enlightening on how easy it is to care for your custom closet system!  With a simple occasional wipe down and declutter and some easy common sense tips, your closet will bring you organizational bliss for years to come!
Looking for someone to install a custom closet?  Closets For Life is your Twin Cities resource for inspired custom closet designs. We design, manufacture and install custom organization systems for closets, garages, home offices and more. Reach out to us for a FREE in-home consultation!  We'll come out to your home to discuss your needs, measure your space and within two days of our visit, follow up with a 3D CAD design of our proposed layout. All free of charge! Once finalized, our custom designs are manufactured locally and typically installed in just two weeks.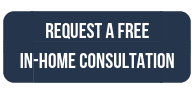 Still in the planning stages? No worries, we have resources for you as well! Head on over to our project gallery for inspiration and when you are ready, download our closet inventory checklist, a helpful tool to take inventory of your storage needs!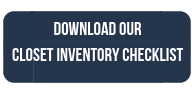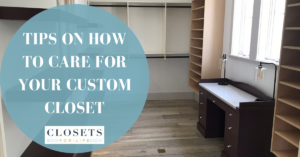 Perhaps you've already taken the plunge, having a custom closet system installed in your home and are wondering how to keep it looking its best. Or, perhaps you're in the research stage and want to learn more about what care a custom closet requires.  Either way, you've come to the right spot! As a custom […]
CONTINUE READING