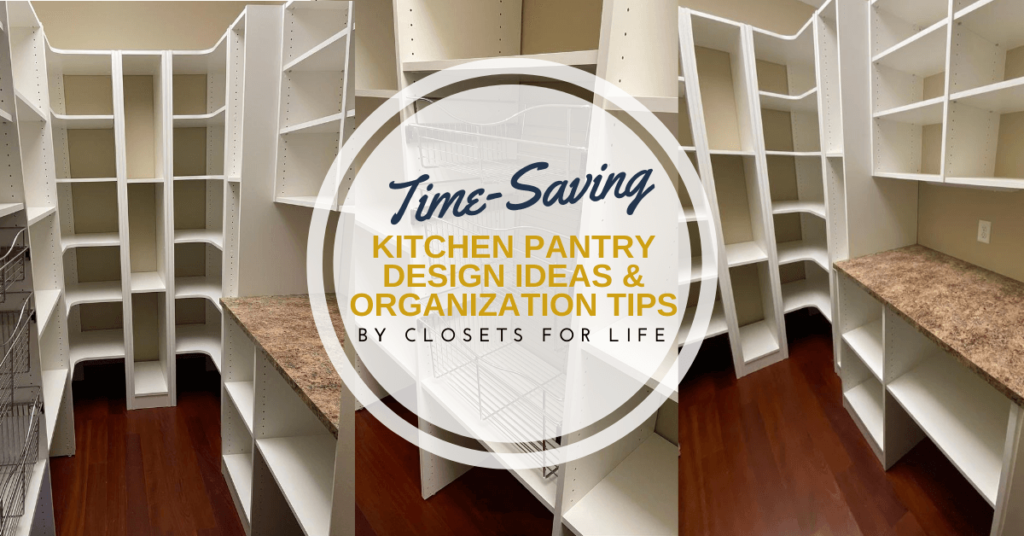 Time-Saving Kitchen Pantry Design Ideas & Organization Tips

If organizing your kitchen pantry is on your social-distancing to-do list, we have some easy and clever solutions to take the stress out of opening your pantry door! Whether you have a reach-in, pull-out, or walk-in pantry, keeping a pantry organized is not an easy feat!  Check out these tips for improving your kitchen pantry's layout and functionality. Loaded with must-have features and time-saving ideas, you'll wonder how you ever lived with your old pantry!
PANTRY ESSENTIALS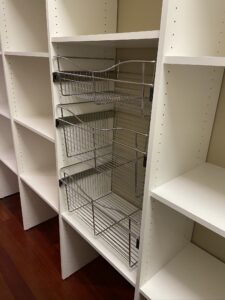 Your kitchen pantry is one of the hardest-working spaces in your home.  The better the design and layout, the easier it is to find everything and the fewer trips you'll have to make to the store.
Here are some kitchen pantry design features that can bring functionality and accessibility to your pantry.
Floor to ceiling cabinets and shelves to maximize storage space
Deep pull-out shelves and drawers offer more space and allow 'at a glance' visual inventory
Long, narrow shelving and slide-outs for small, awkward spaces
Creative storage solutions for your pantry door
Large and deep storage shelves and cabinets to store small appliances which reduce clutter on your kitchen counter
Wire baskets allow air circulation increasing the shelf life for all your root vegetables
ORGANIZATION TIPS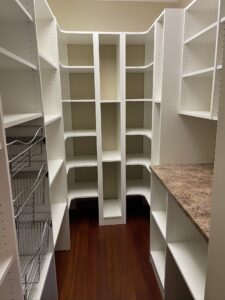 With so many of us staying home more, cooking is at an all-time high!  Why not make cooking easier by spending some time organizing your pantry?
These tips and tricks offer intelligent solutions to help you get your pantry into tip-top shape!
Group like items together with bins and baskets, this creates a nice shelfscape
Attach reusable labels (or for small children pictures), to the fronts of boxes, bins, and drawers
For enhanced visibility consider glass front doors and cabinets
Maximize space with pocket or sliding doors
Adjustable shelving is key because what works one day may not later on
Light it up with recessed lighting, a hanging pendant, or motion-sensing lights
Lazy Susans and tiered organizers make finding canned goods and spices a breeze
BEYOND THE PANTRY
Your kitchen pantry isn't the only place that can benefit from creative storage solutions.  Could your garage, home office, and bedroom closet use a makeover?  We recommend starting in the room that gives you the most stress.  Whether it's adding custom shoe racks, more shelving, or built in cabinetry, your space can be transformed into a truly efficient and organized space.  Creating rooms that provide smart, accessible, and easy-to-find storage can bring joy and function back to any room!

CUSTOM KITCHEN PANTRY ORGANIZATION & STORAGE SOLUTIONS IN LAKEVILLE MN & BEYOND
Ready to smile when you open the pantry door? If so, we're here to help!  Contact Closets For Life to arrange a free in-home or virtual consultation for your Lakeville, MN or Twin Cities home!  Whether it's a small kitchen pantry or a large walk-in closet, our custom designs give us the flexibility to design a solution that meets your needs.
Our company specializes in organization solutions for all areas of the home, including closets, kitchens, garages, home offices, laundry rooms, pantries, and more.  We'll come to your home, measure your space, and discuss your needs and wants.  Best of all, we will follow up in just a few days with a custom/ design specifically tailored to you – all free of charge.  Give us a call today!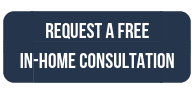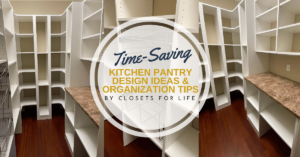 If organizing your kitchen pantry is on your social-distancing to-do list, we have some easy and clever solutions to take the stress out of opening your pantry door! Whether you have a reach-in, pull-out, or walk-in pantry, keeping a pantry organized is not an easy feat!  Check out these tips for improving your kitchen pantry's […]
CONTINUE READING