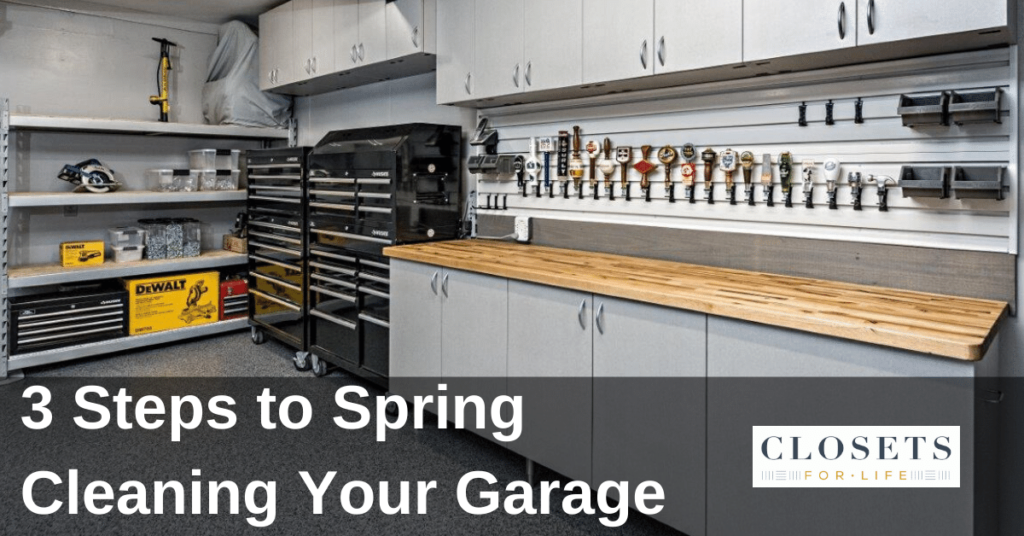 Here in Minnesota, we spend most of the winter moving through our cold garages as quickly as possible to get to our car. Items that should get put away get stacked up instead. And, cleaning the garage? Forget about it!
But spring is here and now that the temps are warming, it's the perfect time to give your garage a good overhaul.  Sound overwhelming?  Not to worry.  We've laid out the steps to spring cleaning your garage including a ton of helpful tips to make the job easier.
Three Steps To Spring Cleaning Your Garage
Step 1: Declutter First
The first step to any successful organizing and cleaning project is to declutter first.  This means going through everything in your garage space and deciding if it should stay, be donated, recycled or tossed.  Here are some tips for the decluttering process:
This is likely the step that will take you the longest so make sure you start earlier in the day!
Involve the whole family to make the job go faster.
While not everything has to be pulled out of the garage, we do recommend pulling out all of the bigger items and items sitting on your garage floor.
Ask yourself whether you've used the item in the last 3 years. If not, donate or recycle it.
You likely have items stored in your garage that shouldn't be there like paint and refrigerators. Check out our blog, What Not to Store in Your Garage & Why, for a complete list.
It can be hard to know what to do with some of the garage items you no longer want. Luckily, we wrote a blog, What To Do With The Stuff You No Longer Want, that provides a helpful list of options for what to do with your stuff here in the Twin Cities, from donation options that give back to our local community to places where you can list items for sale.
Step 2: Clean and Organize
Once you've decluttered, it's time to do a thorough cleaning of your garage floor and storage, followed by organizing the items you've decided to keep. While the cleaning part is fairly straightforward, knowing how to best organize your items can be a stumbling point.  Here are some ideas and thoughts.
Rather than just putting everything back where it was, use this time to think about your use of the space. Ask yourself these questions:

Are frequently used items stored within easy reach?
Are bulky items blocking access to other items?
Are items used together stored together?

Is your garage floor crumbling? No amount of cleaning can fix that. Consider a garage floor coating to help prevent further damage and to present a clean look.
Look at your storage. Is it up for the task? Some simple additions can make a big impact! For example, overhead ceiling storage is great for those items you don't use often. Check out our blog, The 4 Essentials of Garage Storage. We share the 4 essential components we've found to be the building blocks to creating an organized garage space.
Try to store as many items off the garage floor as you can. There is an amazing range of specialty storage options available, from bike and canoe hoists to Gladiator GearTracks storage for tools, gardening supplies and more.
Finally, if you're storing items in cardboard boxes, consider upgrading to plastic bins. They will last longer and do a better job of keeping pests out.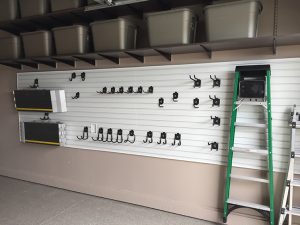 Step 3: Maintain!
If you've done a thorough job of steps 1 & 2, step 3 should be much easier but we'll share a few tips anyway.
Stay diligent about keeping items off your garage floor.
Put items away after use.
Try and do a quick sweep of your garage floor every couple of weeks.
Regularly purge items you no longer use.
Your Garage Storage & Garage Cabinet Resource in Edina  MN & The Twin Cities
Need help getting your garage in your Edina, MN or Twin Cities home under control?  Once you've removed the items that don't belong, much of the battle with garage clutter involves having the proper storage.   Closets For Life is a custom organization company based in Twin Cities that specializes in custom storage designs for all areas of the home, including garages, closets, mudrooms, home offices, and more.  Contact us for a free consultation (Virtual consultations available)!  We'll come to your home, measure your garage, discuss your needs and wants, suggest ideas and, best of all, follow up in just a few days with a custom design specifically tailored to your need and space – all free of charge.  Expert design – quality craftsmanship – extraordinary customer service – it's a win-win!