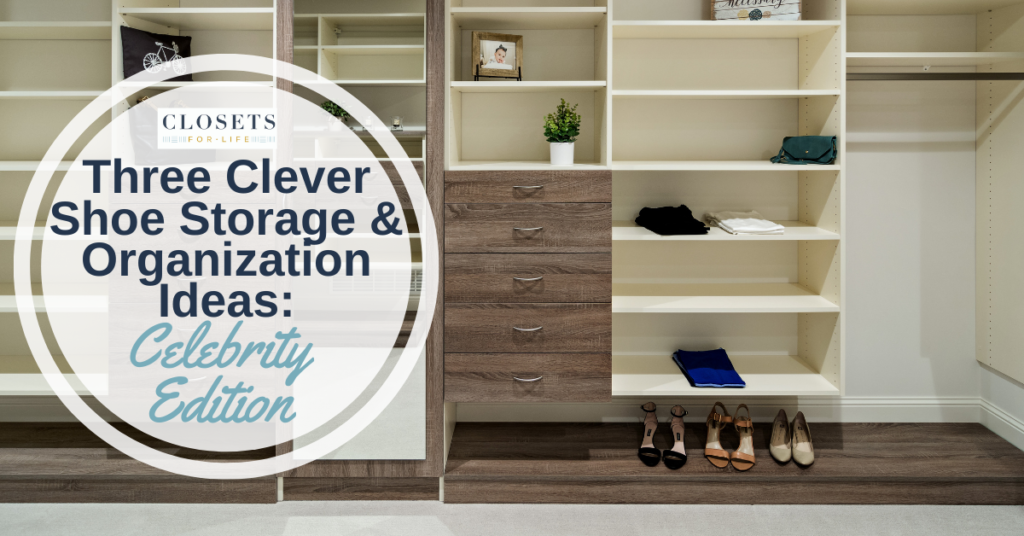 Three Clever Shoe Storage & Organization Ideas: Celebrity Edition

We've all seen the articles or social media posts featuring some amazing celebrity shoe collection.  While our shoe numbers may not number in the hundreds, we can all take a bit of inspiration from celebrity closets!  In fact, we decided to have a bit of fun this month, sharing some celebrity closet-inspired ideas for creating shoe storage within your custom closet that even Sarah Jessica Parker's shoes would be envious of!  You'll see you don't have to be famous to put your shoes on display! (Don't blame us if the "shoerazzi" show up!)
DISPLAY SHELVING
Back in 2017, Nick Cannon made news for reportedly owning the most expensive pair of shoes, custom Tom Ford loafers covered in two-million dollars worth of diamonds. While we all can't own a record-breaking pair of shoes (where in the world would you wear them?), what we can take from this is that some shoe collections are showcase worthy! Shelving is the perfect solution for bigger shoe collections, making it easy to showcase and find the perfect shoe.
Shelves, either angled or flat, can be placed at varying heights to accommodate boots, athletic shoes, and high heels and can be tailored to fit your current or anticipated shoe collection. To really take it up a notch, consider adding shoe fences and integrated lighting.
Here are three reasons our clients love their shoe shelving:
Perfect for larger collections as the shelves can be custom-tailored to their needs
They keep your shoes standing upright regardless of how high your heels are
Can be designed to allow ample vertical space for varying heights of shoes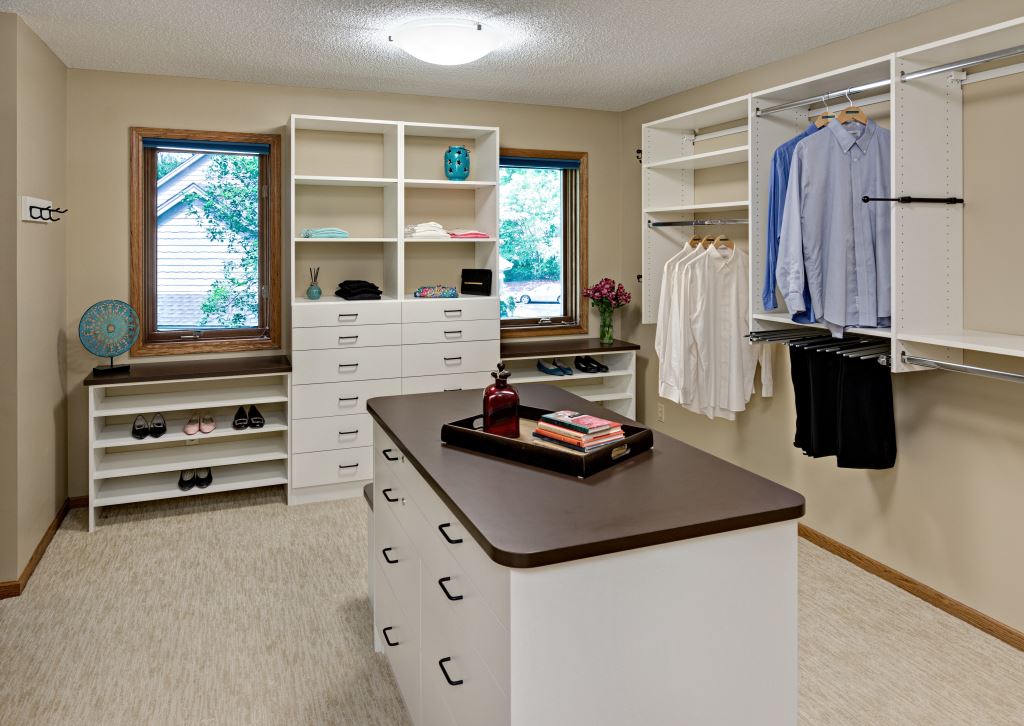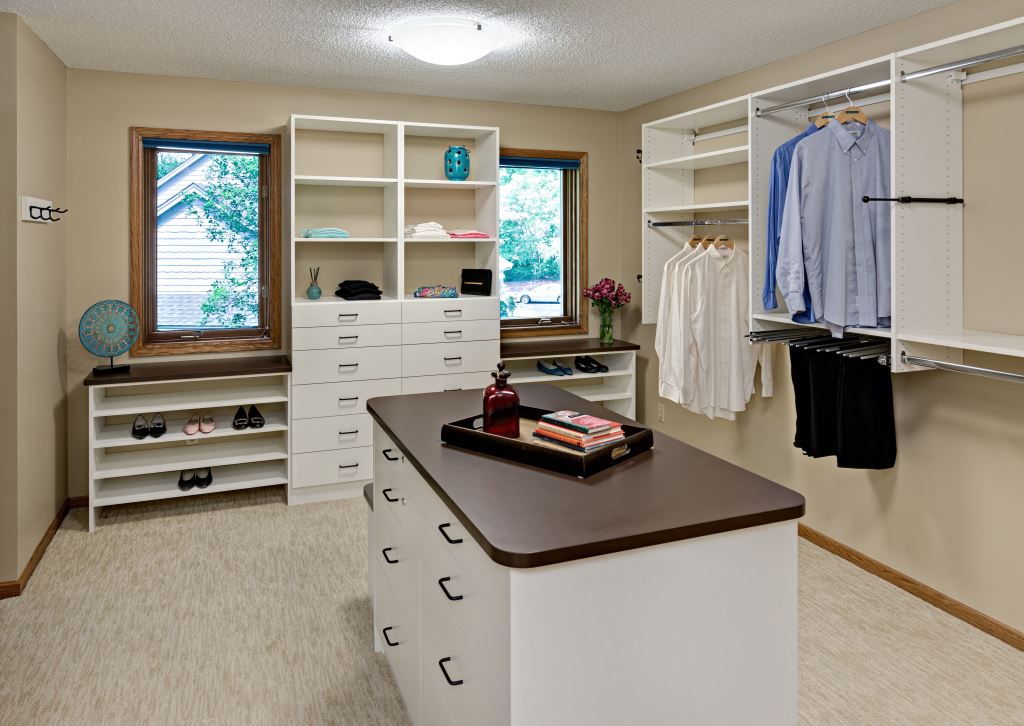 ELEVATED SHOE PLATFORMS
Jerry Seinfeld's white sneaker collection is rumored to number over 500!. While we can't all be labeled the most important and unlikely celebrity in sneaker culture, for those of us with perhaps a more modest shoe collection, elevated platforms, like those shown below, are a great option.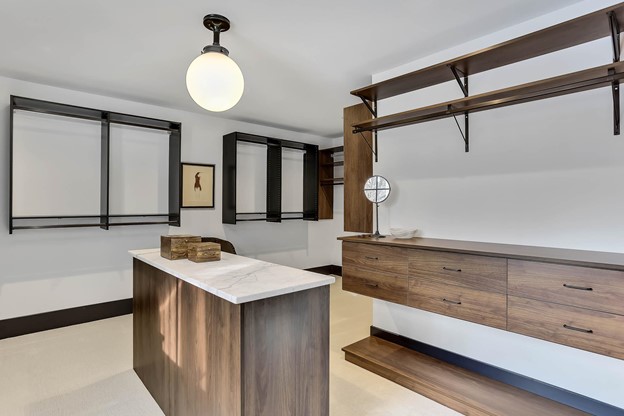 Shoe platforms keep shoes elevated, so they aren't in the way of vacuums or at risk of being kicked over while still providing ample storage that doesn't gobble up valuable wall storage space.
TUCKED AWAY SHOE STORAGE
We don't all need a ladder to access our shoe collections like Christine Aguilara or DJ Kahlid, and some of us even prefer our stores to be out of sight. One more celebrity-worthy shoe storage option to consider is incorporating shoe storage into a cabinet, like featured below. Not only does it keep your shoes out of sight, but closed storage also helps keep dust from accumulating on your shoes. A win-win solution! The example shown below even has a mirror on the outside of the door, something you can see by visiting our photo gallery of this stunning Orono walk-in closet project.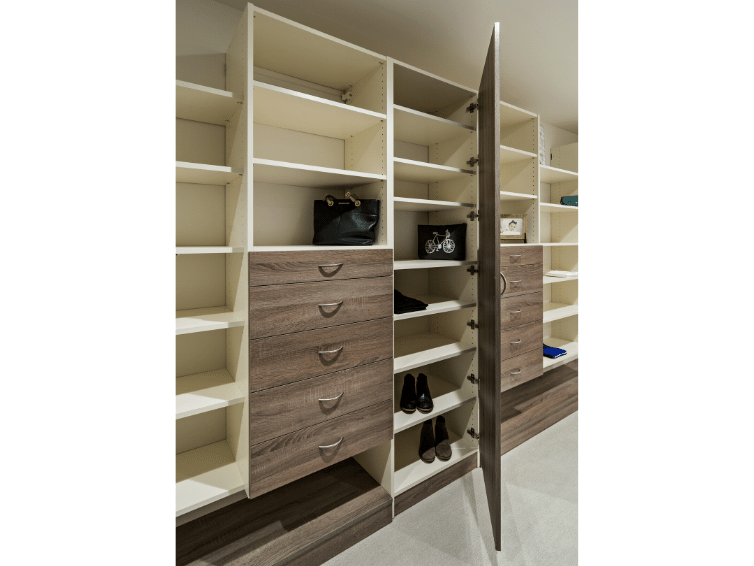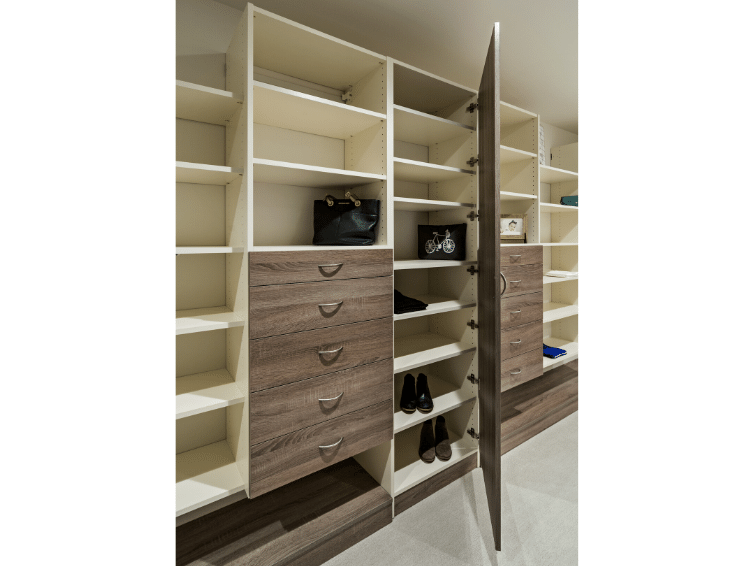 YOUR CUSTOM CLOSET & SHOE STORAGE & ORGANIZATION EXPERT IN ORONO, MN & BEYOND
For help creating your own custom closet, contact Closets For Life to arrange a free in-home or virtual consultation for your Orono, MN or Twin Cities home!  Our company specializes in organization solutions for all areas of the home, including closets, garages, kitchens, home offices, laundry rooms, pantries, and more.  We'll come to your home (or meet virtually!) to measure your space and discuss your needs and wants.  Give us a call or click the button below to schedule your free consultation!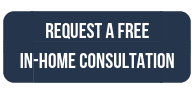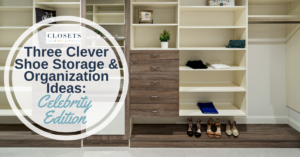 We've all seen the articles or social media posts featuring some amazing celebrity shoe collection.  While our shoe numbers may not number in the hundreds, we can all take a bit of inspiration from celebrity closets!  In fact, we decided to have a bit of fun this month, sharing some celebrity closet-inspired ideas for creating […]
CONTINUE READING