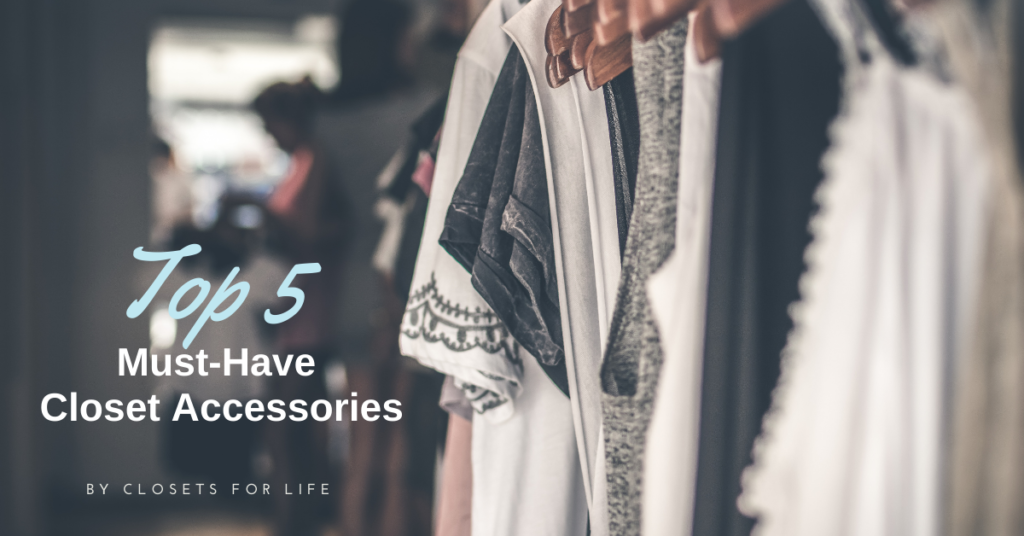 The Top 5 Must-Have Closet Accessories

Closet organization has been at the top of many to-do lists this year as you seek to make your storage spaces as neat, tidy, and functional as possible. While much time is devoted to sorting the sweaters, swimsuits, jackets and shoes, HOW you organize is equally important as WHAT you organize. And it all begins with closet accessories.
Rick Lyrek, owner of Twin Cities premier closet design firm Closets for Life, is a veteran when it comes to planning the perfect closet spaces.  Rick says one of the secrets to great closet organization is having the right closet accessories that provide a designated place for everything in your closet. Here are the top 5 closet accessory essentials that Rick recommends for every closet.
Five of the Most Popular Closet Accessories
Hideaway Hampers – Everyone can relate to heaping piles of clothing on your closet floors. This clutter is not only an eyesore, but it also makes it harder to find what you need. Rick says the solution is hideaway hampers that are built into cabinetry and provide the perfect spot for dirty laundry. Add one hamper for whites; another for darks. You can even add a fold-out valet rack for dry cleaning. Sorting laundry has never been such a breeze!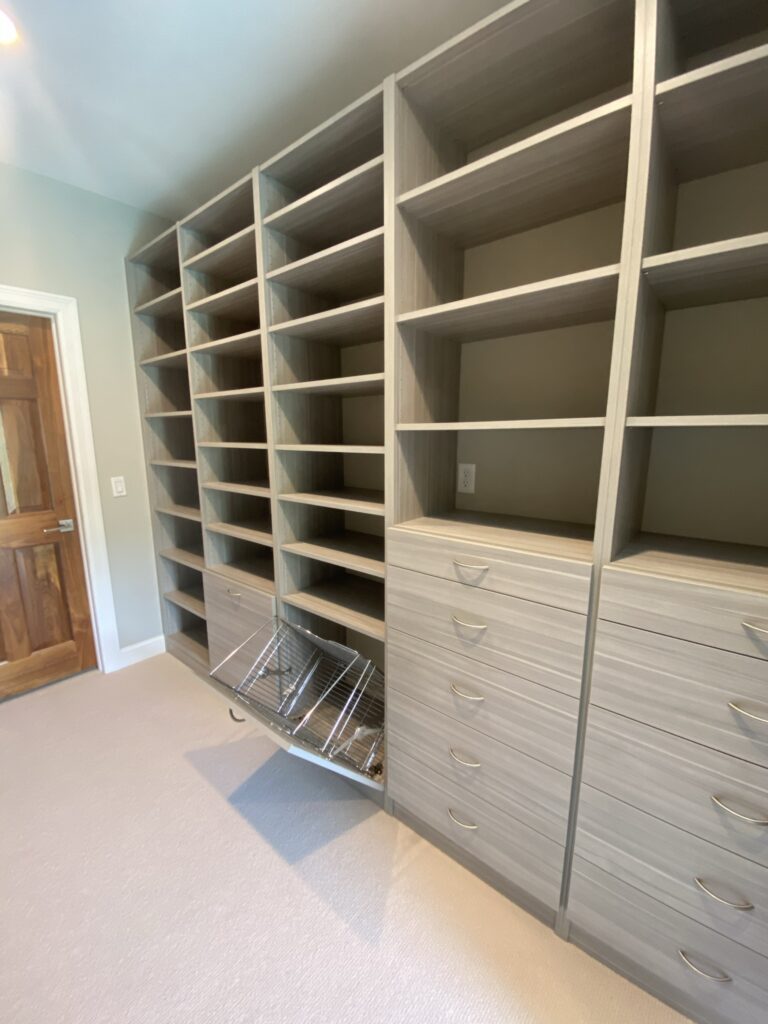 Consider a hideaway hamper to eliminate unsightly clothes piles.
Shoe Organizers – Piles of shoes littered around the floor of your closet take up valuable space and lead to frustration when you can't find the matching pair.  Rick says shoes can be organized in cubbies, shelving, or pull-out drawers, all designed with custom features, such as openings that vary by heel height or width of the shoe, to create the perfect home for every pair. Add a strip of LED lights to shine a spotlight on your favorites.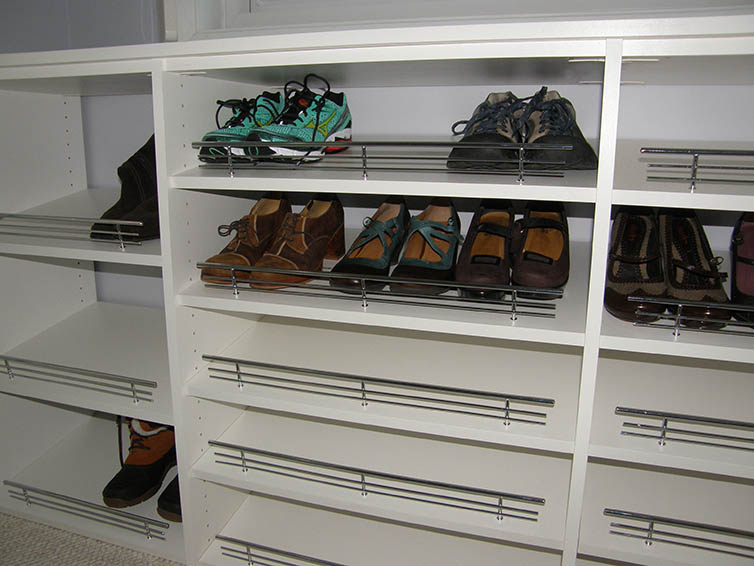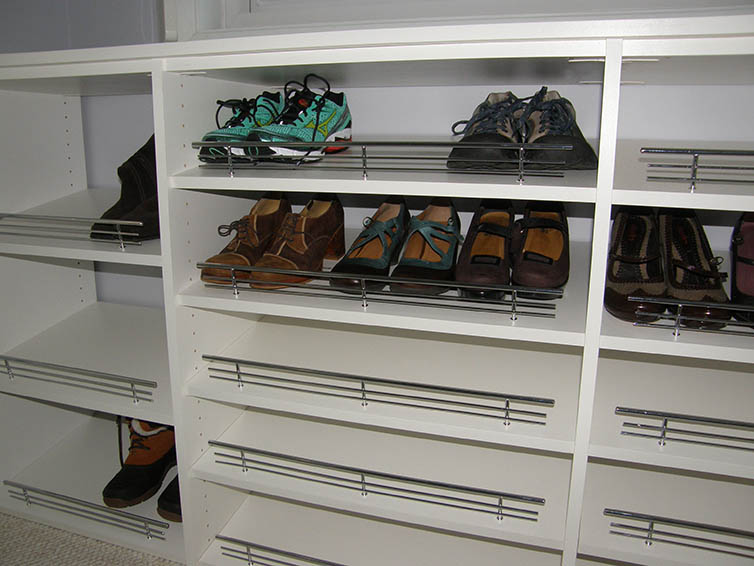 Get shoes up and off the floor with customized storage.
Drawers, Drawers, and More Drawers! – According to Rick, slide-out drawers, like those pictured in this Orono, MN custom walk-in closet design shown below, are one of the most requested items for custom closets. Well-designed drawers, which can be made of wood, laminate or wire and be in varying heights and widths, can take the place of bulky dressers, freeing up space in your master bedroom. Socks, intimate apparel, t-shirts and other foldable items can be easily stored within the closet, making them even more accessible. Hint: add dividers in each drawer for added organization and storage flexibility.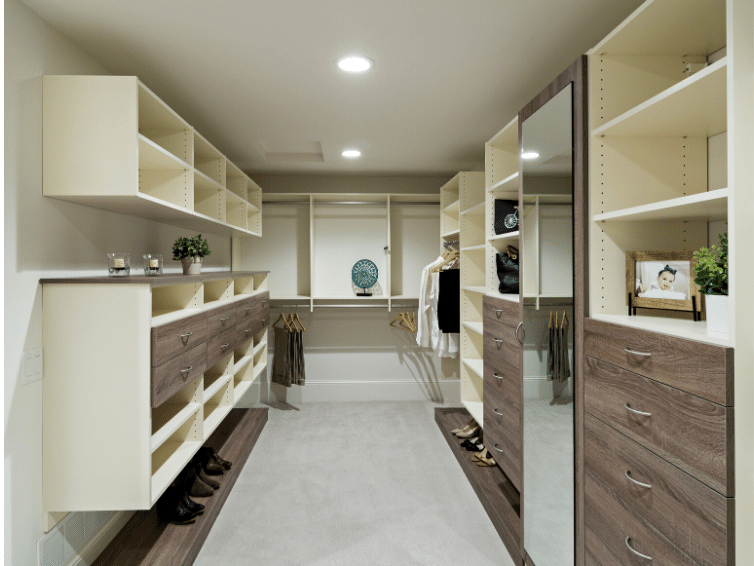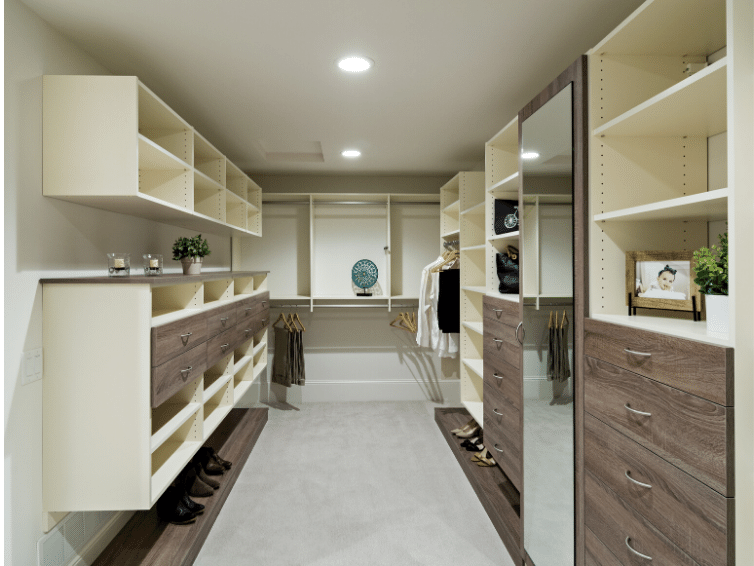 Eliminate bulky dressers by incorporating drawers into your custom closet design.
Tie & Belt Racks – There's nothing worse than getting dressed and having to contend with tangled knots of belts and wrinkled ties when you're headed out the door to work. Rick suggests adding designated tie and belt racks to properly display each type of item.  Motorized options are even available to effortlessly rotate the rack with the touch of a button, and built-in backlighting can make it even easier to find what you need.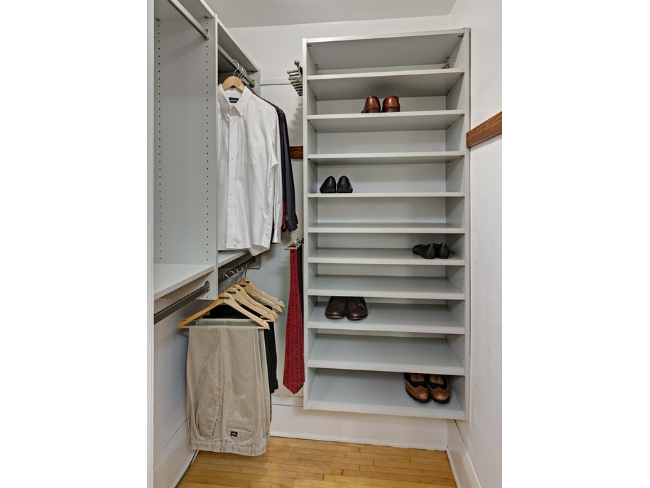 Click on the link to see more photos of this Minneapolis custom walk-in closet featuring a belt rack, tie rack, and other closet accessories!
Accessories for the Accessories – No closet would be complete without a designated spot for handbags, jewelry, and other beloved accessories. Floating shelves or built-in cubbies with custom dividers can be used to store clutches, totes, backpacks, and shoulder bags, so they stand upright and are easy to view. Rick says popular options for organizing jewelry are sliding panels with hooks for necklaces and bracelets and multi-level drawers with built-in mini compartments that can be used to display smaller pieces such as rings and earrings.  A built-in safe can be added for treasured valuables.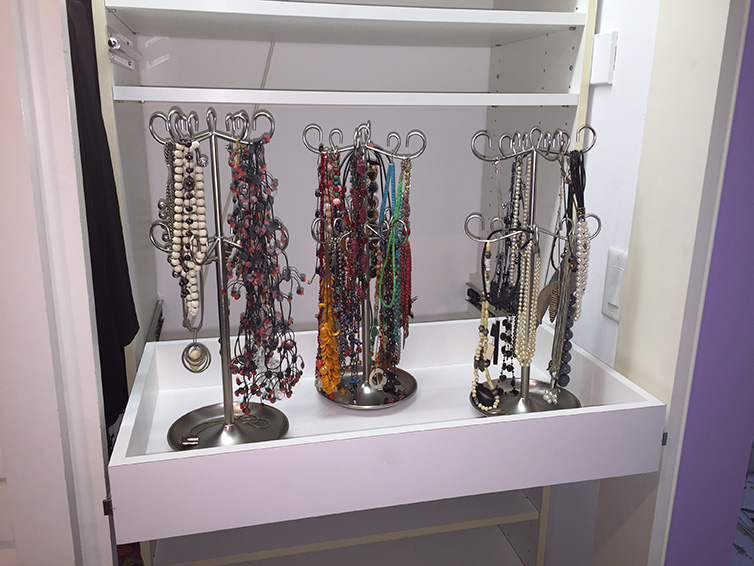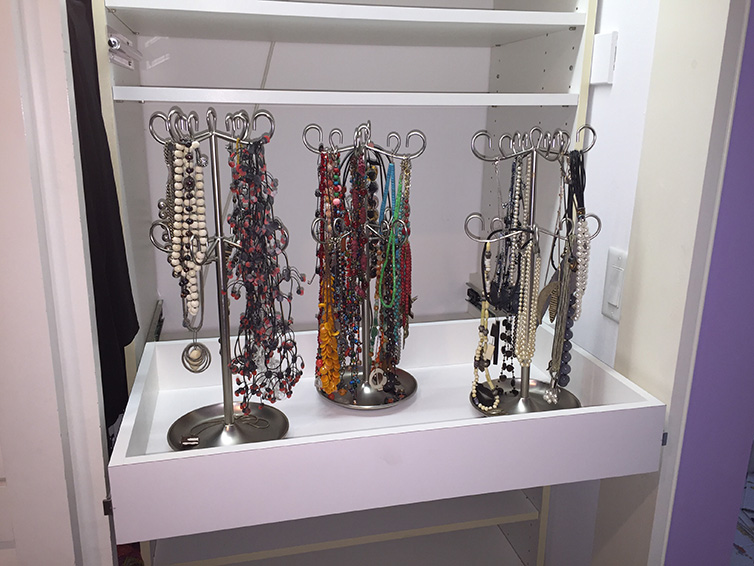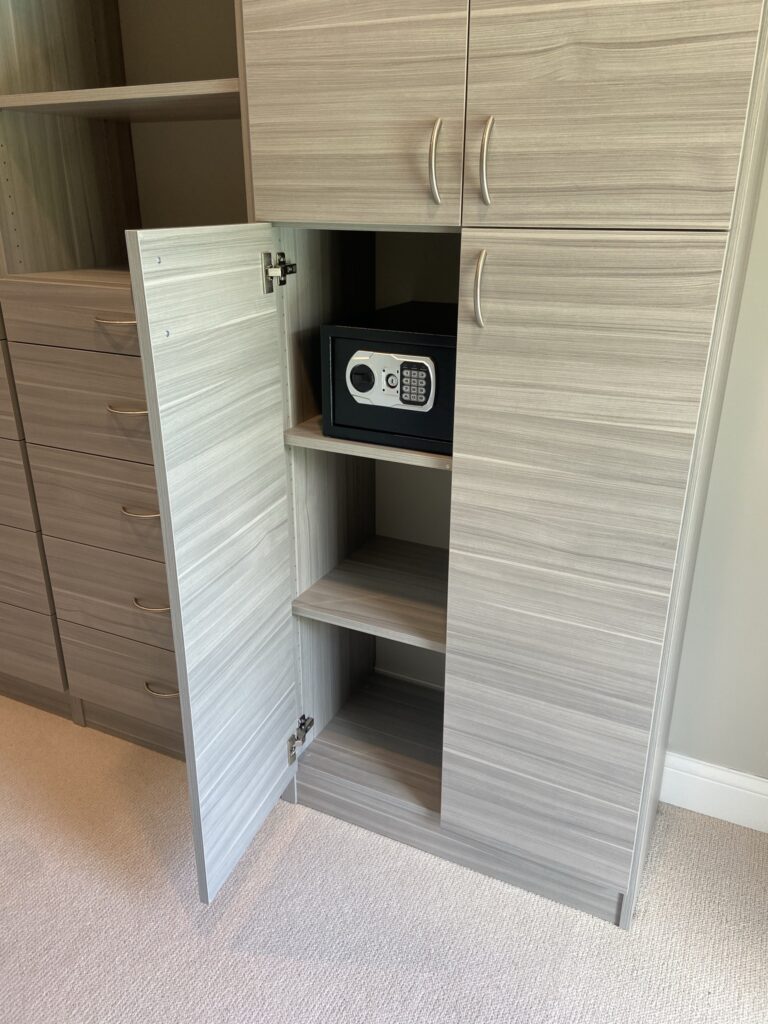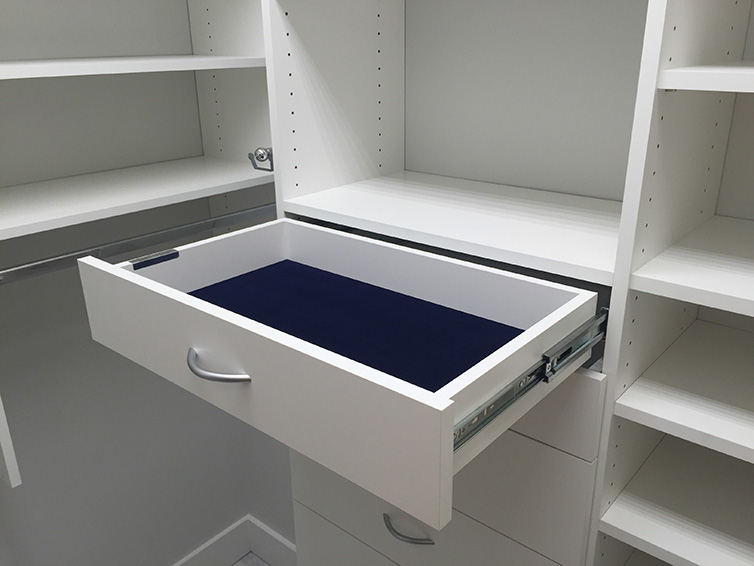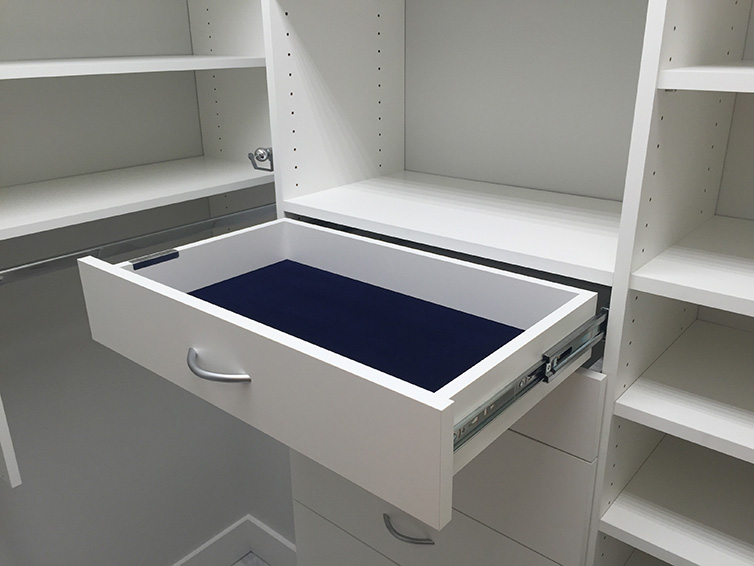 Showcase and keep your jewelry safe with custom storage and accessories.
With So Many Options, How Do You Choose?
There are lots of great options when it comes to closet accessories, so be sure to work with a closet design professional who can offer you a customized solution. Just remember, more isn't always better. The best closet accessory for you is the one custom-designed FOR you.  
Closets For Life Is Here to Help Design Your Minneapolis & St. Paul Custom Closet
Ready to own the closet of your dreams? Contact Closets for Life today to schedule a free consultation.
Whether it's a large walk-in closet or smaller reach-in closet, all of our designs are custom manufactured which gives us the flexibility to design a solution that meets your needs, space, and taste! From mixing finishes to finding the right layout to perfectly match your needs, we approach every closet project with a fresh perspective tailored to you!
Closets For Life specializes in organization solutions for all areas of the home including closets, kitchens, garages, home offices, laundry rooms, wine cellars, and more. Contact us today and learn just how easy it is to bring organization to your life!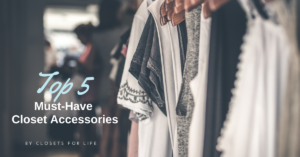 Closet organization has been at the top of many to-do lists this year as you seek to make your storage spaces as neat, tidy, and functional as possible. While much time is devoted to sorting the sweaters, swimsuits, jackets and shoes, HOW you organize is equally important as WHAT you organize. And it all begins […]
CONTINUE READING