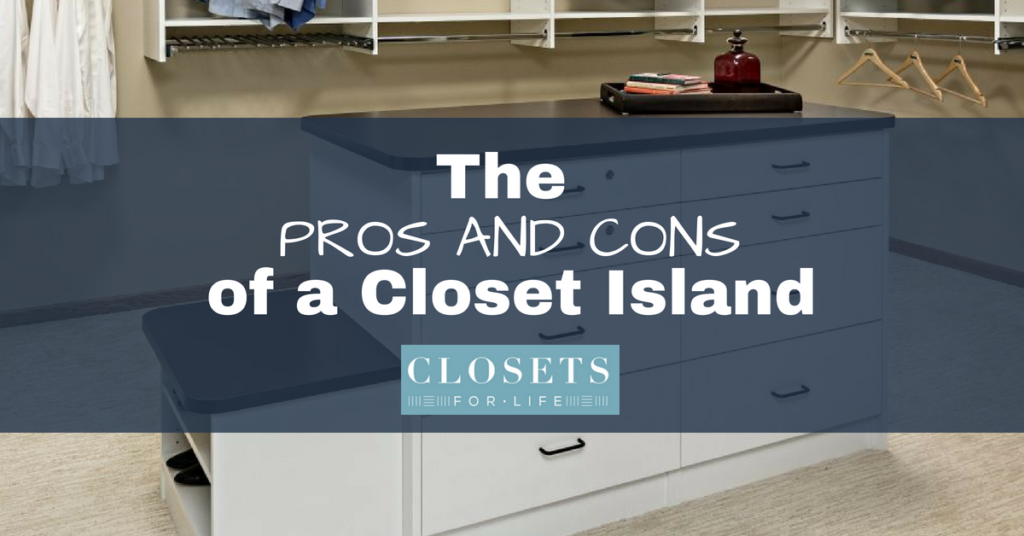 The Pros and Cons of a Closet Island

Considering a remodel of your walk-in closet?  Or are you building a new home and wondering how to utilize your new closet space best? Clients frequently ask us, "Do I have enough space for a closet island?".  While space IS a significant consideration for a closet island, it's not the only consideration.  Assuming you have the room, here are some pros and cons of a closet island to help you decide whether it's the right choice for your closet.
PROS OF A CLOSET ISLAND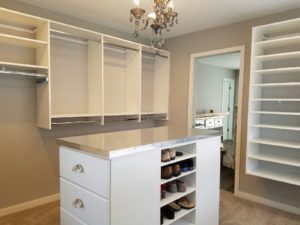 They ramp up your storage space 
Do you have more clothing and accessories than the average person?  If your closet will be at max capacity even with a new closet system, then a closet island with built-in closet accessories like drawers, jewelry trays, shoe racks, pull out laundry hampers and other features can add significant storage.
 A work surface for many uses
Do you travel often, like to wardrobe plan or prefer to fold your laundry in your bedroom?  Closet islands provide a convenient work surface to layout an outfit, pack a suitcase or fold clothing.
Cultivate a room-like feel
If you'd like your walk-in closet to feel as if it's an extension of your bedroom, a closet island can help.  In addition to being able to use the counter surface for display of decorative items, finishing touches can be added to give your closet island a furniture-like feel.
CONS OF A CLOSET ISLAND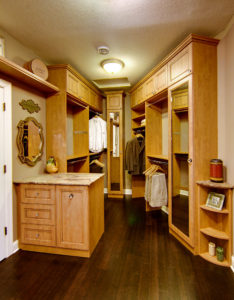 They gobble up floor space
If your available floor space is tight already, then a closet island will only make the closet more cramped.  Even with ample floor space, consideration should be given to how the closet island will impact the flow and feel of your closet.  If you're merely looking for a worksurface, consider a peninsula-type arrangement instead (like in the photo pictured to the right).
Temptation to Pile
You know yourself best.  For some, the lure of having an oh-so-convenient surface to stack their clothes on is too tempting.  If your someone who struggles to keep their kitchen table free of clutter then you may want to think hard about adding a closet island.  In this case, the absence of a work surface might be a good thing, forcing you to put your clothes away rather than pile them on your closet island. After all, the whole point of a closet system is to help your closet stay more organized!
STILL NOT SURE? ENLIST HELP FROM THE PROS!
Still undecided?  Or want help envisioning a layout?  Contact Closets For Life for a FREE in-home consultation.  Based in Minneapolis & St. Paul, we've designed and installed thousands of custom closet systems of all shapes and sizes.  During our free consultation, we'll come out to your home to measure your space and discuss your needs and wants.  Within two days of our visit, we'll follow up with a 3D CAD design of our proposed layout and once finalized, our custom closet systems are manufactured locally and typically installed in just two weeks.  What do you have to lose?  Contact us today!
Closets For Life, a custom organization company based in Minneapolis & St. Paul, specializes in organization solutions for all areas of the home including closets, garages, home offices, mud rooms, laundry rooms, kitchens, wine cellars and more.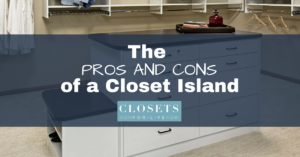 Considering a remodel of your walk-in closet?  Or are you building a new home and wondering how to utilize your new closet space best? Clients frequently ask us, "Do I have enough space for a closet island?".  While space IS a significant consideration for a closet island, it's not the only consideration.  Assuming you have […]
CONTINUE READING