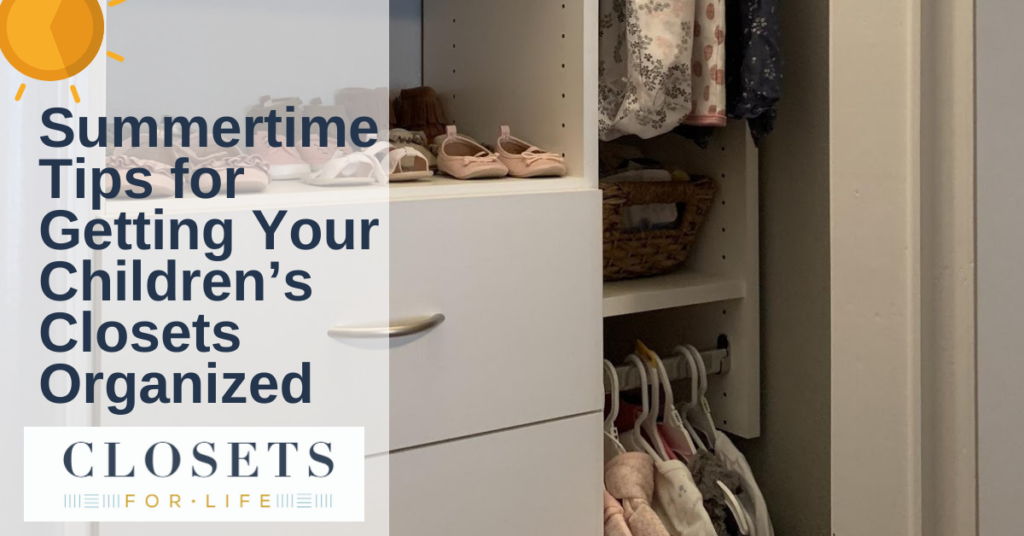 Summertime Tips For Getting Your Children's Closets Organized!

Attention parents!  School is out and many camps and activities are canceled, why not take advantage of the extra time your kids have by getting their closet organized?  Organizing now will pay off later when things get back to normal, and you're running from sporting events to piano lessons and everywhere in between. No, your kids aren't going to be excited about this project, but you will be! After all, isn't life better when everything has its place? 
Turbo Powered Kid Storage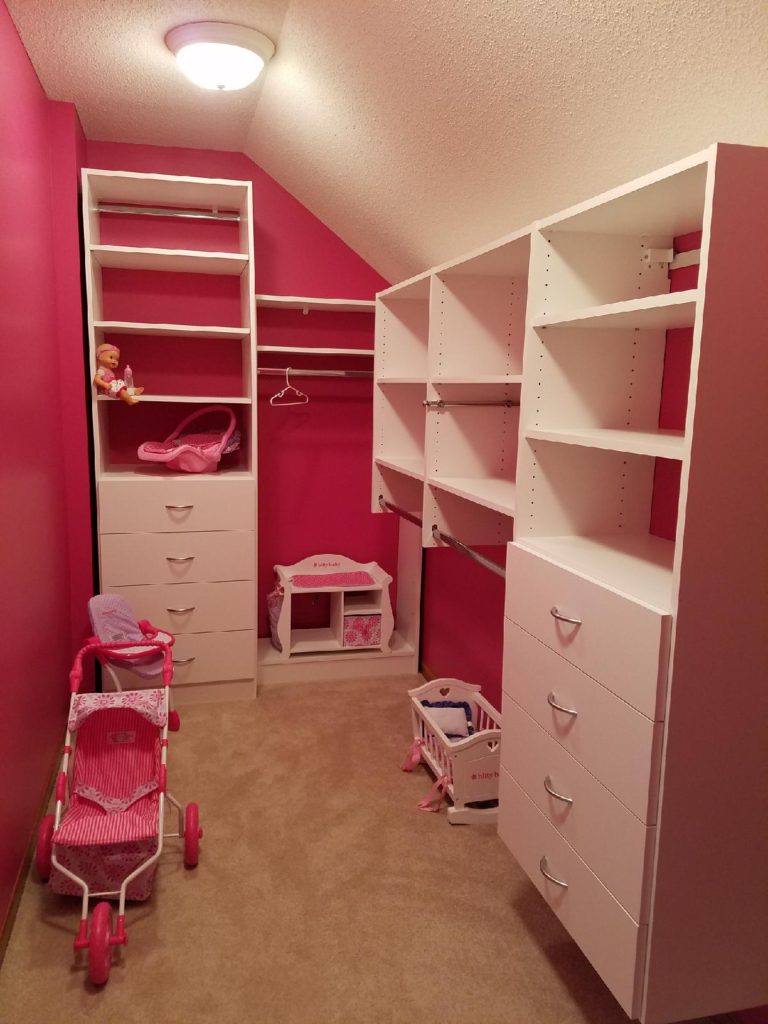 Whether you have a baby, a toddler, or a teenager, kids have a lot of stuff and, often, a small closet!  A custom closet system is an ideal solution because it allows you to maximize space and is flexible for the growing needs of your child.  With careful planning, you will get a return on your investment that will last for years.
Closet features to help stay organized include:
Adjustable shelving at various heights

Pull-down rods for seasonal and other seldomly used items

Triple hanging rods are great for younger kid's clothes or shorter items.
Drawers that are low enough for younger children to reach
Drawer inserts for smaller things such as undergarments, socks, and accessories
Open shelving for items that are needed at a moments notice
Maximize vertical space by storing things up high such as off-season and clothes that don't fit
Creative Kids' Room Storage
Kids' rooms can look cluttered on a good day.  Think about adding creative storage solutions that can make closet organization easy, even for a toddler!  Adding pull-out baskets for dolls, legos, and stuffed animals are extremely helpful because they are easy to access, and the size can be customized to your child's needs.  Strategically placed hooks are perfect for hanging dance, soccer, or piano bags.  Ask your child how and where they would like their favorite belongings to go.  You might be surprised by their eagerness to put things away when they had a say in the decision.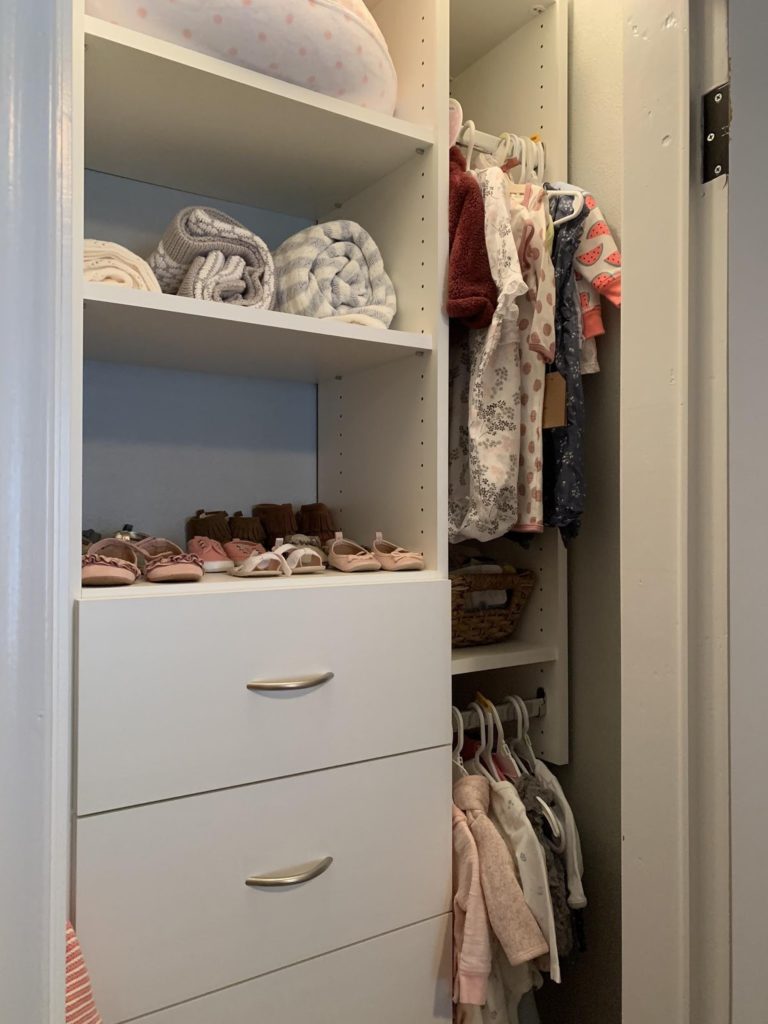 Custom cubbies and bins that store baby equipment and books can be used later for laundry storage and shoes.  Creative storage solutions grow with your child's needs, and when things are properly stored, they last longer!  
You've Organized, Now Here's How to Keep it That Way
Luckily, children love routine. When they know where everything is, they're more likely to get dressed quicker and easier and put things where they belong.  Whether your kids are young or old, teaching them these tips to staying organized will make saying "go clean your room" less stressful.
A closet with a combination of hanging, drawers, shelving, and baskets is key.  This organizational assortment makes it much easier for your child to see where items belong and access them.

Are you ever late for a sporting activity and your child can't find their equipment?  Designated baskets are a quick and easy way to grab and go, especially if you label them!

Encourage your child to be part of the process.  Letting them choose where things go and even let them decorate!  This sense of ownership can increase their motivation to stay tidy.  

An organized closet reduces distractions, saves time, and reduces stress.  Now that's a recipe for a good night's sleep!
Tip!: Create the habit of having your child pick their clothes and anything needed for their activities the night before. It's a great way to prevent unnecessary stress.
Custom Closet Organization & Storage for Children's Rooms in Lakeville MN & Beyond
Ready to get organized?  Contact Closets For Life to arrange a free in-home or virtual consultation for your Lakeville, MN or Twin Cities home!  Whether it's a small reach-in closet or a large walk-in closet, our custom designs give us the flexibility to design a solution that meets you and your childrens' needs and space.
Our company specializes in organization solutions for all areas of the home including closets, kitchens, garages, home offices, laundry rooms, wine cellars, and more. We'll come to your home, measure your space, discuss your needs and wants, suggest ideas, and, best of all, follow up in just a few days with a custom/ design specifically tailored to you – all free of charge.  Go ahead – give us a call today!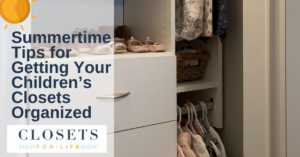 Attention parents!  School is out and many camps and activities are canceled, why not take advantage of the extra time your kids have by getting their closet organized?  Organizing now will pay off later when things get back to normal, and you're running from sporting events to piano lessons and everywhere in between. No, your […]
CONTINUE READING