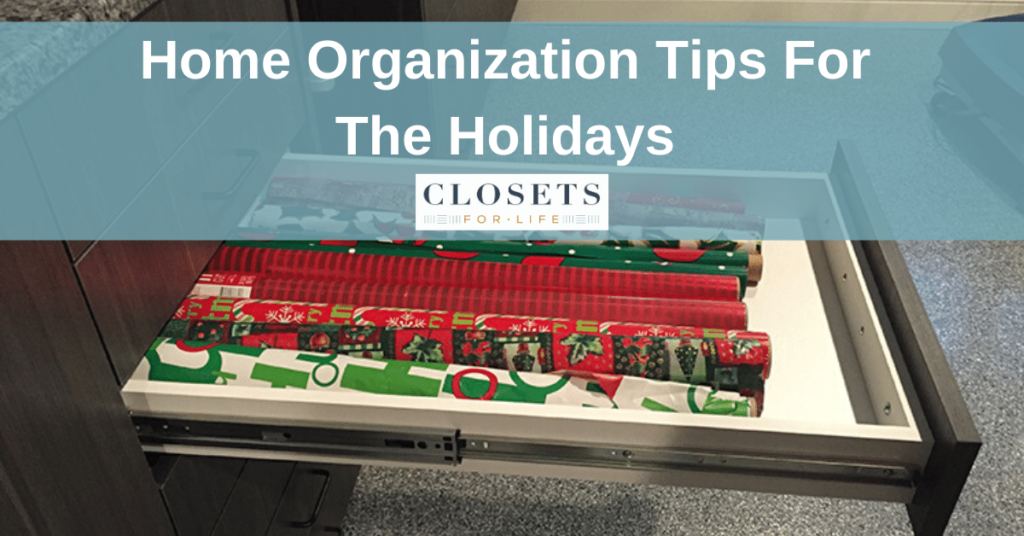 Home Organization Tips For The Holidays

You know it's coming every year.  So why is it so difficult to get organized and prepared for the holidays?  Having an organized home for the holidays is like giving yourself the gift of time!  With everything is in its place, you know exactly where to get it and exactly where to put it away, freeing up your mind to focus on what truly matters –  spending time with friends and family.  How does that sound? Like you've hit the holiday jackpot, right?
Ready to get started? The right home organization and storage can ensure a home brings holiday joy for years to come! Secure your spot on the 'nice' list with these tips:
PANTRY
Baking this holiday season?  Before you start, treat yourself to a pantry you can be proud of!  Organize your pantry with shelving that meets your entertaining needs such as shelves of various heights and pull out baskets so nothing gets lost.  Pro tip: Create zones for the main categories that comprise your pantry. For example, store all of your baking items in one area and pasta in another.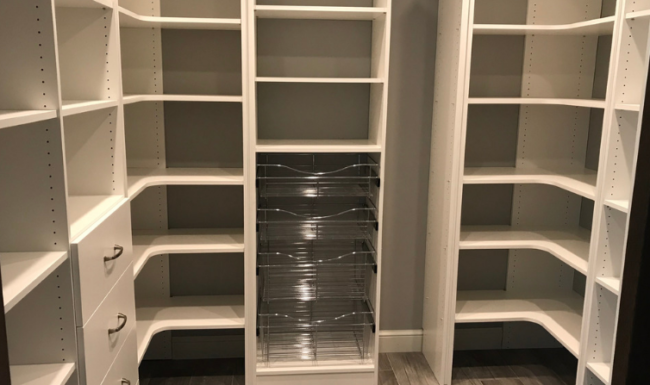 GIFT WRAPPING STATION  
With the fun of gift-giving comes gift-wrapping.  Are you constantly trying to find tape in one place and the wrapping paper in another?  How does a custom craft closet or built-in gift wrapping station filled with wrapping paper and gift bags in one section, ribbons and bows in another, and plenty of name tags, tape, and scissors sound?  Amazing, right? Convenient storage features like extra deep drawers, rods for wrapping paper, and a fold-down shelf make year around gift-giving a breeze.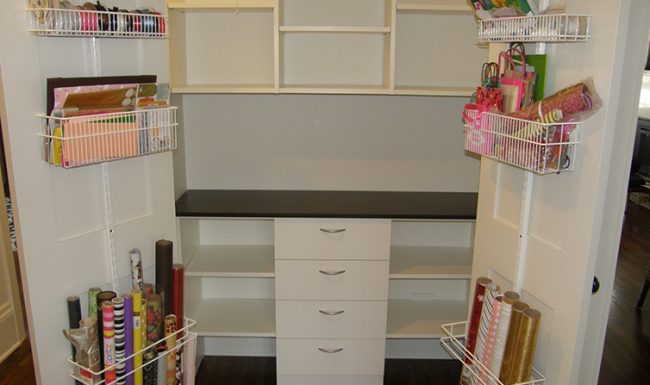 HOLIDAY DECORATIONS 
Broken ornaments and tangled lights sound familiar?  Maybe it's time to create some storage solutions to keep those holiday decorations around for years to come!  Avoid your inner Grinch with a storage system specifically created for organizing your holiday decor. Ideally, you want a custom closet with extra deep shelves for bins and pull-out baskets and shelves.  Pro tip: Avoid storing items in your attic and basement where temperatures fluctuate.  Here are some clever and efficient ways to store your holiday decor: 
Segmented boxes for ornaments (even empty egg containers)

Store lights in individual strands in either Ziploc bags or wrapped around sturdy cardboard.

Clear plastic storage bins for wreaths, Christmas tree, and garlands

Bubble wrap any breakable items and store in plastic or cardboard boxes

Create labels for each container and number each bin in the order in which you put it out
ORGANIZED FOR HOLIDAY GUESTS 
Don't let the stress of hosting overnight guests get you down.  With a few simple tips, you and your guests will feel at home for the holidays!   Nothing makes your guests feel more welcome than a comfortable bed and a Murphy bed is a great option. It can turn any room, big or small, into a guest bedroom without taking up excess floor space when not in use.  Pro tip: Have extra bedding, pillows, and toiletries on hand for your guests.  Little touches go a long way in helping your guests feel comfortable.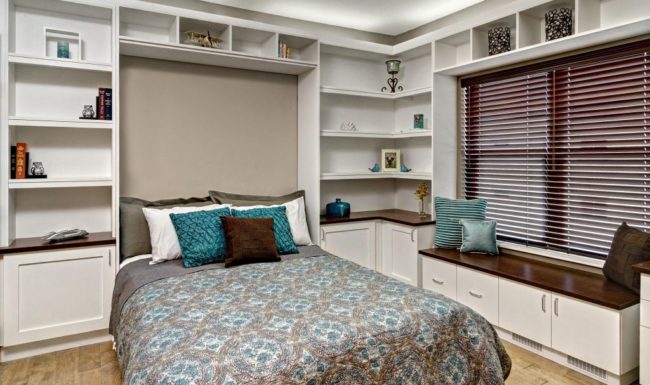 YOUR MINNEAPOLIS & ST. PAUL HOLIDAY HOME ORGANIZATION RESOURCE 
Ready to take the stress out of the holidays and get organized?  Contact Closets For Life to arrange a free in-home consultation!  Our company specializes in organization solutions for all areas of the home including closets, kitchens, garages, home offices, laundry rooms, wine cellars and more.  We'll come to your home, measure your space, discuss your needs and wants, suggest ideas and, best of all, follow up in just a few days with a custom/ design specifically tailored to you – all free of charge.  All of our designs are custom manufactured which gives us the flexibility to design a solution that meets your needs and your space. Go ahead – give us a call today!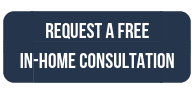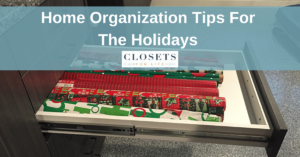 You know it's coming every year.  So why is it so difficult to get organized and prepared for the holidays?  Having an organized home for the holidays is like giving yourself the gift of time!  With everything is in its place, you know exactly where to get it and exactly where to put it away, […]
CONTINUE READING