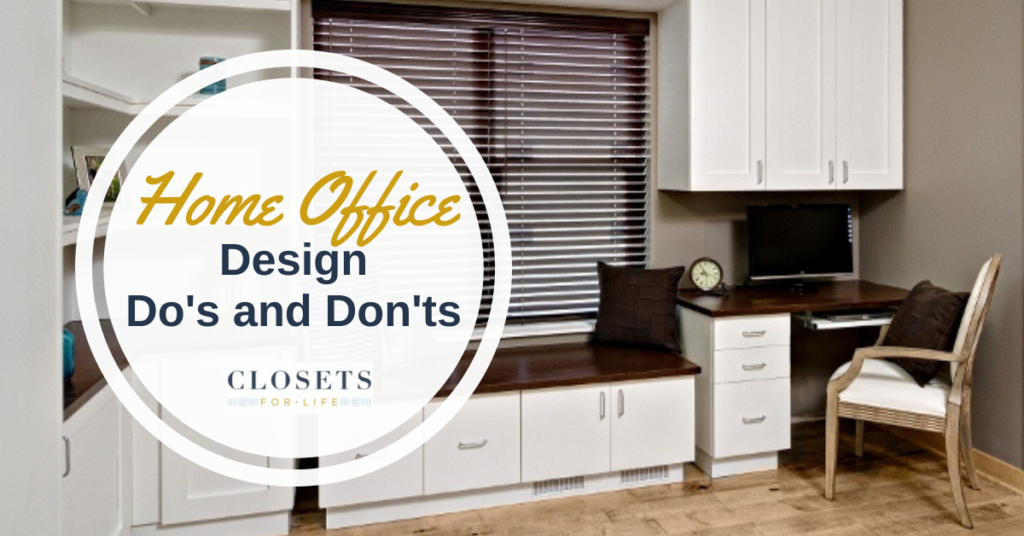 Home Office Design Do's and Don'ts

With many companies delaying a return to the office, working from home has become an essential part of most employee's daily lives. Whether you're working from home full time or part-time, you deserve a workspace that works as hard as you do! Here are eight do's and don'ts that can set you and your home office up for success.
DO: Plan Ahead
There's a big difference between having a lap desk on your couch and having a designated workspace. Planning out the location of your home office within your home pays off as much as planning out how you want your home office to function. Here are some questions to ask yourself:
Will my space be used as an office or also for homework and overnight guests?
Do I work better with background noise, or does a quiet space help me focus?
What type of environment suits my working style and creates an ambiance I can enjoy for up to 8 hours a day? For example, do you prefer a room with a window so you can see outside or do you find it distracting?
DON'T: Forget Storage Possibilities
Home offices require storage and lots of it! Built-in bookshelves and cabinets keep everything organized and clutter-free. Adjustable shelves can accommodate larger and small items, and cabinets reduce physical and mental clutter from your view. For smaller spaces, we recommend going vertical with your storage as it frees up valuable floor space.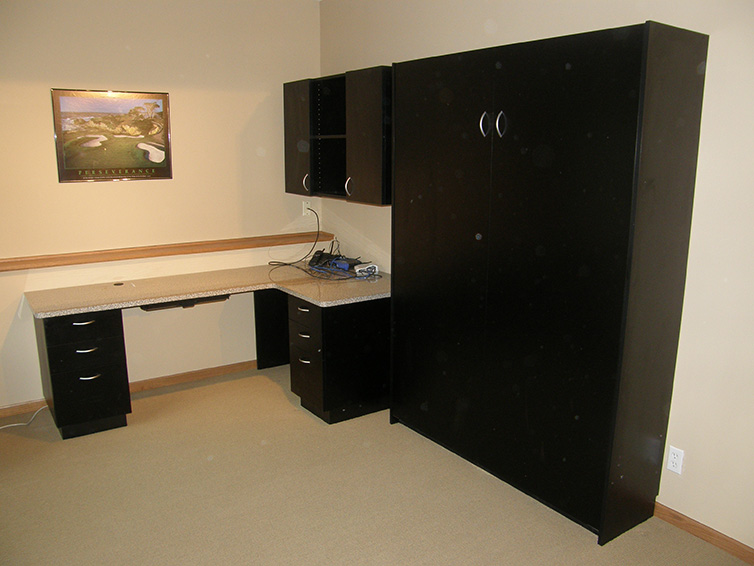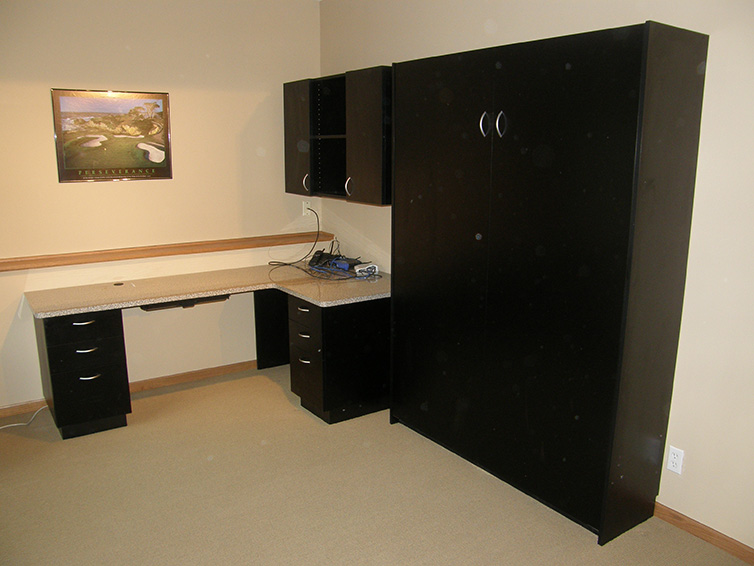 DO: Install Ambient Lighting
Natural light is ideal; however, if your space has limited natural light or you're working during dark hours, this is where ambient lighting comes in. Recessed ceiling lights and task lighting over your desk provide an overall level of lighting and reduce eye fatigue.
Pro Tip➞ Control the intensity of your lighting by adding dimmer switches.
DON'T: Take Shortcuts
Your home office should be free of distractions allowing you to focus and work efficiently. Shortcuts like throwing together a home office in your basement won't work when you can hear every footstep above you. Having a dedicated space conducive to productivity will pay off in more ways than one!
Pro Tip➞ You know how you work best.  For example, if you move around a lot, choose a room with ample space for walking, or if you have a lot of virtual meetings, your space shouldn't allow people to walk in your background.
DO: Consider Furniture Placement
What you put in your home office should reflect your needs and aesthetic.  Before investing in office furniture, consider the following furniture placement tips:
Keep your entryway clear
Create a visual and functional balance
Place your desk as close to a natural light source as possible
Place furniture that creates an open and airy space to reduce stress, thereby increasing productivity
DON'T:  Forget Outlets
Here's an often-missed tip! Imagine this scenario…the office is arranged, you're excited to start work and…you realize your computer isn't near an outlet. Know the location of your outlets before you purchase and place your furniture.  If your room has limited outlets, a media stand is perfect for holding multiple devices.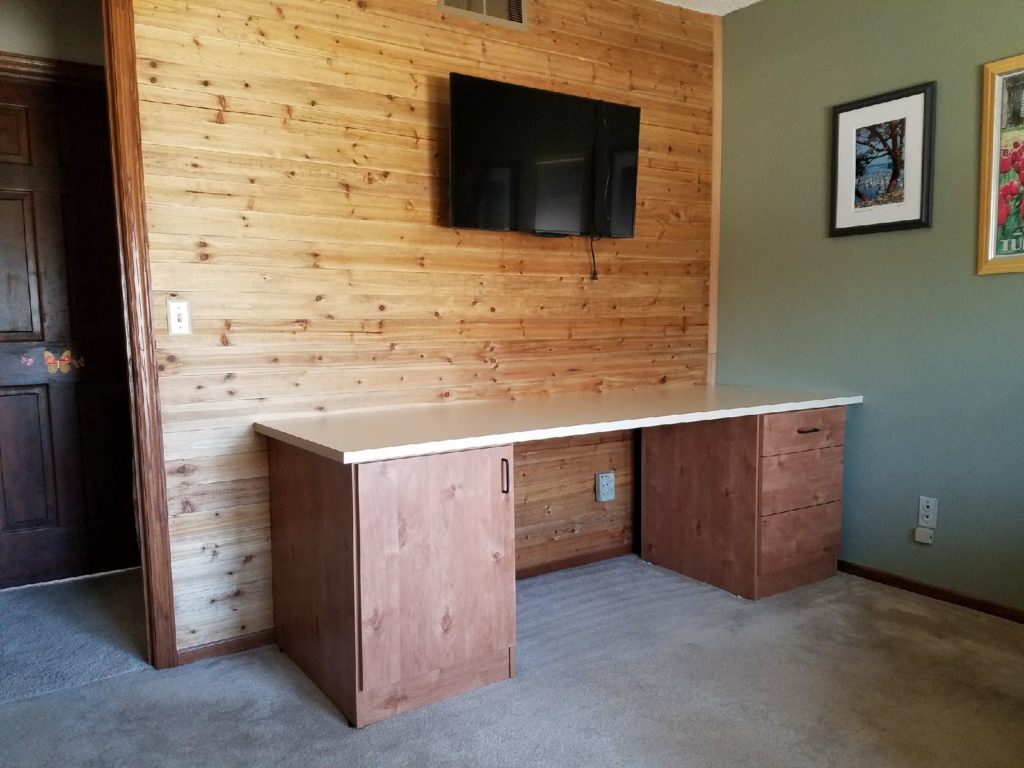 ---
DO: Choose the Right Desk & Chair
You'll spend most of your time sitting at your desk, so why not be comfortable! Find a desk that suits your work style and habits. Then choose a chair that is ergonomically correct with adjustable height with good back support.
Pro Tip➞ Chairs with armrests that swivel can provide the ultimate functionality and comfort. 
---
DON'T: Underestimate Multi-Functionality
Considering or looking for home office storage in Woodbury, MN or the Twin Cities? Why not make it multi-functional? Here are some clever ideas for getting the most out of your home office.
A Murphy bed (a bed that folds up into a cabinet when not in use) allows you to use your home office space as a guest room as well. Many of our Murphy bed designs include cabinets on either side providing much needed storage as well.  It's the ultimate two-fer! Don't believe us? Check out this beautiful St. Paul home office design we completed that includes desk space, a Murphy bed and a ton of storage!
To offset all of that sitting and stimulate your brain, add a treadmill that folds up
Have more than one family member using the office space? Consider a desk that's large enough for kids homework and school projects or two desk spaces.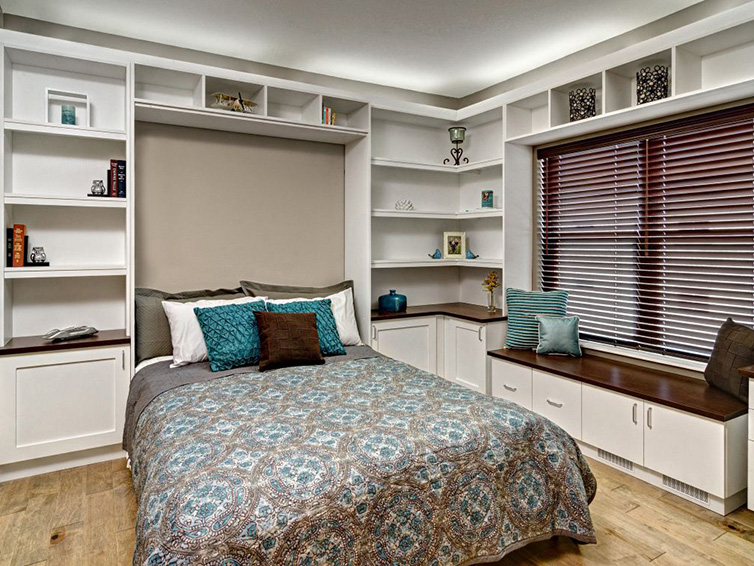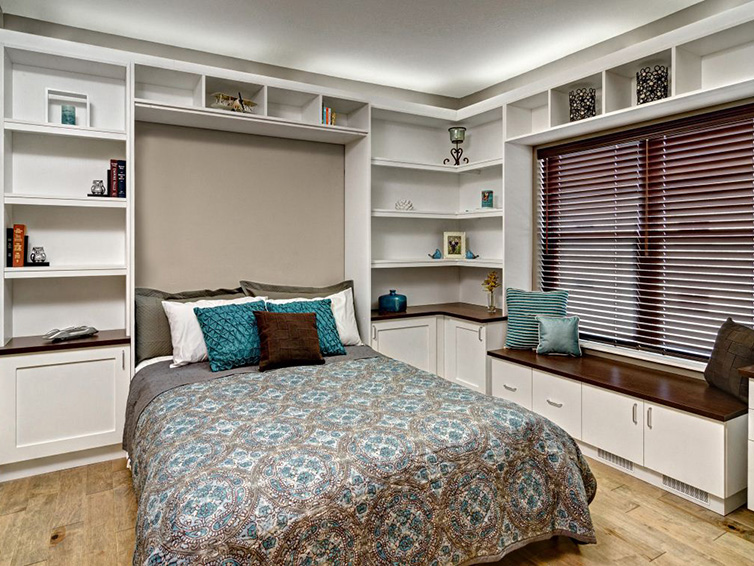 HOME OFFICE DESIGN IN WOODBURY, MN, THE TWIN CITIES AND BEYOND
Are you ready for a home office that works as hard as you do? At Closets for Life, we specialize in organization solutions for all areas of your home including closets, garages, kitchens, home offices, laundry rooms, pantries, and more. Custom storage can triple the storage capacity of your space, increase your home's value and provide support to help you stay organized. We'll come to your home (or meet virtually!) to measure your space and discuss your needs and wants. Contact us today to schedule a free in-home consultation.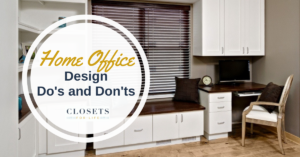 With many companies delaying a return to the office, working from home has become an essential part of most employee's daily lives. Whether you're working from home full time or part-time, you deserve a workspace that works as hard as you do! Here are eight do's and don'ts that can set you and your home […]
CONTINUE READING