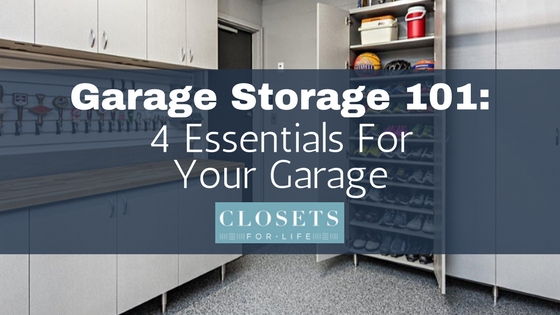 Garage Storage 101: 4 Essentials for Your Garage

Our garage is the the first area of the house to welcome us home and the last area we see when we leave. It's also an area of the home most of us use to store a lot of items, from lawn supplies to tools to snow shovels.  Does the current condition of your garage cause you to walk as quickly as possible from your car to your house, just to avoid seeing the mess? Don't let a cluttered garage overwhelm you!  As a custom organization company, we've helped countless homeowners take control of their garage clutter (see our garage storage photo gallery).  Here are the 4 essential components we found to be the building blocks to creating an organized garage space.
THE 4 ESSENTIALS OF GARAGE STORAGE
1) Work Bench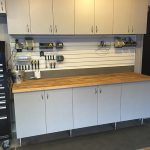 Everyone can benefit from a work bench space in their garage.  Having a work surface to perform tasks, whether it be transplanting flowers, tinkering with tools or mixing paint, adds usability to a garage.
2) Cabinets with Door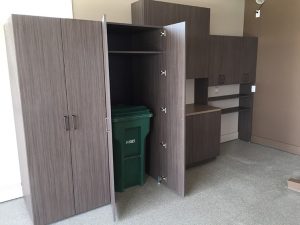 Storage cabinets with doors are invaluable in so many ways.  The ability to store items out of sight helps keep your garage tidy in appearance.  With shelves, they triple your storage space.  Add a lock and they become a safe space to store lawn chemicals away from a small child's reach.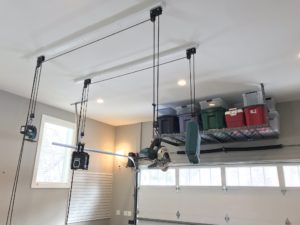 3) Overhead Storage
Too often, we forget to look up when looking for additional storage space.  Your garage ceiling contains untapped storage potential.  From bike and canoe hoists to ceiling mounted storage racks, there are many options for getting items up off your garage floor and stored safely above.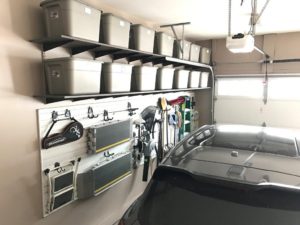 4) Tool Wall
Whether you are Bob the Builder or own just a few tools for hanging pictures, a wall storage system like this Gladiator Garage Organization GearTracks® system provides flexible storage space.  Storage components of your choice easily slide into the wall track, allowing you to customize your wall to hold nails and screws, hammers, screwdrivers and other tools as well as ladders, rakes and shovels.
YOUR TWIN CITIES GARAGE SYSTEM EXPERTS
Ready to take control of your garage?  Contact Closets For Life for a free in-home consultation.  As a custom organization company based in Minneapolis & St. Paul, we specialize in organization solutions for all areas of the home including garages, closets, home offices, laundry rooms, kitchens, wine cellars and more.  We offer free in-home consultations and will follow up our consultation with free 3D design.  What do you have to lose?  Contact us today!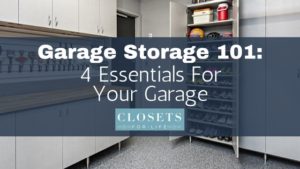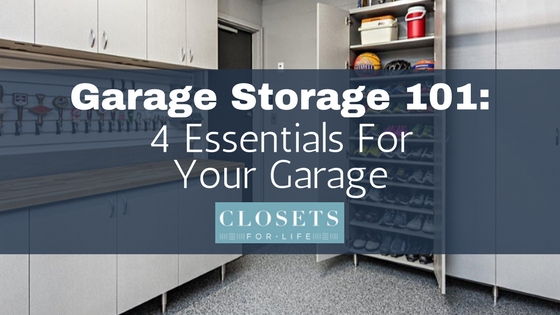 Our garage is the the first area of the house to welcome us home and the last area we see when we leave. It's also an area of the home most of us use to store a lot of items, from lawn supplies to tools to snow shovels.  Does the current condition of your garage […]
CONTINUE READING