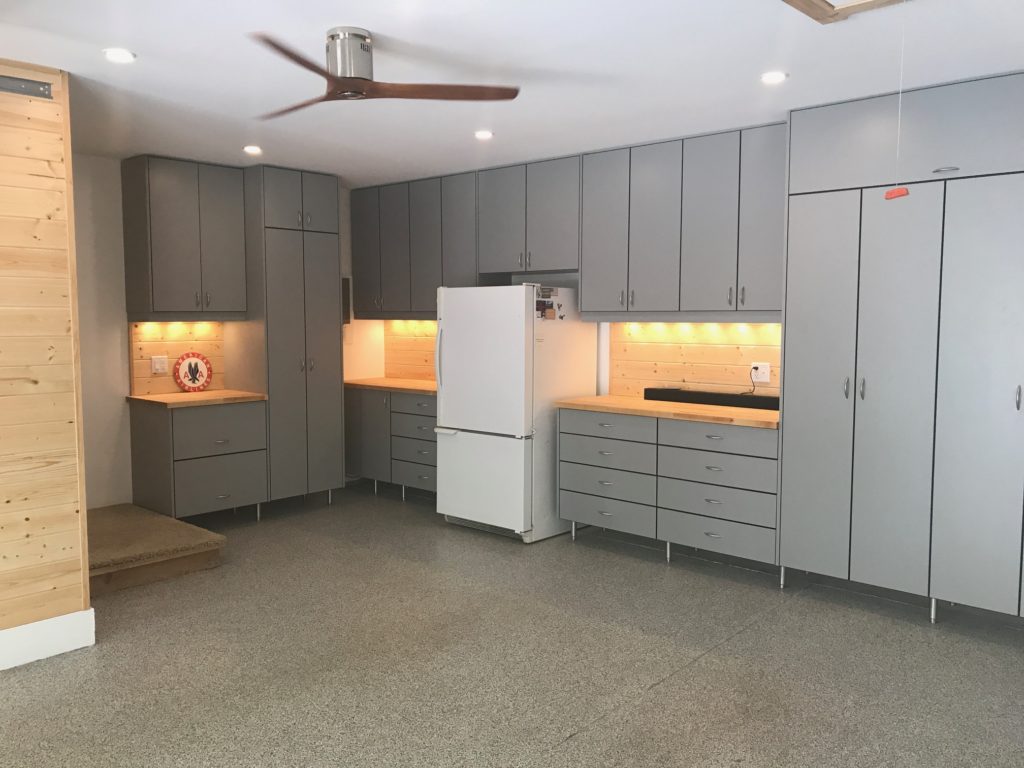 This Project Will Give You Garage Envy

While we just showcased a garage project a few month ago, we can't resist sharing this beauty.  The results were stunning, transforming a typical, cluttered garage into a man-cave and storage haven.  Do we sound a little green? Probably!  We've definitely got a bad case of garage envy.
A Typical Garage

By most people's standards, this project began as a typical garage.  For many of us, our garages become somewhat of a catch zone for our belongings, without much worry or concern about aesthetics.  As long as it's up and off the floor, we're good.   But, in all our garages lies the potential to be so much more, in terms of both appearance and storage capacity.  As in the case of this project, your garage can be elevated into a livable and enjoyable area of your home, a place where you want to hang out!  What's more, with some smart design, your storage capacity can be doubled.   Let's dive into how we transformed this garage.
The Garage Storage Remodel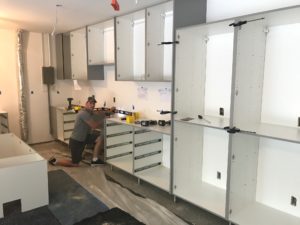 The transformation of this old cluttered garage into a man cave for him and storage for her was not without its challenges.  There was existing pipe and duct work that needed to be covered in our cabinetry design.  In addition, our clients had specific storage requirements, wanting ample space for a variety of specific items.  Lastly, and most importantly, they wanted an environment with a livable feel where they could enjoy working, tinkering or even entertaining a casual summer gathering.
Garage Storage Transformation Complete
Lending the space a clean, contemporary feel, all of the custom cabinetry is finished in a grey laminate with black 3mm edge banding and stainless steel legs.  Butcher block counter tops, knotty pine walls and back splashes, a new floor coating and valences covering the under cabinet lighting add both warmth and an interior-like ambiance.   Customized storage features to accommodate the homeowners needs include:
one base cabinet with two large drawers for small appliance storage
two larger upper cabinets with awning style doors for storage of fishing rods and longer items
three base cabinets with drawers for tools
six tall cabinets, one without shelving for storage of brooms and shovels
Our favorite finishing touch?  The propeller style ceiling fan installed by the husband who also happens to be a pilot. Hmmm, do we see a little green creeping into your cheeks? Give Closets For Life a call at 952-484-0416 or fill out our online form to arrange for a free in-home consultation to see how we can help transform your garage with custom garage cabinets, shelving and flooring.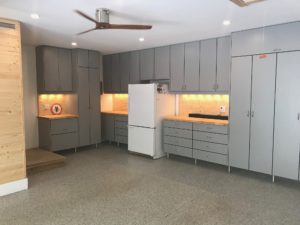 While we just showcased a garage project a few month ago, we can't resist sharing this beauty.  The results were stunning, transforming a typical, cluttered garage into a man-cave and storage haven.  Do we sound a little green? Probably!  We've definitely got a bad case of garage envy. A Typical Garage By most people's standards, […]
CONTINUE READING