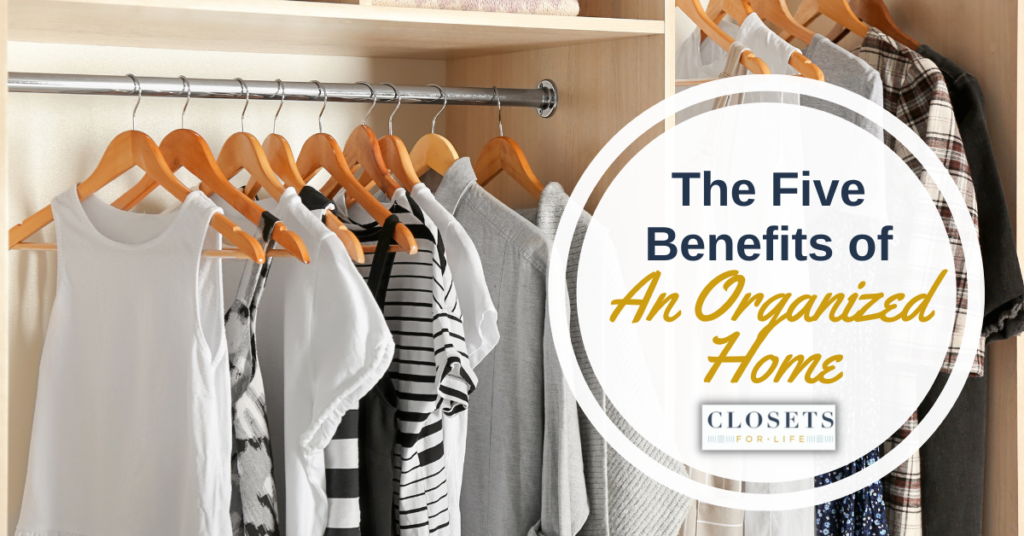 Five Benefits of an Organized Home

Like many of us, you've probably had "Get More Organized" on the top of your New Year's resolutions list for multiple years. We begin each year with the best intentions, only to find ourselves searching for the same things we couldn't find last year! But it doesn't have to be that way. Having an organized home allows you focus on the things that matter. In the spirit of new beginnings, our Twin Cities custom closet designer team is sharing some surprising benefits to keeping your home organized throughout the year!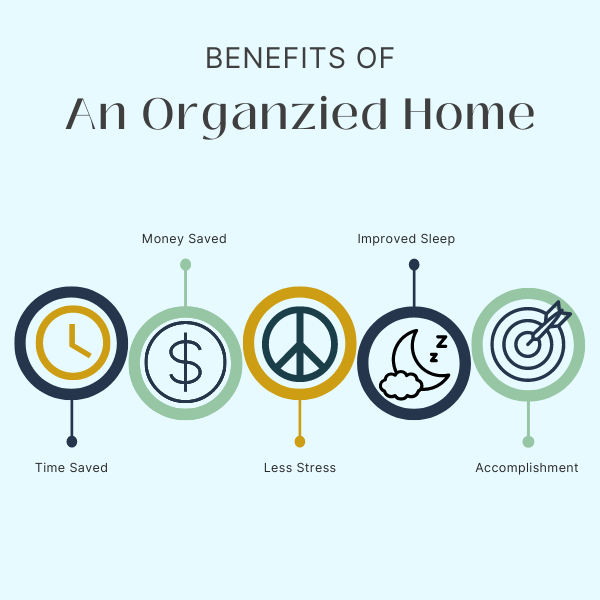 ➙ Who Doesn't Want More TIME?!
Ever been late because you couldn't find your keys, wallet, or purse? Frustrating, right? Organizing your home allows you to find what you need when you need it! In fact, did you know that by decluttering your living spaces, you can decrease housework by 40%! Here are a few pro tips that will give you back the gift of time:
Add storage such as bookshelves and cabinets with adjustable shelves to reduce visible clutter.
Free up space with organization trays, bins, and other space-saving tools. See our gallery of closet accessory options to learn what options you might incorporate.
Maximize vertical space by storing things up high such as off-season and clothes that don't fit.
➙ Less Clutter Mean Less Stress!
Stress is caused by many sources, from jobs to finances, so why not eliminate the sources we can control? We know from research that clutter causes stress. Take back control by determining the biggest sources of stress in your home. Once you know where to start, begin to organize the chaos and create the soothing environment you deserve!
➙ Saves Money
An organized home can do wonders for your wallet! When you declutter your home, you'll discover the following:
Those lost items you purchased and totally forgot about!
A new buying perspective after shedding light on duplicates and unused items.
Opportunities to make money by selling the stuff you don't need or use.
Savings on external storage expenses. According to the 2017 Ikea Life at Home survey, 1 in 10 U.S. households rents a storage unit.
➙ Sleep Well. Live Well.
Research shows that your sleep is negatively affected if your bedroom is unorganized. This shows a direct connection between quality sleep and a clean and organized room! How do you begin tackling your bedroom space? Consider the following tips:
Adding a custom closet organizational system frees clutter; you can even add a valet rod to hang your clothes for the following day! How good will that feel before bedtime?
Take 5-10 minutes each evening to tidy up your room. By reducing the visual clutter, you'll create a more calming environment that makes falling asleep easier.
➙ Provides a Sense of Accomplishment
It's true! You feel good when you work hard to create an organized home! Whether walking in the door after a long day, last-minute guests showing up, or simply waking up in the morning, organization helps you feel proud of yourself and your home. Start with decluttering and ensuring you have the proper storage for your home. Once you have an organization and storage system in place, you'll only need to focus on the smaller, more manageable daily tasks to feel organized, like making your bed, putting dishes away, and having designated spots for quick pick-ups.
Custom Home Organization for Homeowners in St. Paul, MN, & Beyond
Need help creating a home organization plan in the new year? At Closets for Life, we specialize in all areas of the home, including closets, garages, kitchens, home offices, laundry rooms, pantries, wine cellars, and more. From cabinetry finishes to the right layout to match your needs and space perfectly, our locally-owned closet design and installation team can create customized storage solutions that make getting and staying organized a breeze! Contact our Minnesota custom closet design team today to schedule a free in-home consultation.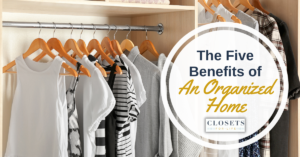 Like many of us, you've probably had "Get More Organized" on the top of your New Year's resolutions list for multiple years. We begin each year with the best intentions, only to find ourselves searching for the same things we couldn't find last year! But it doesn't have to be that way. Having an organized […]
CONTINUE READING