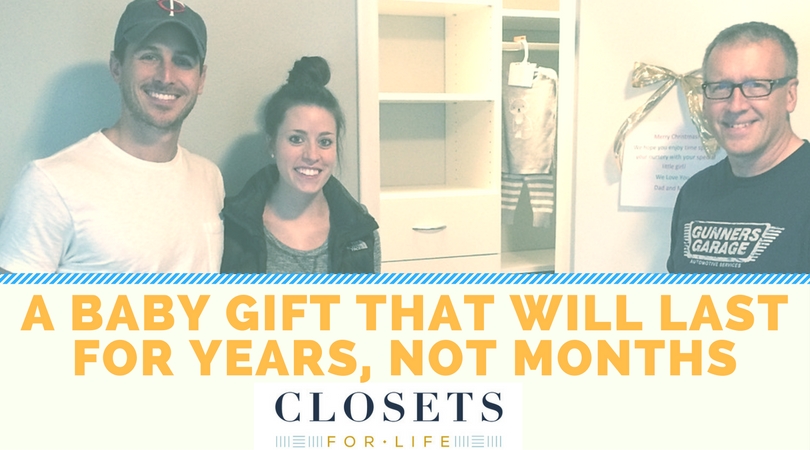 Custom Closet: A Baby Gift That Will Be Used for Years, Not Months!

Closets For Life owner, Rick Lyrek, is becoming a Grandpa with the arrival of his first granddaughter in March! When considering what to give their son and daughter-in-law, Rick and his wife, Shari, looked at many options but decided that a custom closet system for the new baby's room would be the perfect baby gift!  Living in an older home, the baby's closet was very narrow and deep, making it difficult to view most of the closet contents. Also, with just a closet rod, their current closet didn't offer many storage options, especially for mini-sized clothing!
Bringing Organization to the Baby's Room
Rick set about designing an organization system for his new granddaughter including drawers for storage of little socks and onesies, lower and upper closet rods for hanging little outfits and adjustable shelving to hold toys, diapers and more.  The best part of this system is that the shelves and rods are adjustable, meaning that as the baby grows, her storage can adapt and grow with her.
After a day of installation, Rick revealed the new closet to his son and daughter in law. They loved the transformation and were so happy to have the added storage.  It's now been a month or so since the closet was installed and it's already filled with clothing and baby items as the parents get ready to bring their new daughter home.

Consider the Gift of a Custom Closet
Welcoming a new grandchild to your family?  Consider gifting a custom closet organization system for the new baby's room.  It is a gift that will be used for years (not months) and will have the parent's thinking of you each time they step into their child's room.
Getting started is easy.  Contact Rick at Closets For Life for a free in-home consultation where he will measure the space and discuss your needs and ideas.  Within two days, you'll have a free design and price quote.  Once the design is finalized, all pieces are custom designed and are generally installed within two weeks.
Oh, and make sure to ask to see a picture of his new granddaughter.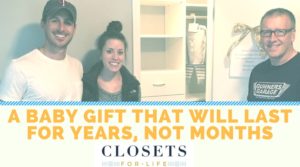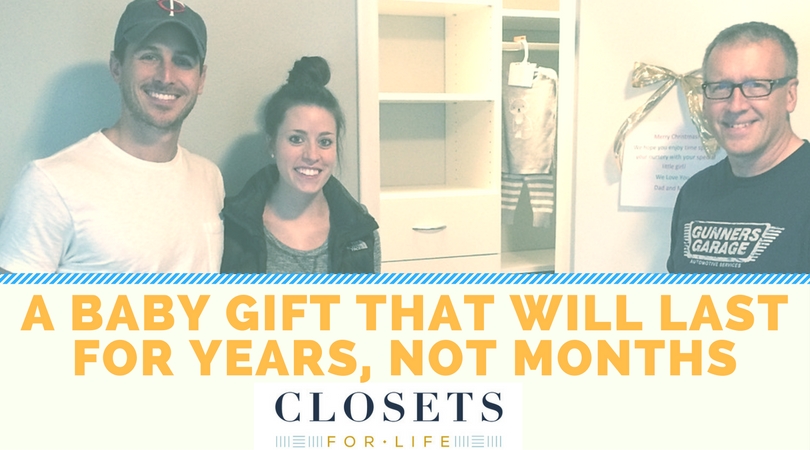 Closets For Life owner, Rick Lyrek, is becoming a Grandpa with the arrival of his first granddaughter in March! When considering what to give their son and daughter-in-law, Rick and his wife, Shari, looked at many options but decided that a custom closet system for the new baby's room would be the perfect baby gift!  Living […]
CONTINUE READING