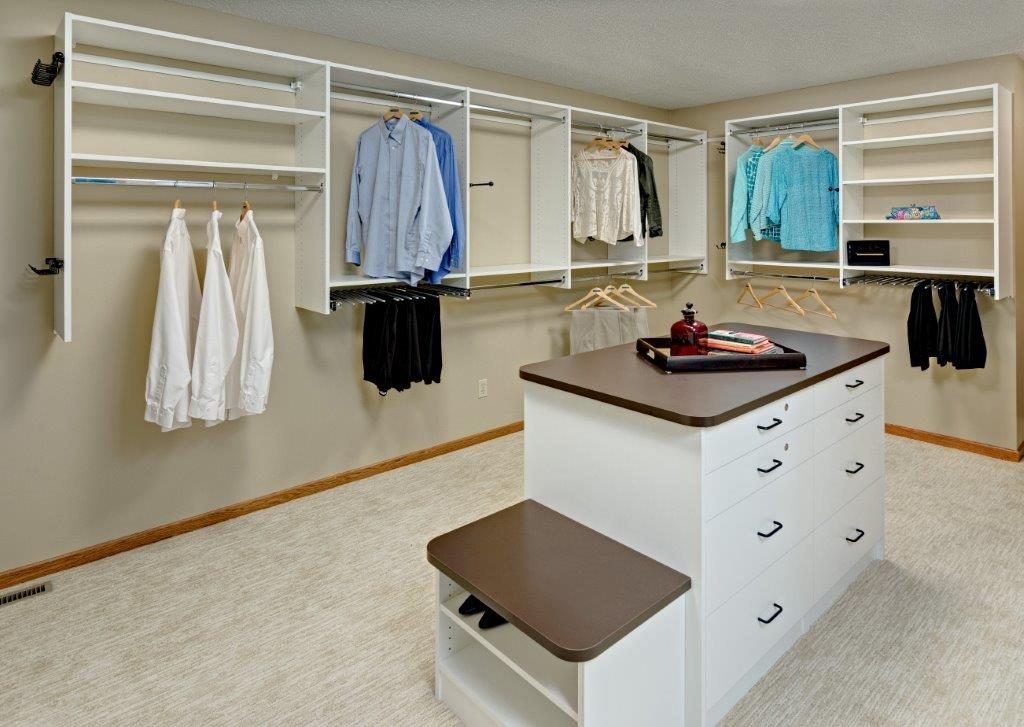 Creating a Walk-In Closet from a Spare Bedroom

Many homeowners without a master bedroom walk-in closet have found a creative solution to creating the closet they've always dreamed of, transforming a spare bedroom into a closet!  Annexing a spare bedroom next to the master bedroom and converting it into a walk-in closet can be as simple as adding a doorway and a custom closet organization system.  Viola!  A spacious walk-in closet that adds value to your life and your home.
A Bedroom to Closet Transformation
This was exactly what a recent client of ours did.  Greg and Jane live in a home with traditional reach-in closets. With their kids grown and out of the house, they decided to convert one of the bedrooms into two separate spaces they've always wanted, a walk-in master bedroom closet and a laundry room.
Adding a doorway from their master bedroom bathroom opened up the flow of the space, providing one entrance from the hallway and the other from the bathroom.  A half-wall was added to divide the space between the closet and laundry area while still allowing convenient access to either.
When we sat down with Greg and Jane at their initial consultation, they had specific features they wanted their walk-in closet to have.
As avid travelers, they wanted a closet island for packing a suitcase on top.  They also wanted a bench on the end of the island to sit down while putting on shoes.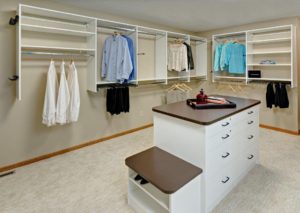 Jane wanted two drawers with built-in trays to easily store and organize her jewelry.  With their frequent travels, she also wanted to be able to lock the drawers for security.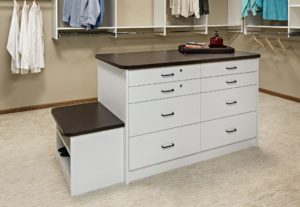 Greg stated that he likes to hang items on hooks so we incorporated matching hook strips for both Greg and Jane in the design.  Jane also had many items she wished to store on shelves, rather than hang, such as purses and t-shirts.  A cabinet dedicated to shelving space was incorporated to offer flexible storage space Jane can use as she wishes. The curved end of the cabinet softens one entrance and also provides a place to display art and pictures.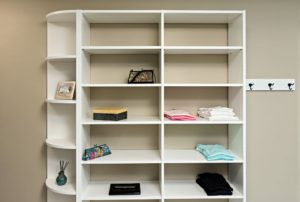 Finally, after going so long without a walk-in closet, Greg and Jane were eager to incorporate closet accessories that would help them utilize the space to its full potential.  Closet accessories included in the design are pants racks, belt racks, tie racks, valet rods, jewelry trays and shoe shelves.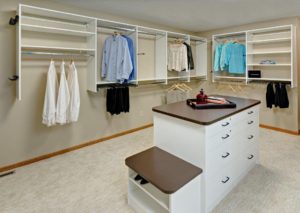 Within the adjacent laundry room space, we designed a base and upper cabinet to store laundry supplies.  The base features a laminate top for folding clothes.  We also included a hanging rack on the opposite wall.  What a wonderfully short walk from taking clothes out of the dryer to the closet!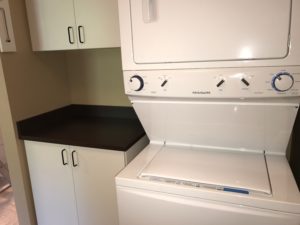 All of the cabinetry was created with a clean, fresh white finish.  The chocolate micro dot laminate tops match the chocolate cabinets in the bathroom, making the closet and laundry room feel cohesive rather than added on.  The finished project is simple, yet sophisticated, and Jane and Greg are loving their new space!  Contact us to see how we can help you create the closet you've always wanted.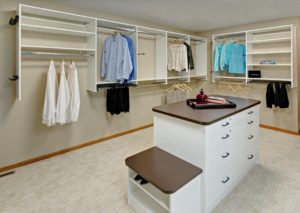 Many homeowners without a master bedroom walk-in closet have found a creative solution to creating the closet they've always dreamed of, transforming a spare bedroom into a closet!  Annexing a spare bedroom next to the master bedroom and converting it into a walk-in closet can be as simple as adding a doorway and a custom […]
CONTINUE READING