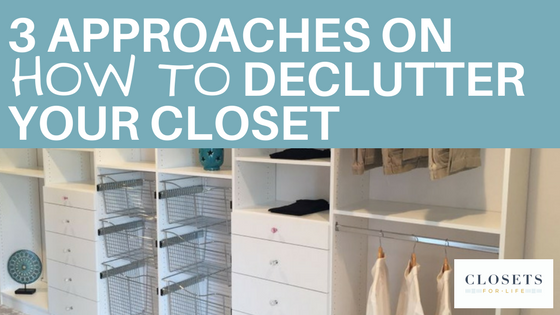 3 APPROACHES ON HOW TO DECLUTTER YOUR CLOSET

If your closet is starting to look like a bad 'before' photo, it's probably a sign that it's time to declutter.  But don't despair, there is more than one approach to declutter your closet space. Whether it's a mudroom closet, a craft closet or a bedroom closet, here are three approaches to getting your closet looking and feeling clean, calm and organized!
Approach #1: Get rid of stuff
This can be hard for some of us.  We know!  However, physics laws simply can't be ignored.  If you keep adding items without getting rid of anything, you will eventually run out of space.  Can't even imagine how to start sorting out what you should keep and what should go?  Check out our previous blog, 5 Steps to an Organized Closet, that will walk you through a sure-fire (and relatively painless) process getting your closet back into shape.
Approach #2: Revamp your closet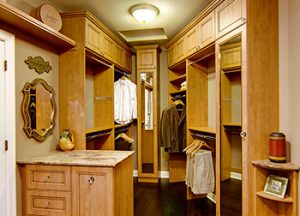 Approach #1 to difficult to face?  Or, did you get rid of stuff and still have more than can comfortably fit? You might want to consider a custom closet system, especially if you still have the single bar and shelf in your closet!  A customized closet system will change your world (well, your closet world anyway)!  With options to add shelving, drawers, islands, shoe racks, pull down closet rods and more, you can easily double or triple your storage space with a custom closet system.  As a bonus, a custom closet system will also have a positive affect of your home's resale value.  Not sure what you want?  Check out our custom organization photo gallery.  You'll find photos of organization projects of all kinds, from walk-in and reach-in closet systems, to mudroom organization, home office organization, garage organization, home wine cellars and more.
Approach #3: Make more with what you've got
Maybe you already have a custom closet system or perhaps a closet system just isn't in your budget right now.  Don't worry! There are small additions you can make to get more out of the closet you have!  Consider adding some closet accessories to your existing closet.  Closets accessories, like tie racks, belt racks and pant racks, can easily be added to an existing bedroom closet, take up very little space and can help add much needed functionality and storage.  See our gallery of closet accessory options to learn what options you might incorporate.  For other closets, such as craft, mudroom or home office closets, consider adding just one or two smaller components such as an additional shelf, a unit of drawers or a few pull out baskets for much needed additional storage.  These little changes can make a big impact with minimal investment.
Closets For Life is Here to Help
No matter what your approach, Closets For Life can help! From expert organization advice, to adding minor additions, to designing and installing an entire closet system, Closets For Life has the experience and expertise to help custom tailor a solution to your needs and your space.  We offer free in-home consultations and will follow up our consultation with free 3D design.  What do you have to lose?  Contact us today!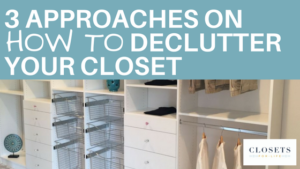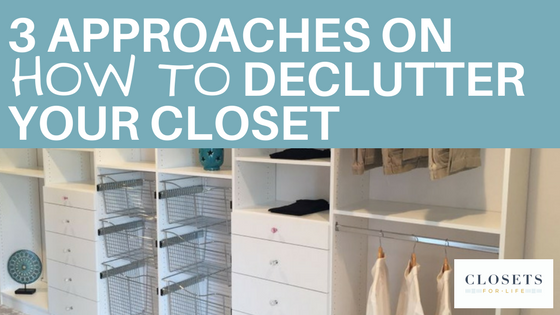 If your closet is starting to look like a bad 'before' photo, it's probably a sign that it's time to declutter.  But don't despair, there is more than one approach to declutter your closet space. Whether it's a mudroom closet, a craft closet or a bedroom closet, here are three approaches to getting your closet […]
CONTINUE READING