Closet Island Must-Have Features and Advantages

Providing that space allows it, a closet island is a must-have feature in a walk-in closet.  Closet islands are easily customized and there are many advantages to including an island in your walk-in closet design.
Spacing Requirements for Closet Islands
Before deciding if a closet island is on your wish list, first determine if your walk-in closet has adequate space.  The depth and width of a closet island is dependent on what features you desire.  However, closet islands are generally at least 30″ deep, deep enough for drawer storage on each side.  Width varies according to the features selected.  The other space consideration is clearance around the island.  Although 30″ is enough clearance,  at least 36″ of clearance around each side is recommended to allow you to comfortably walk around the island.
Advantages and Features of a Closet Island
Highly customizable, a closet island can  maximize storage in your closet and personalize storage space to your needs.  Possible features for your closet island include:
Drawers: Drawers on 1 to all 4 sides depending on size of the island
Shoe:  Angled or adjustable shelves or cubbies for shoe storage
Jewelry:  Jewelry drawers installed at near the top of the unit
General storage: Open shelves for storage of purses, hats or other items
Laundry:  Pull out hamper drawers
Countertop:  Countertop space can be used for folding, packing or outfit planning
Bench: Provide seating space while dressing
In addition to adding functionality, incorporating the features listed above will open up space in other areas of your closet and bedroom. For example, drawer space in an island eliminates the need for a dresser in the bedroom and opens up hanging space in the surrounding wall closet space.  Pull out hamper drawers open up floor space that might otherwise be taken up by a clothes hamper.  All of this added space and functionality aside, a closet island adds a 'wow' factor to a walk-in closet.  Combined with striking choices in materials, a beautifully design closet island is an element that adds drama to the space.
Let's Get Started!
While pre-fabricated options are available, using a custom closet design company such as Closets For Life will ensure you get the best options, materials, and design based on your space and your needs.  With either option, begin by spending some time to assess your storage needs and your available space.  This will speed up the design process and ensure that you begin with realistic expectations of your space.
For more examples of beautiful walk-in closets and closet islands, visit our walk-in closet photo gallery.   When you are ready, contact Closets For Life to schedule a free in-home consultation.  We'll come to your home to measure your space and discuss your needs and ideas.  Within two days, you'll have a free design and price quote.  Once the design is finalized, all pieces are custom designed and are generally installed within two weeks.  Let us help you create a beautiful closet space to be enjoyed for years to come!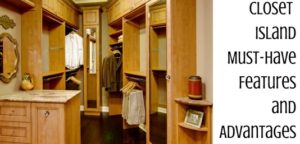 Providing that space allows it, a closet island is a must-have feature in a walk-in closet.  Closet islands are easily customized and there are many advantages to including an island in your walk-in closet design. Spacing Requirements for Closet Islands Before deciding if a closet island is on your wish list, first determine if your walk-in closet has adequate […]
CONTINUE READING