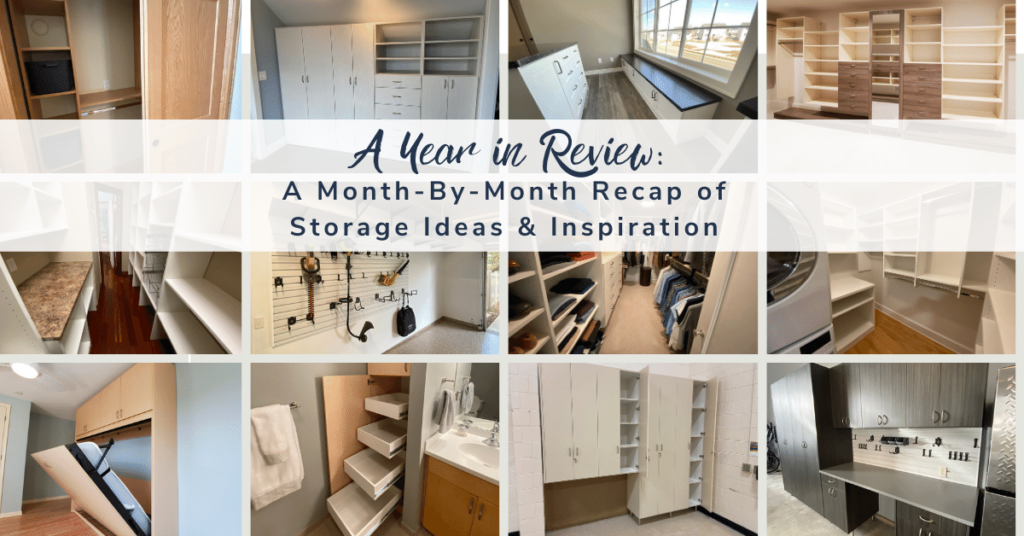 A Year in Review: Storage Ideas & Inspiration

We know getting your home organized is no easy task.  Despite the challenges this last year presented, we managed to bring some amazing organization into many homes!  If you're looking for inspiration or ideas for an upcoming project, we thought it would be fun to recap the year by showcasing a month-by-month guide of just a few of the projects we completed in 2020.  Oftentimes when we think of organization, we think of closets.  As you'll see in this 'A Year in Storage' review, there are many areas of the home that can benefit from organization.  And, don't miss our links to some of our most popular blogs throughout our highlights offering more in-depth tips for the ultimate organized space. 
JANUARY: REACH-IN CLOSET NIRVANA
Who says walk-in closets have all the fun?  We've created reach-in closets for our clients that provide the same amenities and functionality.  Reach-in closet smart storage offers a wide variety of cabinetry finishes, shelving layouts, and door options that could make any walk-in closet green with envy!


FEBRUARY: COMMERCIAL PROJECTS, TOO
At Closets for Life, we don't 'just' do residential projects.  We've installed storage solutions for a dental office, retail store, and several schools. See how we turned chaos into calm at the YMCA after school program at Thomas Lake Elementary this past February, a project we've completed at many schools across the school district.


MARCH: WE LOVE ODD SPACES 
How can I find additional storage space?  It's one of our most-asked questions!  We know how to take tricky OR unusual layouts and transform them into creative storage solutions.  With us, challenging spaces like sloped and curved walls and attics can become built-in masterpieces. We can even design around access issues as we did for this closet we completed in March in which the homeowners needed to maintain attic access. Want another great example? Just look at our curved closet wall blog to see first hand how we can take challenging spaces and create a closet system that blends perfectly with the room! 


APRIL: CRAFT ROOM PARADISE
With the increase in home hobbies and entertainment, many homeowners are looking for a designated space to call their own.  A craft room brings vast amounts of storage combined with creative workspaces.  Whether it's a large island with storage or a countertop for creating, having a space for both work and play goes a long way!  The project featured below was such a stunner, we wrote a whole blog about it! Learn the story behind this beautiful custom craft room.


MAY: MIX-IT-UP CABINETRY FINISHES
Modern, traditional, rustic, or eclectic?  Whatever your style, an instant way to update and personalize your home's storage is with two-tone cabinetry and finishes.  It adds interest, highlights what you want to see while hiding what you don't.  Want to see more photos of this red hot trend in storage? Check out our blog on using two-tone cabinetry to elevate the sophistication in any room.


JUNE: CAN YOUR PANTRY STAND THE HEAT?
If investing in your kitchen offers the biggest ROI, then your pantry is a potential money-maker!  Say goodbye to those wire racks by installing custom shelves, pull-out baskets, and cabinets that bring instant organization.  This project was just one of many kitchen pantries we helped transform in 2020. And, if you're looking to save time in your kitchen, don't miss our blog highlighting some time-saving tips organization for the kitchen pantry.


JULY: OFF-THE-WALL GARAGE STORAGE
Okay, we obviously had a bit of fun with this project back in July but seriously speaking, nothing makes a garage more organized than Gladiator's GearWall Storage.  Take seasonal items and tools from your garage floor that aren't being used and hang them!  Sturdy and offering the flexibility you need, Gladiator's like of GearWall wall panels are perfect for freeing up valuable storage space and reducing the clutter garages continuously struggle with. 


AUGUST: EXTEND YOUR 'SHELF LIFE'
Whether we're improving the storage capacity in a client's bathroom, kitchen, or pantry, pull-out shelves are a difference-maker!   Deep cabinets are great until you can't reach, see, or find anything in the back of them.  Pull-out shelves minimize reaching and make it so much easier to access items. Just look at this bathroom project from August-no dark depths of the cabinet to be found here!


SEPTEMBER: DROP BED GORGEOUS
What's not to love about a 2-for-1?  That's what a Murphy bed offers.  Whether it's your office, basement, or den, a Murphy bed gives homeowners the flexibility in using a spare room.  They are available in a variety of finishes, sizes, and functionalities to fit your lifestyle.


OCTOBER: LIFE OF A WALK-IN CLOSET
It's easy to look at an empty walk-in closet system and be impressed, but it's more helpful to see one filled up.  That's why we stopped to take a photo of this custom closet storage project we completed in October. It shows how the racks, shelves, and cabinets can be configured to accommodate everything you have and needs to be stored.  No matter what your budget or square footage, custom walk-in closet systems can be tailored to fit your needs.


NOVEMBER: GARAGE INTERVENTION
Summer is over, the holidays are around the corner.  You might now believe it but November, when summer activities are done and temps are still mild, is a great time consider tackling a garage cabinet & shelving upgrade. We completed several this past November including the one below.  Don't think the garage is a priority? Consider this….for most homeowners, their garage is the last thing they see before leaving and the first thing they see coming home. Need more convincing?  Get inspired by these five garage storage examples. 


DECEMBER: LAUNDRY STORAGE DONE RIGHT
If you're thinking about (or trying not to think about) the dumping ground your laundry room has become and are ready for a change, here's some inspiration!  Laundry room storage is not like it used to be.  With customized cabinets and shelving along with pull-down hanging rods and baskets, your laundry room can be "cool" enough for your kids to use!


YOUR STORAGE IDEAS & ORGANIZATION EXPERT IN MINNEAPOLIS & ST. PAUL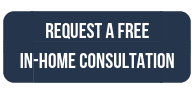 Are you ready to bring organization and inspiration back into your home?  At Closets for Life, we specialize in organization solutions for all areas of your home including closets, garages, kitchens, home offices, laundry rooms, pantries, and more.  Custom storage can triple the storage capacity of your space, increase your home's value and provide support to help you stay organized.  We'll come to your home (or meet virtually!) to measure your space and discuss your needs and wants.  Contact us today to schedule a free in-home consultation.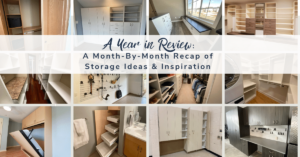 We know getting your home organized is no easy task.  Despite the challenges this last year presented, we managed to bring some amazing organization into many homes!  If you're looking for inspiration or ideas for an upcoming project, we thought it would be fun to recap the year by showcasing a month-by-month guide of just […]
CONTINUE READING