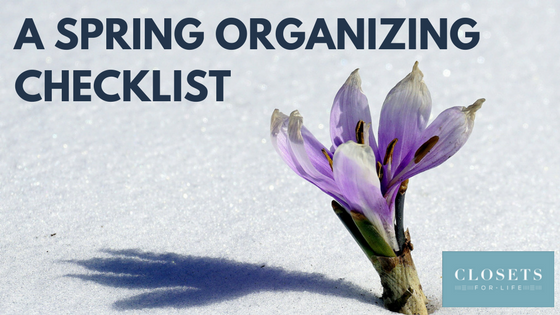 A Spring Organizing Checklist: From Your Garage to Your Closet, it's Time For a Fresh Start!

As we write this, it is March in Minnesota and Mother Nature has recently delivered another 5" or so of snow.  For those of you who don't live in a winter climate and are blissfully unaware of the psyche required to ensure a long winter, let us enlighten you.  It doesn't matter how much snow is on the ground, come March, Minnesotans are getting spring fever!   We possess an almost super-power like ability to move towards spring despite whatever is happening outside our windows. That is why, come March, you'll see us Minnesotans blissfully walking around without jackets in 30 degree weather and gung-ho to organize and spring clean.  After all, we want everything in order so that come warmer temps, we are ready to get outdoors and enjoy!  So, for all you Minnesotans out there (and anyone else who just wants to get their house into shape), we've whipped up a Spring Organizing Checklist, designed to help you give your home a fresh start.
Garage Organization:
Closet Organization:
Kitchen Organization:
Mudroom or Front Entry Organization:
Home Office Organization:
CUSTOM GARAGE, CLOSET AND HOME STORAGE IN MINNEAPOLIS & ST. PAUL
Gone through the steps of spring organizing and still feel overwhelmed?  Consider adding custom organization to your home. Custom storage can triple the storage capacity of your space, increase your home's value and provide support to help you stay organized.  Closets For Life, a custom organization company serving Minneapolis & St. Paul and the surrounding communities, specializes in organization solutions for all areas of the home including closets, garages, home offices, laundry rooms, kitchens, wine cellars and more.  We offer free in-home consultations and follow up the consultation with a 3D design.  What do you have to lose?  Contact us today!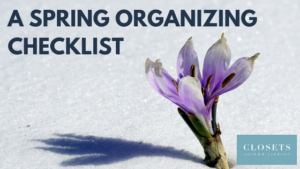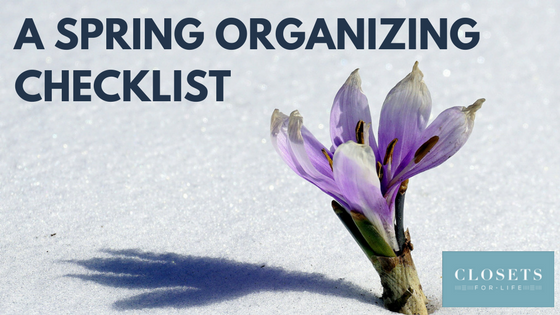 As we write this, it is March in Minnesota and Mother Nature has recently delivered another 5" or so of snow.  For those of you who don't live in a winter climate and are blissfully unaware of the psyche required to ensure a long winter, let us enlighten you.  It doesn't matter how much snow […]
CONTINUE READING