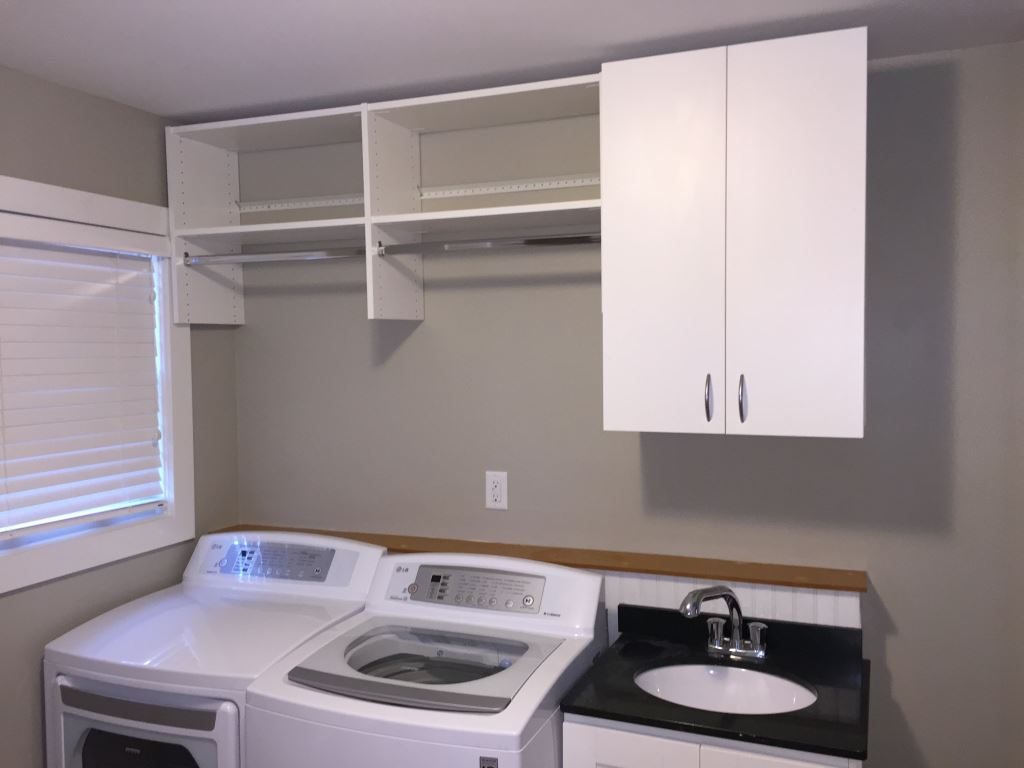 5 Ideas to Maximize Condo Storage Space

Whether you've moved to a condo as an empty nester or as a young, newly married couple, one challenge everyone will face is lack of storage.   With their beautiful views of the city skyline and easy accessibility to everything fun, urban living offers many perks but shortage of storage is a common struggle.  Never fear, there is a solution.  Here are 5 ideas to maximize condo storage space.
1. Custom Closet System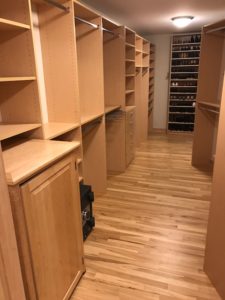 While many newer condos come with walk-in closets, it's likely that you still need your condo closets for hold more than you may have in a bigger home.  Perhaps your bedroom doesn't have room for a dresser or you don't have a spare bedroom closet to store off-season clothing.  Installing a custom closet organization system is a sure-fire way to maximize your condo closet storage space.   A good closet designer (like Closets For Life!)  will be able to help design a custom solution that perfectly suites your needs, incorporating the right ratio of drawers, shelving and hanging space to double or even triple your closet storage. Visit our custom closet system project gallery for more photos and ideas.
2. Closet Accessories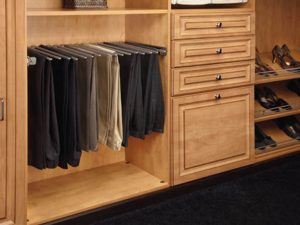 Closet accessories including pants racks, tie racks and pull out clothes hamper drawers are like icing on a cupcake,  the perfect topping and compliment to a closet organization system.  These specialty storage items are guaranteed to be the favorite space saving features of your closet and, frankly speaking, you can't have too many.  Incorporating these features throughout your closet will help you get the most out of your closet. Visit our closet accessories photo gallery for more examples of space saving closet accessories.
3. Pull out Kitchen Shelves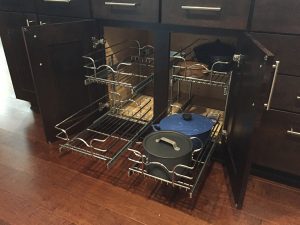 Condo kitchens typically are short on cabinet storage.  Make the most of your kitchen storage with pull out cabinet shelves.  While pull out shelves don't necessarily open up an additional storage, they do increase usability of the space you have.  Especially in lower cabinets, pull out cabinet shelves make it easier to reach items in the dark depths of your cabinets.  This will allow you to better utilize the space that you have.  Click here for more ideas for maximizing kitchen storage ideas.
4. Mudroom Organization
Mudroom, what mudroom?  Many condos typically lack what most of us would consider a mudroom space.  However, in snowy states like Minnesota, having somewhere to store outdoor gear and boots is critical.  You don't need a formal mudroom space to have mudroom storage capacity.  Adding open locker-style storage to a wall inside the entry or a custom storage system to the entry closet can significantly increase outdoor gear storage space in your condo. Visit our mudroom and front entry organization project gallery.
5. Laundry Room Storage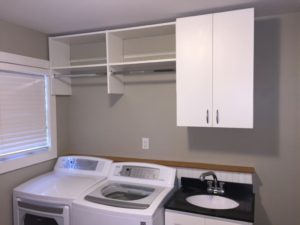 Get the most out of the smaller laundry spaces typically found in condos by adding custom storage.  If floor space is scarce, consider features that utilize wall space. Wall mounted cabinets can provide valuable laundry supply storage.  For folding space, consider installing a counter over a front loading washer and dryer.  And don't forget a wall mounted hanging rack for hanging clothes out of the dryer.  Utilizing as much wall space as possible will have your condo laundry space working overtime! Visit our laundry organization project gallery for additional laundry space organization inspiration.
Minneapolis & St. Paul Condo Storage Experts
Here at Closets For Life, a locally owned custom organization company in the Minneapolis/St. Paul area, we've helped countless condo owners utilize their storage space wisely.  Below is a list of just some of the many local Minneapolis and St. Paul condos we've done work in.  If you're looking to maximize your storage space in a condo or a home, big or small, we have smart solutions and creative design ideas that will have a dramatic impact on storage, adding value, beauty and organization to your life.  Contact us for a free in-home consultation!
| | | | | |
| --- | --- | --- | --- | --- |
| 607 Washington Lofts | Edgewater Condos | Midtown Lofts | Sexton | Winslow Condo |
| 710, 720 & 730 Lofts | Falls/Pinnacle | Market House Lofts | Skyscape Condos | Zenith Condos |
| 801 Washington Lofts | Flour Sack Flats | Mississippi Flats | SoHo Lofts | |
| 7500 York | Grammercy Club Condos | North Star Lofts | Summit House | |
| Basset Creek Lofts | Humboldt Lofts | Phoenix on the River | Stonebridge Lofts | |
| Bridgewater Lofts | IMS Lofts | Pointe of St Paul | Stone Arch condo | |
| Bookmen Lofts | IVY Hotel + Condos | Printers Row | Tower Lofts | |
| The Carlyle | La Rive Condominiums | Produce Exchange | Union Depot Loft | |
| Cobalt Condos | The Landings | Park Ave Lofts | Upper Landing | |
| The Crossings | The Lowry | Reflections of Bloomington Central Station | Village In The Park | |
| CW Lofts | Madison Lofts | RiverWest Condos | Vintage on Selby | |
| Eat Street Flats | Metropolitan Lofts | Riverwalk Lofts | Washburn Lofts | |
Whether you've moved to a condo as an empty nester or as a young, newly married couple, one challenge everyone will face is lack of storage.   With their beautiful views of the city skyline and easy accessibility to everything fun, urban living offers many perks but shortage of storage is a common struggle.  Never fear, […]
CONTINUE READING