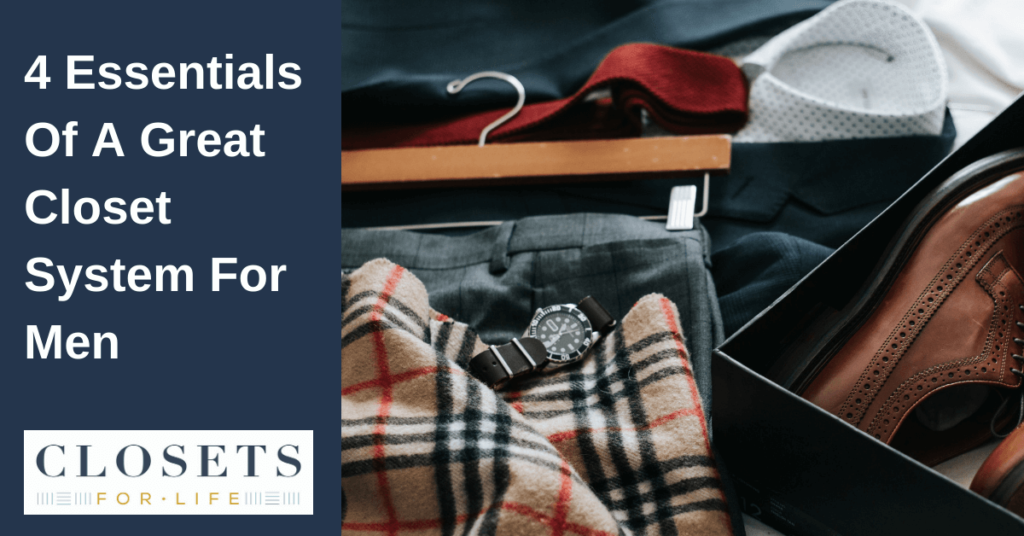 5 Essentials Of A Great Closet System For Men

Women aren't the only ones that can appreciate and value a customized closet.  Let's face it, an organized closet that minimizes chaos and maximizes efficiency is good for everyone.  Whether you're a suit and tie or a sweatshirt and jeans kind of guy, a man's closet demands different features and layouts than a woman's.  Here are some essential features of a great closet system for men that'll make a man look and feel better before they've even left the house!
LET'S START AT THE TOP
Hats don't have to be an eyesore.  Displaying or storing hats on open shelves or inside drawers make them easy to find.  Storing hats in this manner also looks much cleaner and organized compared to a bunch of hats hanging on the back of a closet door.
SHIRT & PANT STORAGE THAT 'WORK FOR HIM'
Not being able to find the right shirt and pants starts your day off on the wrong foot and can even make you late for work.  Men's closets, in particular, should include ample double hanging space to allow better access and storage.  Why?  Because men's shirts, pants, and suit jackets tend to be longer and require more space top to bottom to prevent wrinkling and color selection mistakes. This is especially important if your job requires you to own a lot of professional work clothes.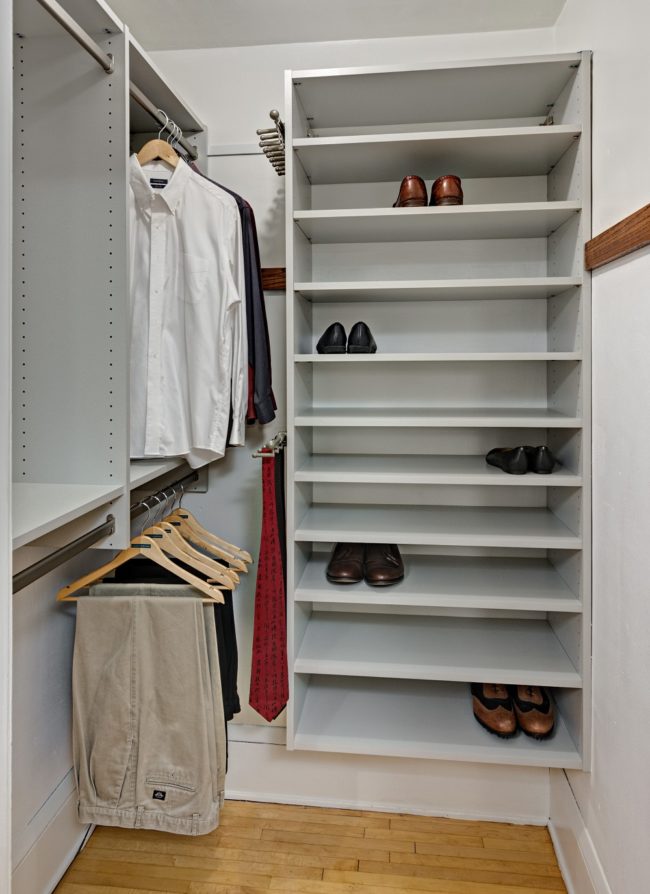 BELTS & TIES
No one wants to dig around looking for a belt, especially when similarly colored.  The same applies to men's ties.  Custom pull-out racks and hooks eliminate confusion and maximize space, keeping ties and belts accessible and organized.
BOTTOMS UP
Whether you're wearing dress shoes, sneakers, sandals, or golf shoes, you want to find them easily.  Selecting the right shoe for the right occasion is much easier when they are on open shelves that are at eye level.  Men's shoes also require dee
p shelving to accommodate larger shoe sizes.  Want to take your shoe storage to the next level? Consider tilted shelves with shoe rails, shoe bins, or rotating shoe racks.
WELL APPOINTED
Men may not be as versed in home decor as women but a well-appointed closet still scores points.  Define a masculine space with dark colors like walnut or ebony-stained wood and masculine hardware selections.  Also, don't forget to have plenty of adequate lighting to prevent mistaking black pants for brown ones.
Another helpful feature? A valet rod.  Valet rods take the stress out of where to hang your work outfit for the next day and are handy when packing your garment bag.


YOUR MINNETONKA, MN RESOURCE | CUSTOM CLOSET SYSTEMS FOR MEN & WOMEN
We hope this insight into the nuances of men's closets has inspired you to take action!  Want to get started right this minute?  Download our closet inventory checklist and fill it out.  It's the perfect planning tool to personalize your closet!  Then, contact Closets For Life to arrange a free in-home consultation!  Whether you live in Minnetonka, MN or elsewhere in the greater Twin Cities area, we can help! Our company specializes in organization solutions for all areas of the home including closets, kitchens, garages, home offices, laundry rooms, wine cellars and more.  All of our designs are custom manufactured which gives us the flexibility to design a solution that meets your needs and your space.  Go ahead  – give us a call today!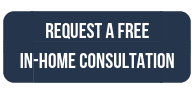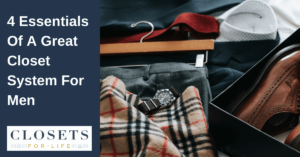 Women aren't the only ones that can appreciate and value a customized closet.  Let's face it, an organized closet that minimizes chaos and maximizes efficiency is good for everyone.  Whether you're a suit and tie or a sweatshirt and jeans kind of guy, a man's closet demands different features and layouts than a woman's.  Here […]
CONTINUE READING