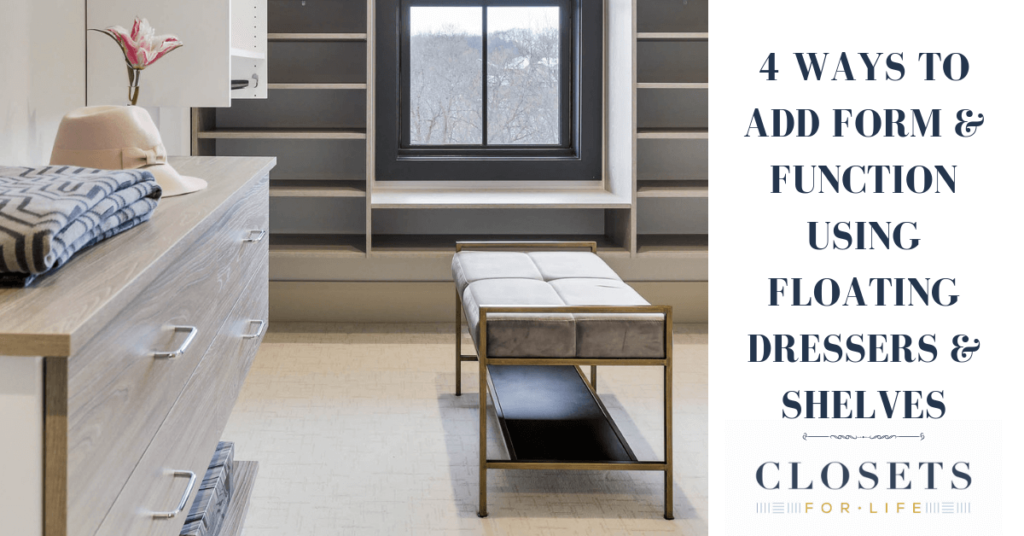 Lacking storage space or the creative know-how to display items?  Consider a floating dresser and shelves.  They take up no floor space, allowing for additional storage space underneath and above!  For many of us struggling with minimal storage space- that is a win-win!  Here are 4 ways floating shelves and dressers provide the functionality of storage and the visual appeal we all want.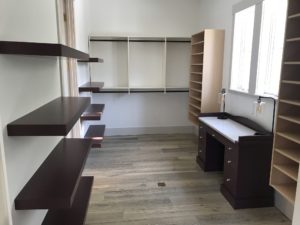 CUSTOMIZABLE
Interior designers love the incredible versatility that floating shelves and dressers bring to a room.  Whether it's filling a tricky nook in your laundry room, walk-in closet or workspace, they can create storage that you didn't know you had.
A wall-mounted dresser, for example, gives your room a more streamlined appearance by creating an arrangement that makes the dresser seem to merge into the wall.  Consider having them custom built to maximize space while also allowing you to select the right finish and style for your aesthetic.
MODERNIZE
There is nothing cleaner or more sophisticated than a simple floating dresser or shelf.  Make your walk-in closet feel more like a room than a storage space by adding contemporary storage.  With nothing to distract your eye, floating shelves are ideal for displaying accents,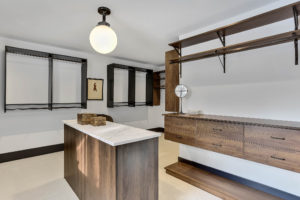 personal items, and art in a clean and sleek way.  Don't let your need for storage overshadow your desire for style.  A floating dresser can accomplish both by transforming a bedroom or walk-in closet from cluttered and dull to sleek, modern, and functional.
PROVIDE A FOCAL POINT
Whether you're redecorating a room from top to bottom, or just want to freshen up the look, don't forget to create a focal point.  Decorative floating shelves and dressers make a statement.   A chunky wooden or vibrant colored shelf make an otherwise dull space interesting.  Or, create an unexpected focal point by placing them in underutilized spots.  For example, add a floating shelf over a door or a wall-mounted dresser in a hallway of your closet,  The beauty of these is that they act as both a storage unit as well as a work of art.
CONTRAST AND COLOR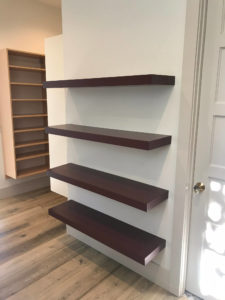 Contrast is the secret ingredient to making a space memorable.  By combining contrast and color, you create a stylish room with personal flair.  To do this, consider choosing a dominant paint color for the walls and a neutral, accenting color for your shelves or vice versa.  The key is to provide a quiet background for your accent and display items to pop out against.  Contrasting styles and textures like modern versus rustic can add visual weight to a space.  A display layout where everything is the same size, shape, or color is going to look pretty boring—but contrast spices things up!
YOUR MINNEAPOLIS & ST. PAUL CUSTOM STORAGE DESIGN RESOURCE
Not sure where to start?  Contact us today to arrange a free in-home consultation!  Our company specializes in organization solutions for all areas of the home including kitchens, garages, closets, home offices, laundry rooms, wine cellars and more!