Custom Closets in Savage, MN

We build beautiful custom closets in Savage, MN
As a Minnesota family-owned business, we pride ourselves on the ability to listen and determine your specific needs.
Make getting ready for each day a breeze with a custom closet organization system from Closets For Life. Even the largest walk-in closet can succumb to clutter and disorganization without the proper storage support. At Closets For Life, we've been in business for over 14 years helping homeowners across Savage and the Twin Cities area maximize the storage potential in their homes. Our experience combined with our commitment to excellent customer service makes us the ideal partner for anyone looking to add organization to their closets, garage, home office, laundry room, mudroom, wine cellar and more! We invite you to visit our gallery page to see photos of our work and get inspired!
So, how do you get started? It's easy. Our process begins with a free in-home consultation to measure your space and discuss your specific needs. From our consultation, we'll create a custom 3D CAD design of a proposed layout that is specifically tailored to your home, needs and taste. At Closets For Life, we offer a variety of laminates and styles and all of our designs are professionally constructed. That means there are no limitations and no pre-made parts or sizes. Our custom closet systems are TRULY custom and cut to size. Most installations take just one day and since we manufacture our own systems locally, we are able to turn orders around quickly with installation typically scheduled for just two weeks after your design is finalized.
Let Closets For Life bring organization to your life! No matter what area of the home you want to transform, we can help put into place an organizational system that will not only make your daily routines easier but look beautiful as well!
Contact us today to get started.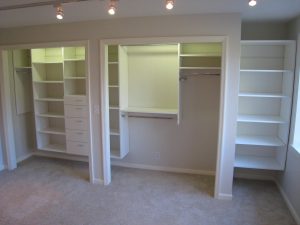 "Thank you for responding so quickly to our request for a bid. Everyone was working under a tight schedule, so we could move in on time and we appreciate your accommodating the other workmen. The whole project finished on time and your cooperation made it possible."
Marianne & Don - Savage, MN