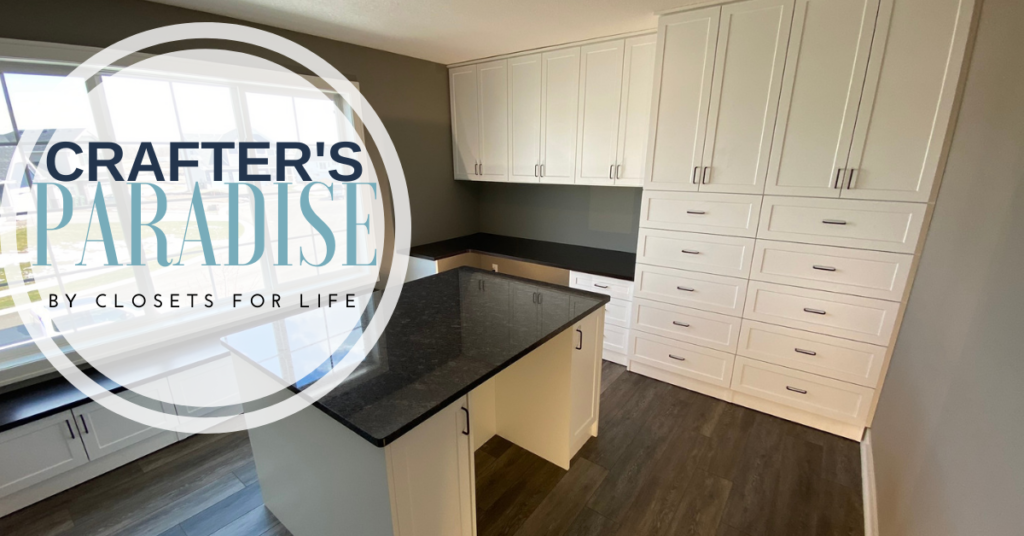 Any crafters out there? Pull up a chair because you are going to love hearing about this project!
We recently completed a beautiful craft room for a client in Rosemount, MN.  We designed the project, part of a newly built home, to match the cabinetry found elsewhere in the home, choosing Northern Contour Shaker-style cabinetry, oil rubbed bronze hardware, and top-trim extending to the ceiling to complete a built-in look.  A beautiful, large island topped with Artisan Steel Gray granite anchors the room, providing a large work surface, ample drawer storage on one side including a built-in space to hold a recycling container, and an opening on the other side to fit a chair. Along one wall, a window bench with drawers seamlessly incorporates a grill built into the toe kick to allow heat/air flow and a beautiful Blackened Ligno laminate countertop which also tops the adjacent L-shaped desk space. Overhead cabinets on the desk provide additional storage (a must for any crafter!) and the two tall cabinets to the right of the desk feature extra-deep 30" drawers for larger supplies.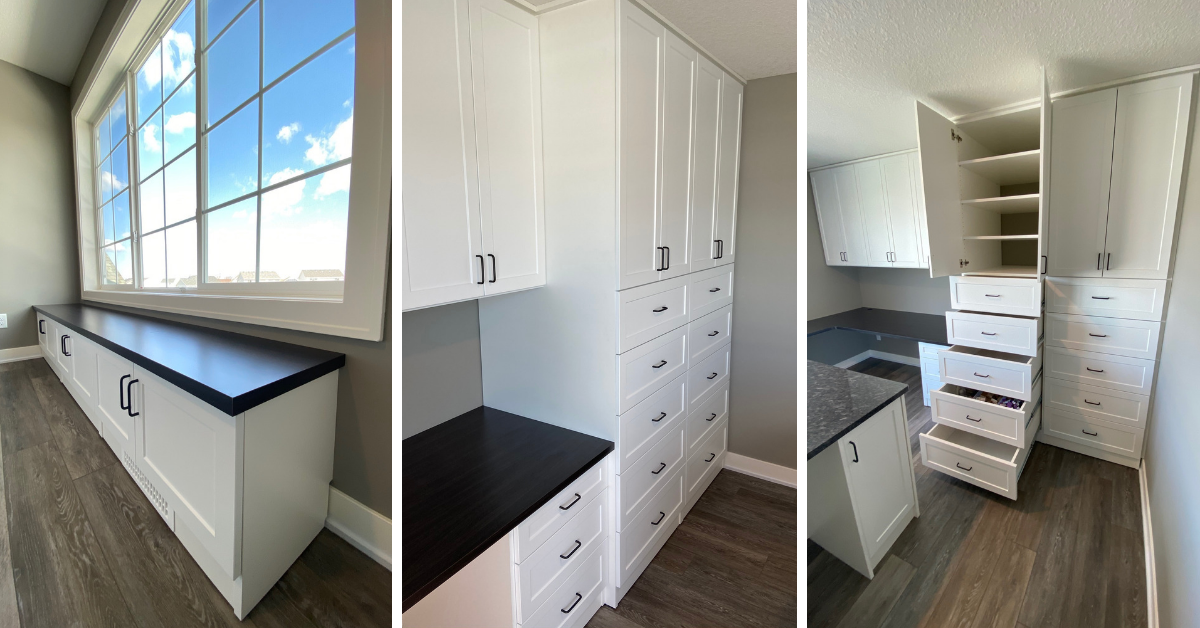 This sun-filled room is a crafter's paradise! But don't take our word for it. We spoke with the homeowner to find out what inspired her to do this project, her experience working with us, and, most importantly, what she is looking forward to most about her newly completed space!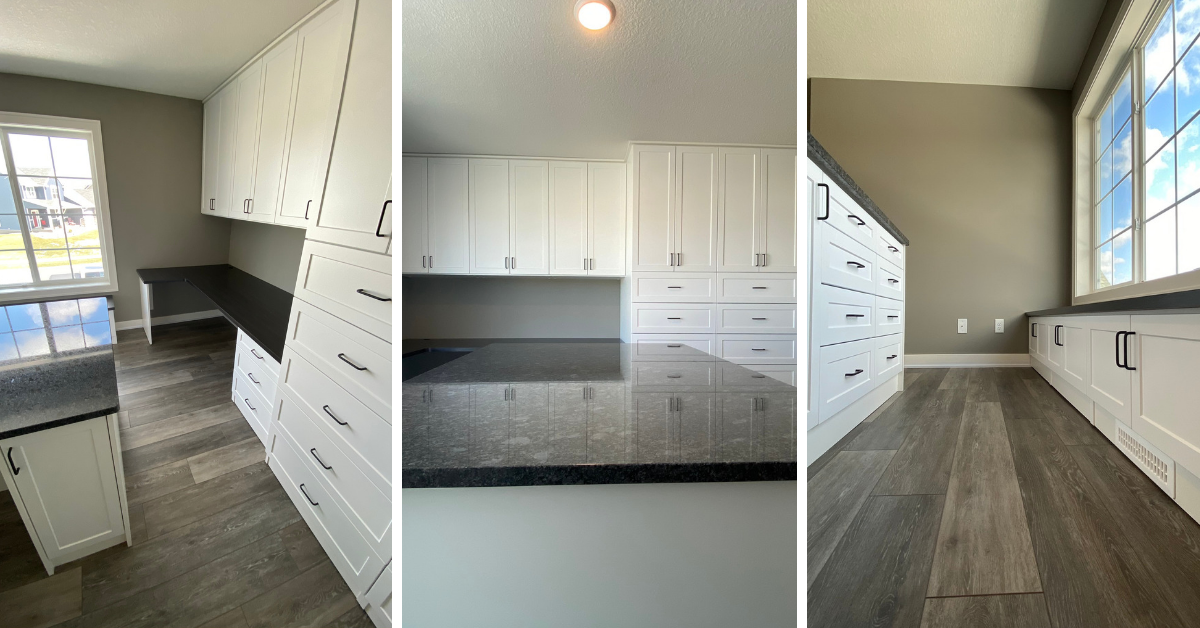 Inspiration, Process & Results – Interview with the Homeowner
Q: What inspired you to transform this spare room into a craft room?
Homeowner: I have always been a creative person and with the build of our new home, I finally had the room to create my perfect space! My husband got his basement, I got my craft room!
Q: How do you intend to use the room? What kind of crafting do you do?
Homeowner: I was an art minor in college and with that was exposed to many different mediums. I like to dabble in a little bit of everything: drawing, painting, photography, textile art and quilting, beading, scrapbooking . . .this is my area of the house to use as I please, where everything is organized and I can leave projects out and no one has to see the mess.
Q: How did the planning process work? Did you have ideas of what you wanted in terms of design and features? What did you think of the planning and installation process overall?
Homeowner: The planning process was very smooth. Rick came out, took measurements, and walked us through his process. We discussed what we were looking for in terms of the space and that we wanted it to be cohesive with the other cabinetry in the home.
This is a room I have been dreaming about for many, many years so I knew what I was looking for regarding the layout. Rick was very receptive and showed us our options for cabinets, drawers, countertops, colors, sizes, you name it! We received cad drawings/mockup of the room; it was very exciting to see the project take shape!
We only had one or two revisions, we switched out the cabinet and drawer fronts to match the others in the home and removed a closet portion to better fit our budget. After I emailed Rick our changes, he revised the drawings and expenses and we were ready to sign.
The overall process was painless, install was quick, and they did a great job making sure everything was picked up and tidy before they left. My main goal was to create a space that looked like it was built with the original build of our home. Rick did a great job incorporating aspects from around the house in this space. With this custom design, we were able to achieve the "built in" look and provide much-needed storage. The team was very respectful of our home and everyone in it (even our big noisy dogs).
Q: What are some of your favorite features in the room? What are you most looking forward to about your new space?
Homeowner: I love all the storage space; I can have all my supplies organized and easily accessible and yet contained to one room. The island and deep desktop allow for great workspace with plenty of room for more than one person. I can't wait to get in and settled and start creating!
Take A Tour
Your Custom Craft Storage, Craft Cabinet, & Craft Organization Resource in Rosemount & All of The Twin Cities
Inspired? One of the first words of feedback we heard from the homeowner in regard to this project is that it "exceeded her expectations."  Let us help design a custom storage solution that exceeds your expectations!  At Closets For Life, we design, manufacture, and install custom organization systems for all areas of the home including craft rooms, closets, garages, home offices, mudroom, and more!  Head on over to our project gallery for inspiration and when you are ready, reach out to us for a FREE consultation (which can be done virtually)!  We'll discuss your needs, obtain measurements, and within a few days of our visit, follow up with a 3D CAD design of our proposed layout. All free of charge! Once finalized, our custom designs are manufactured locally and typically installed in just two weeks.  Ready to get see what we can do? Contact us today!