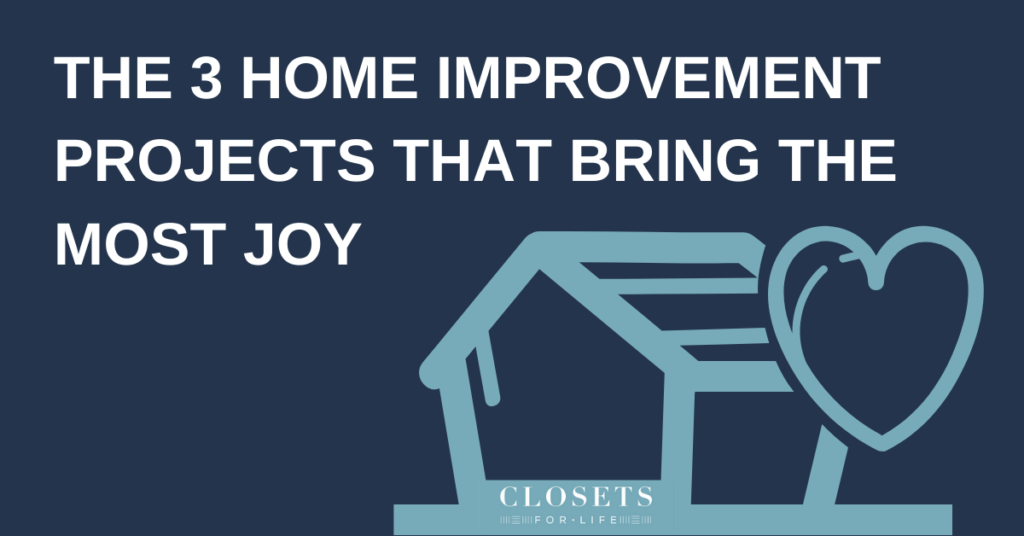 Daydreaming about a home improvement project but can't seem to get around to it?  See how transforming your home can provide an unexpected return on your investment and may just give you the 'push' you've been waiting for!
HOW JOYFUL HOME IMPROVEMENT 'PAYS OFF'
A new report by the National Association of REALTORS®️ Research Group looked at the impact remodeling projects have on homeowners.  In addition to measuring the usual factors involved with remodeling, they added a new one, "The Joy Score".  What they found might surprise you!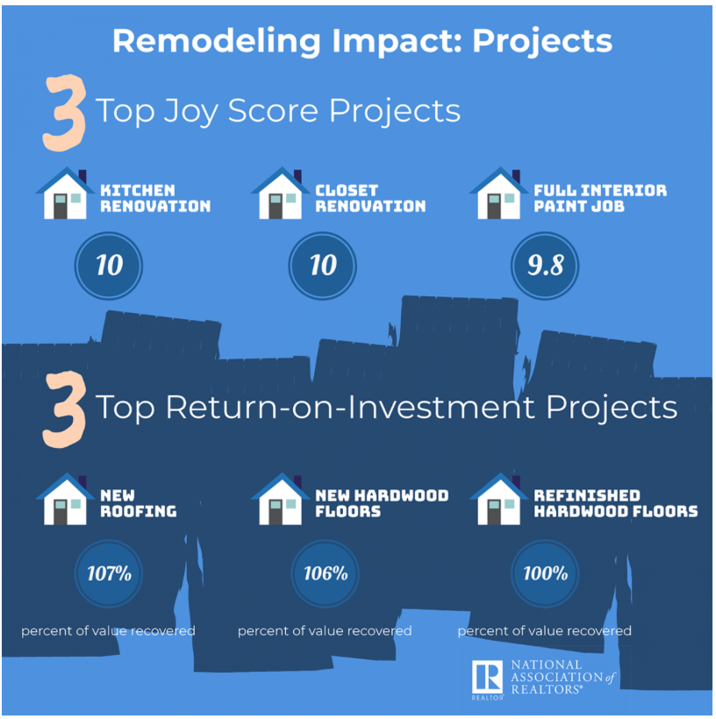 NOT ALL HOME IMPROVEMENT PROJECTS ARE CREATED EQUAL
Closet and kitchen renovations tied for 1st place with a joy score of 10, a full interior paint job scored a 9.8.  Kitchen and closet remodel projects gave homeowners joy with increased functionality and livability.  For example, a solution to limited closet space can be as easy as adding customized storage features or annexing a spare bedroom next to a master bedroom that is converted into a walk-in closet.  Or replacing kitchen shelves with customized pull-out shelves that adjust.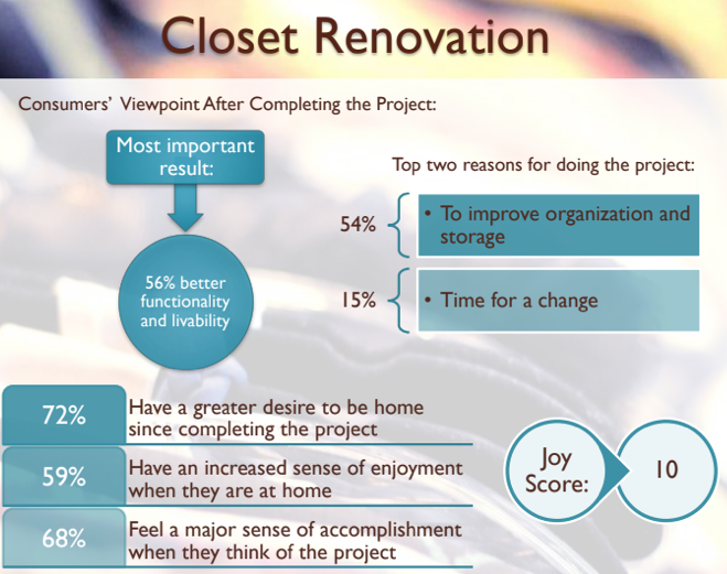 HOME IMPROVEMENT HEALTH BENEFITS
The joy reported by homeowners were due to these 3 things:
Increased sense of enjoyment when home
Greater desire to be at home
Feeling a sense of accomplishment upon completion
Joy is not the only health benefit.  Another study showed that people living in spaces that are "cluttered" or full of "unfinished projects" are more likely to be depressed and fatigued along with an increase in stress hormones.
ROADBLOCKS TO HAPPINESS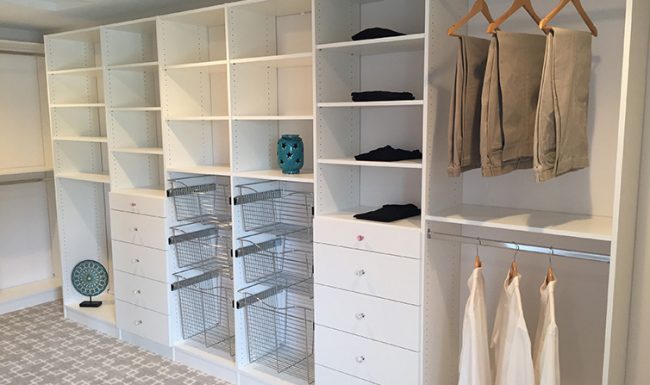 We know remodeling can increase the value, functionality, and joy of your home but let's be honest, many people find home improvement projects overwhelming.  Here are some tips that can increase the "joy score" before and during the remodeling process and not just after!
Be sure to know what you like and don't like (Pinterest and Houzz are helpful websites)
Run the numbers to ensure the project fits the parameters of your budget
Research your contractor by checking their website, reviews, and referrals
Be realistic with your timeline as weather, sickness, and back-ordered materials can cause delays
If you're interested in learning more about home improvement options, we invite you to check out our gallery of custom closets, kitchens, custom garages, and home office organization solutions.
YOUR RESOURCE FOR HOME IMPROVEMENT IN MINNEAPOLIS & ST. PAUL
If you're interested in home improvements that can bring you functionality and joy, then contact Closets For Life to arrange a free in-home consultation!  No project is too big or too small!  All of our designs are custom manufactured which gives us the flexibility to design a custom solution to meet your needs.  Our company specializes in organization solutions for all areas of the home including closets, kitchens, garages, home offices, laundry rooms, wine cellars and more.  We'll come to your home, measure your space, discuss your needs and wants and suggest ideas.  Best of all, we will follow up in just a few days with a custom/ design specifically tailored to you – all free of charge.   Go ahead  – give us a call today!