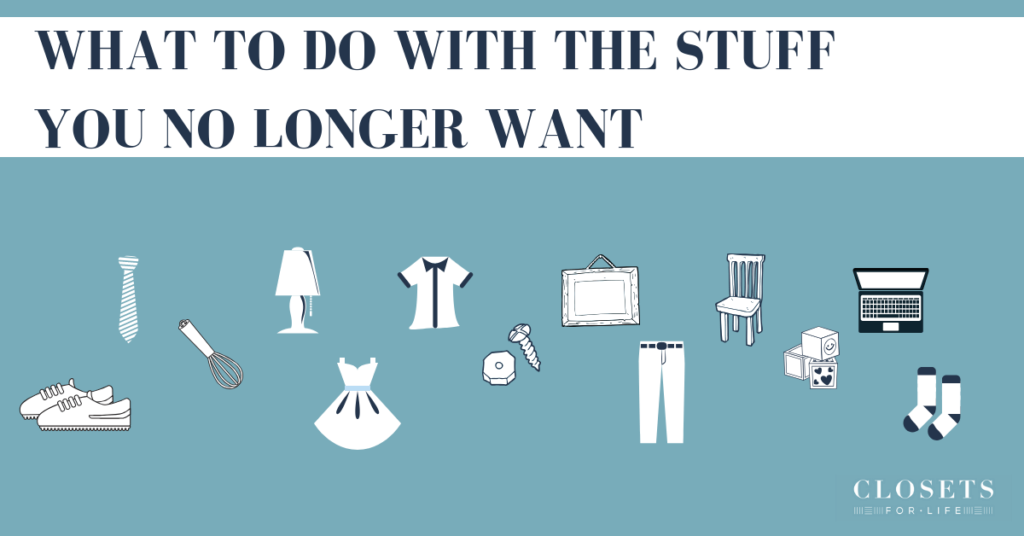 Whether you've been bitten by the KonMari bug or simply try to do a bit of decluttering every spring, the hardest part of downsizing your belongings can be figuring out what to do with all of the stuff you no longer want! The internet is full of advice on getting rid of stuff, but there's not a lot of sites that address what to do with the items you've decided must go.
As a custom organization company, we're naturally big proponents of organization.  We have numerous blog posts with advice on how to go about organizing your closet, garage, children's' bedrooms, and other areas of the home and strive to offer our customers and readers valuable information they can use.  That's why we've compiled this helpful list of options for what to do with your stuff here in the Twin Cities.  From donation options that give back to our local community to places where you can list items for sale, we hope this information makes the process of discarding items that don't 'bring you joy' just a little bit easier!
DONATION OPTIONS IN MINNEAPOLIS & ST. PAUL
Arc's Value Village – arcsvaluevillage.org
Open 7 days and week and with 4 locations, this non-profit organization funnels money right back into our local community by helping those with intellectual and developmental disabilities and their families.  Another bonus – they accept a wide range of items (see list here) .
Leonardo's Basement – leonardosbasement.org
Cleaning out your garage?  This one is for you.  Leonardo's Basement offers classes to youth and adult that give kids and adults the opportunity to imagine, build, and be inspired.  Classes offered are hands-on and involve everything from furniture making to building your own Hogwarts Castle.  They accept a wide range of tools, fabric, building materials, art supplies and more.  This is a great option for many items that might otherwise end up in the trash.  Click here to see their list of accepted items.
Dress For Success – Dressforsuccess.org
Getting rid of some work clothes?  Consider donating them to Ready For Success, a locally operated organization that supports low-income men and women by providing them with gently used and new professional clothing suitable for job interviews and the workplace.
Tech Dump – techdump.org
Looking for somewhere to donate electronics without paying a fee? TechDump is a non-profit that supports and provides practical experience for adults facing barriers to employment. They will accept many computer related items for free and charge a small fee for some bigger items like TVs and vacuum cleaners (see list here). Either way, you are keeping hazardous materials out of the landfills while supporting a good cause.
Looking to Have Your Items Picked Up?
We understand.  Sometimes the process of going through the items is all we can handle!  If you prefer to have your donated items picked up from your home, here are several local non-profits with whom you can schedule a pick-up
DAV of Minnesota & Vietnam Veterans of America – Both organizations accept clothing, shoes and small household items and offer pick up in many areas. Both are non-profit organizations that support veterans
Salvation Army – Accepts clothing, books, furniture, appliances, and other household items.  Visit their website for a complete list and to schedule your pick-up.
WAYS TO SELL YOUR ITEMS
Hoping to make a bit of cash?  Here are some options for selling your items.
Clothes Mentor, Turn Style and Plato's Closet are all clothing resale shops with locations here in the Twin Cities.  They will pay you in cash or store credit for clothing items that are in good condition.  Many will only accept certain brands so make sure to review their website before bringing items to them
Once Upon a Child is a resale shop that buys and resells children's items including clothing, furniture, strollers, toys, books and more. Click here to see their list of Minnesota locations.
Facebook  – If you have a Facebook account, consider posting your items on one of the several online garage sale groups.  There are likely several for your city alone.  Just search on Facebook for 'online garage sale' + the name of your city to find and join a group.  Each group may have its own guidelines to follow.  Another option is Facebook Marketplace which is Facebook's version of Craiglist, that allows you to post items for sale.
Craigslist -A great spot to list furniture and other household items.
MORE RESOURCES
Didn't see what you were looking for? Time to Organize, a local provider of professional organization services, has a great list of places to donate just about anything you can think of.
Smartgivers.org also has a comprehensive list of places that accept various donations.
YOUR TWIN CITIES 'GET ORGANIZED' PARTNER
Decided your home needs a bit more help than just a declutter?  Closets For Life can help!  We design, manufacture and install custom organizations systems for all areas of the home Head on over to our project gallery for inspiration and when you are ready, reach out to us for a FREE in-home consultation!  We'll come out to your home to discuss your needs and measure your space and within two days of our visit, follow up with a 3D CAD design of our proposed layout. All free of charge! Once finalized, our custom closet systems are manufactured locally and typically installed in just two weeks.  What do you have to lose?  Contact us today!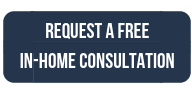 Closets For Life, a custom organization company based in Minneapolis & St. Paul, specializes in organization solutions for all areas of the home including closets, garages, home offices, mud rooms, laundry rooms, kitchens, wine cellars and more.