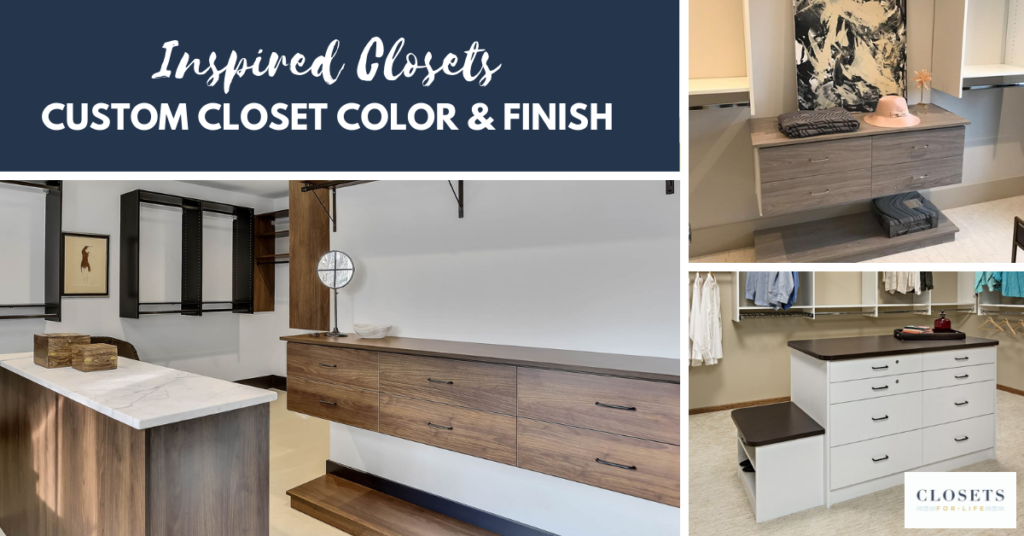 Peruse the predicted trends for home design in 2019 (like those listed in this article from Houzz.com), and you'll notice a theme.  In a welcome breath of fresh air, after years of neutral color pallets and monochromatic design choices, color and texture are infusing their way back into our homes.  From striking feature walls in our kitchens to Moroccan tile in our bathrooms to matte black becoming the go-to finish for accents throughout our home, 2019 is all about creating interest.  Happily, the closet is no exception.  Wondering what can be done with a closet beyond the classic white? Below are 3 ways you can interject personality into your custom closet space.
Colored and Textured Finishes
Perhaps the most direct way to create interest within your closet space is by choosing a wood, color or textured finish for your closet cabinetry.  The American Black Walnut finish cabinetry pictured below packages texture and color together for a rustic elegance that might make it tough to leave your closet!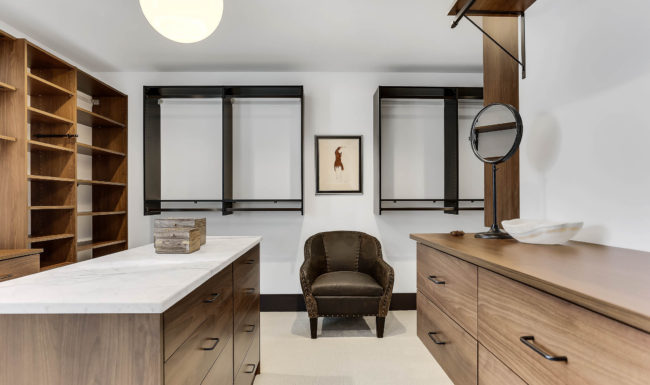 Even subtle options like this beautiful textured Driftwood cabinetry finish makes a statement.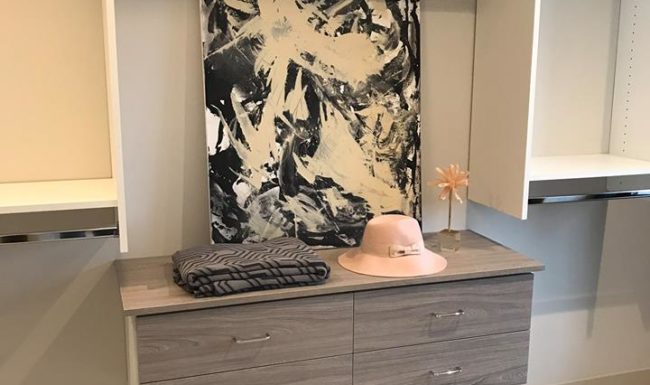 Alternatively, consider embracing the growing popularity of matte black for your closet cabinetry, a choice with longevity as black will always be considered a 'classic'.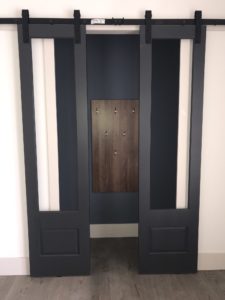 Select a Few Features to Shine
Love a white finish too much to let it go?  That's okay!  For all our talk of trends, white cabinetry is a timeless classic that will never go out of style.  It also serves as a beautiful pallet to build upon.  Consider adding a pop of interest with the choice of rubbed bronze hardware or a bolder counter color like in the examples pictured below. All are ways to subtly incorporate personality into your classic white custom closet.
Feeling a bit bolder?  Consider two-toned cabinetry (also trending), mixing white with a colored and/or textured cabinetry like the Hardrock Maple cabinet finish mixed with white below. Side note…there's another popular trend featured in this photo that we oh-so-love for making a statement! If you want a custom closet with a contemporary vibe, consider a wall-mounted dresser.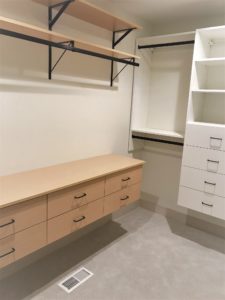 Don't Forget Your Walls
Last, but certainly not least, our final suggestion has nothing to do with your cabinetry and everything to do with what surrounds it, your walls! As with anywhere in your home, painting your walls is a playful way to incorporate color.
Or, if you love the current resurgence of wood, add a wood accent wall to your closet.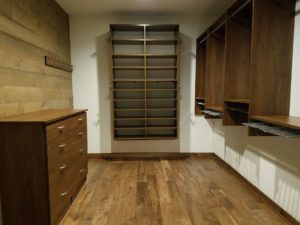 Your Twin Cities Custom Closet Resource
Inspired? We hope so!  Whatever avenue you choose, Closets For Life, is your Twin Cities resource for inspired custom closet designs. We design, manufacture and install custom organization systems for closets, garages, home offices and more.  Head on over to our project gallery for inspiration and when you are ready, reach out to us for a FREE in-home consultation!  We'll come out to your home to discuss your needs and measure your space and within two days of our visit, follow up with a 3D CAD design of our proposed layout. All free of charge! Once finalized, our custom designs are manufactured locally and typically installed in just two weeks.  What do you have to lose?