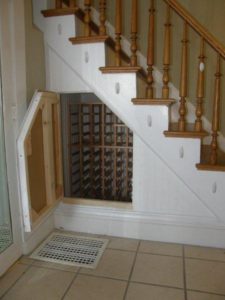 A popular photo on our Pinterest and Houzz pages is of this unique little home wine cellar tucked under a set of stairs. It's a great project that stands out because it utilizes space that would otherwise be wasted.  We would love to tell you that we came up with the idea ourselves but have to admit it was all because of the home owner's cat!  Here is how it came to be…
The Story of How This Home Wine Cellar Came to Be
The homeowners were remodeling several areas of their home including the staircase.  A day after the staircase was completed, the homeowners heard a meowing sound but couldn't find their cat anywhere.  After much confusion, the homeowners realized the cat was trapped in the area under the stairs!  With all the noise and activity from remodeling, the cat had been hiding for much of the time.  He must have found a great hiding spot under the stairwell and they unknowing walled him in under the stairs!  There wasn't any way to get the cat out other than cutting into the newly finished wall to access the space under the stairs. Once the cat was free, the homeowners were left with a large whole in the staircase wall.   They could have just fixed the hole but they brainstormed up even a better idea to use the otherwise wasted space as a wine cellar.  Talk about turning lemons into lemonade!  The homeowners contacted us to design and install the door and wine racks.  Viola!  The wine cellar a cat built.
Your Minneapolis & St. Paul Home Wine Cellar Experts
You don't need a stuck cat to build the wine cellar of your dreams.  Based in Minneapolis, Minnesota, Closets For Life is a custom closet company that works with residential clients as well as designers, builders and architects to create innovative solutions to all of your organizational needs including wine racking and wine cellars of all sizes.  Whether you are interested in racks or a building complete wine cellar, Closets for Life will come out to your house for a free home consultation to help you design a wine cellar that perfectly fits your needs. Contact us for a free in-home consultation today!